In Their Own Words: Why Gaming Operators Love Working with PayNearMe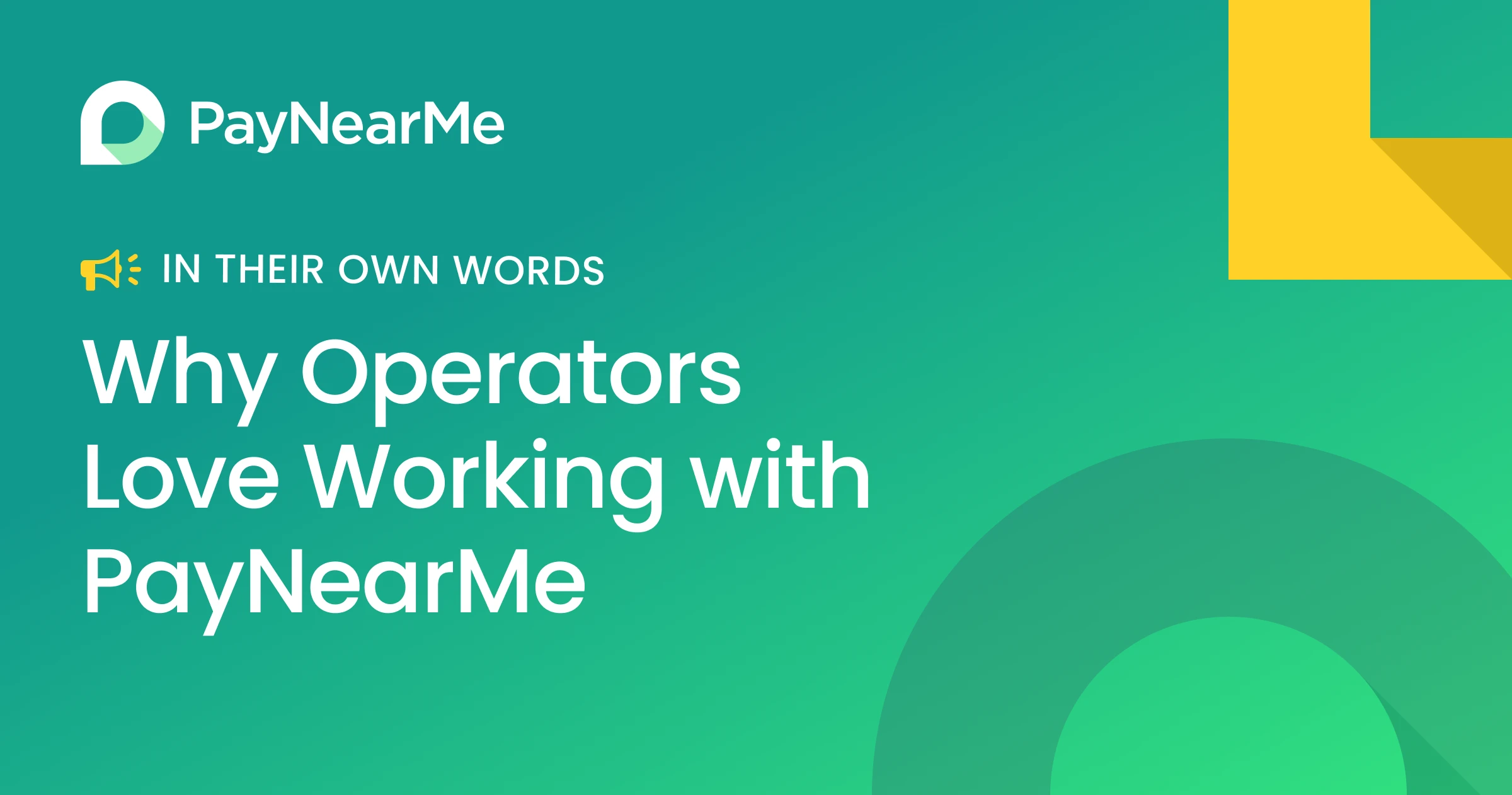 In May 2018, online sports betting was legalized in the United States, and shortly after, PayNearMe began processing our first payments for the gaming industry. Five years and hundreds of product releases later, we're looking back at some of the positive feedback received from clients that have helped shape the MoneyLine platform into a market-leading payments provider.

A faster, easier payment experience
Speed and convenience of deposits and payouts is huge for iGaming and online sports bettors. In fact, 46% of bettors stated that the payment experience was the #1 factor they considered when choosing an online betting app or site, according to our recent research.

By choosing MoneyLine, operators give their players access to all of the fast, familiar payment types they're looking for, all from one platform and one integration. Offering players the simplicity and choice of deposit options they already use every day means decreasing decline rates and lowered operating costs. Plus, those lightning-fast payouts through MoneyLine will have player satisfaction and retention soaring.
What clients are saying:
"With MoneyLine, we are giving our players the option of the fastest and most convenient way to make deposits using their favorite digital payment types or cash at participating retail locations."

Carlton Saffa
Chief Market Officer – Saracen Casino Resort
"MoneyLine's wide range of deposit and withdrawal options has helped us achieve market competitiveness. It also helps our players make deposits and withdrawals much quicker, which is a big selling point for them since they view their sports betting account like any other bank account."

Andrew Patterson
President – SaharaBets

Native integrations with top PAM providers
The MoneyLine platform makes future-proofing your business easier than ever through our integration with the industry's top PAM partners. Operators who already use our integrated PAMs can quickly and easily gain access to all of the newest and most in-demand tender types with the flip of a switch. With MoneyLine, PAMs and operators alike will never be left behind when payment technology advances.
What clients are saying:
"We're happy to have MoneyLine on board as a preferred payment partner for us; our customers trust that they'll have access to the latest technology through MoneyLine, and that keeps them happy in the long run."

Andrew Shonka
Director, Customer Success – Amelco
"What really pushed us to select MoneyLine is their integration with IGT, combined with a willingness to continually improve the platform and offer new payment types."

Andrew Patterson
President – SaharaBets

A smooth customer journey, embedded seamlessly
MoneyLine provides an intuitive and seamless player experience that's completely customizable to look and feel like an iGaming operator's native platform. Brands can build a sense of familiarity and trust by giving new players a smooth payment flow that's directly built into their app or website. Less redirects, less potential for error, more happy customers.
What clients are saying:
"Operators understand that the payments experience is a make-or-break factor for many new players, so giving them the fast and easy experience that MoneyLine provides has been a huge asset to our platform. Embedding MoneyLine in our platform gives players a payment flow that looks and feels natural."

Andrew Shonka
Director, Customer Success – Amelco

Go to market quicker with one contract and one integration
Operators can launch or scale their business faster with MoneyLine's single contract and single integration for all the top deposit and withdrawal options. PayNearMe is a licensed money transmitter in every state where online betting is legal, allowing operators to go live in every new territory at lightning speed.

PayNearMe customers can add the newest and most in-demand payment types without the hassle of executing a new contract. As long as the MoneyLine platform has it, integrated operators and PAMs can gain access with their existing account, making payment operations a breeze. Teams can go back to focusing on customer acquisition and retention by letting PayNearMe handle all the payment technology relationships.
What clients are saying:
"What stands out with PayNearMe is the ability to manage so many relationships with one commercial agreement. This has allowed us to get to market faster."

Andrew Patterson
President – SaharaBets
"We know that as future payment options become available through MoneyLine, our operators will have access to them quickly, allowing them to scale to meet market demand and stay competitive."

Andrew Shonka
Director, Customer Success – Amelco

Trust the MoneyLine platform for iGaming payments
PayNearMe's MoneyLine platform gives operators a complete deposit and withdrawal solution that simplifies payments, reduces the cost of acceptance and improves the player payment experience.
To learn more, contact our team or view an on-demand demo of the platform.