Increase Player Acquisition by Capturing "Second Chance" Deposits
Like football, online betting is a game of inches: it's a thin-margin business that revolves around minimizing acquisition costs and maximizing player retention. Every player engaged, every new sign-up, and every deposit experience is important.
One of the most critical conversion points that operators look at is customer acquisition, something that is notoriously expensive in the gaming industry. And, because deposit declines occur frequently in online gaming, a successful first payment can be a barrier within the acquisition process.
Player deposits can be more prone to failure than you might think, with 52% of bettors reporting that they've experienced a declined deposit on a betting app.* Out of those, 17% left the app after the initial decline and never came back. 22% tried the same payment method later, but would ultimately experience a decline again. While declines are a major threat to conversion rates, operators can minimize their impact by focusing on a less common metric: second chance deposits.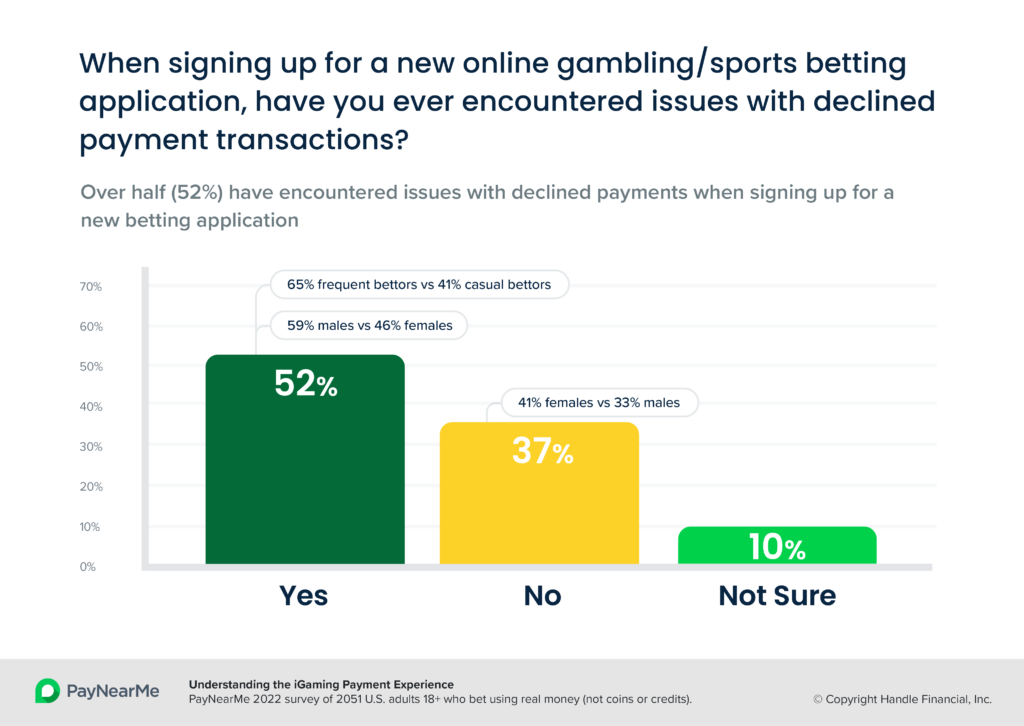 What are second chance deposits?
Second chance deposits are an attempt to follow up a failed payment experience with one that is more likely to be successful. Perhaps a player used an unsupported credit card, or fumbled their bank account number, or attempted to deposit an amount above the specified limit. Regardless of the error, the decline will result in one of two actions: the player will abandon the deposit process and leave the app, or the player will attempt to deposit again. The latter is the second chance deposit.
Second chance deposits are key to improving adoption and can be a significant source of new revenue for operators. First, they can significantly lower the cost of acquisition by increasing conversion rates. Even a few percentage points can result in millions of revenue.
Additionally, operators can turn an initially bad experience into a neutral one by giving players another shot at placing their bets.
Finally, if we consider deposits to be a "high-intent" signal, you can ensure the player sticks with your brand instead of downloading a competitor's app and becoming a long-term customer of their brand.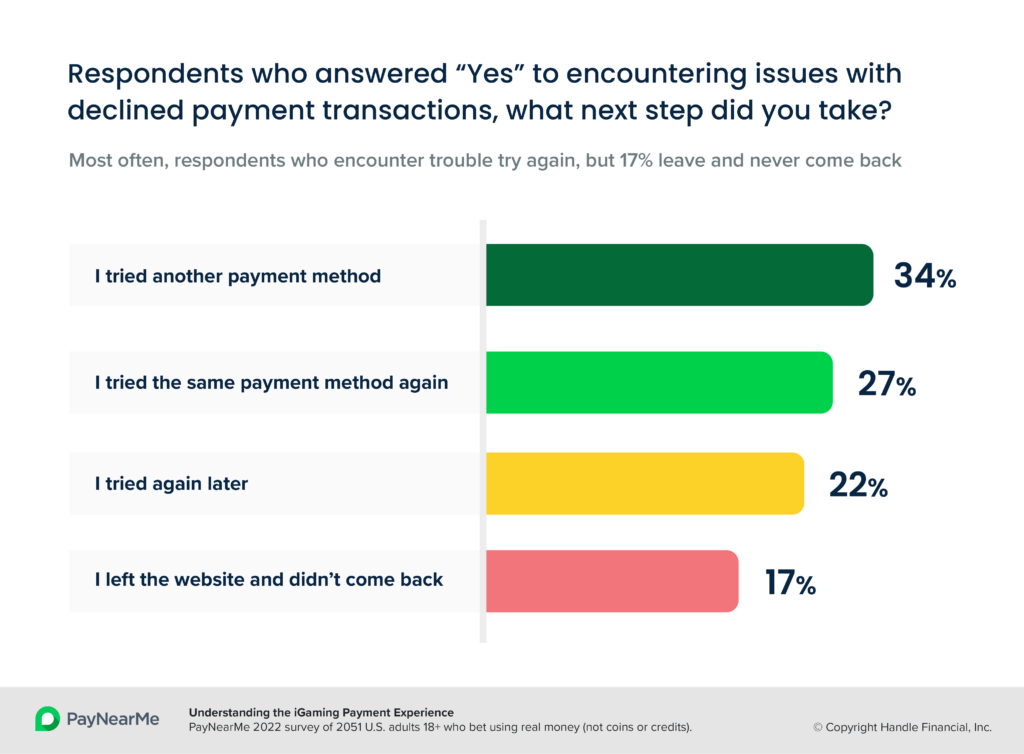 5 key things operators can do to capitalize on second chance deposits and maximize player acquisition:
Present reliable deposit types
In the event that a player's initial payment results in a decline, operators should be offering them a more fail-proof method of depositing to the app, such as cash. Include clear messaging that explains that this deposit method will not fail, and walk them through how to use the option.
Use detailed error messaging
It's incredibly frustrating for a customer to go through a deposit process just to have it result in a decline. But it's rubbing salt in the wound when the reason for the decline isn't explained to them.
When an operator can provide a reason for the error, the player has a chance to correct the problem during their next attempt, or avoid using this payment method in the future. List out the reason, whether it's a deposit from an unsupported bank, insufficient funds in the account, miskeying the card number, using an expired card, etc. Consider using this text to prompt them into trying one of the reliable deposit types listed above to reinforce this strategy.
Enable elegant retries
In the event that a player's first payment fails and no discernable user error was detected (a case that would call for proper error messaging), operators should make the second attempt as frictionless as possible. When a player selects a new payment method, make every effort to retain the player's personal details, deposit amounts, and any other information so that they don't have to enter it again.
The best case scenario would be for the payment platform to automatically give a prompt that offers another payment method, and transfer all previously entered details to the new method. For instance, "Would you prefer to make this deposit with guaranteed ACH?" – then take them directly to that deposit screen.
Store and utilize data from previous deposits
Don't let a customer experience the same problem twice. Use your player payment data to view which payment methods resulted in declines, and help players avoid these in the future. If a card failed, it shouldn't appear as a future option in a customer's app. If a deposit method worked, make sure it's featured at the top of the list of options. Finally, when sending out promotions, provide a Smart Link™ that sends the player directly to their preferred and successful deposit method to begin placing bets.
Offer more payment options from the start, and make them seamless
Finally, there's the obvious tactic: avoid declines by offering more payment options up front. If players had access to preferred deposit types, 32% of players reported that they would make larger deposits more often. When players have access to payment types they trust and are familiar with using, the chances of a decline are going to decrease. It's going to improve the player's overall experience and build trust in your brand when they associate your platform with simple and secure payments.
In addition, a clunky deposit process with multi-step verification, page timeouts, or redirects to another app or page is creating additional opportunities for failure. Even if a decline wasn't going to occur, the customer may get so frustrated with the process that they abandon their efforts midway.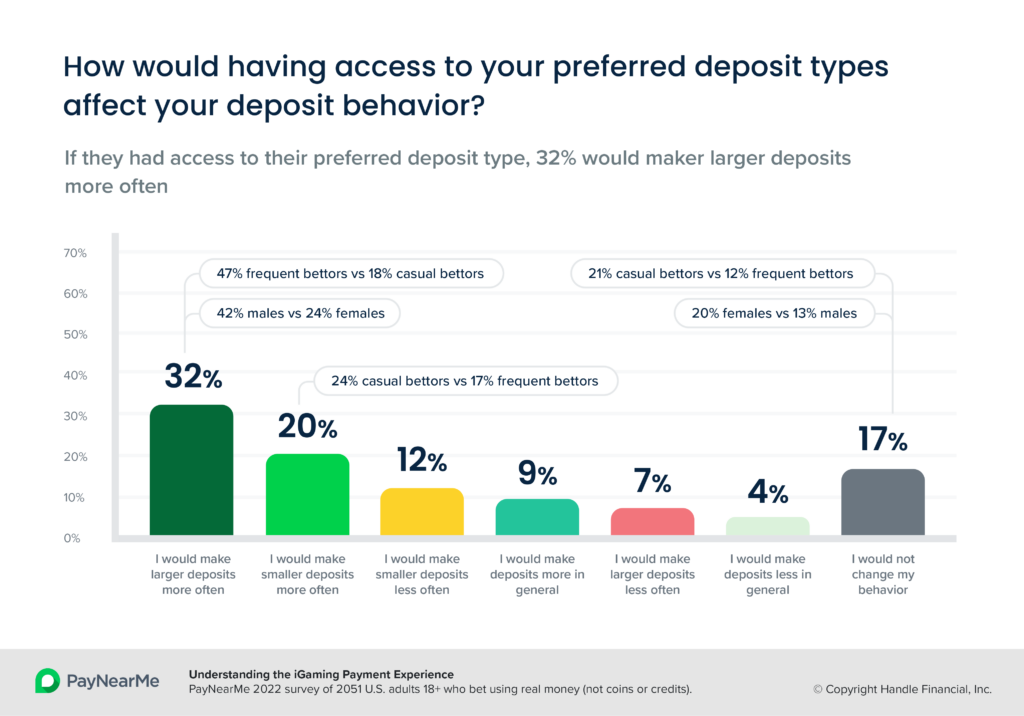 Conclusion
The bottom line? Declines are a big problem. They hurt your brand loyalty with an individual player, and they hurt your revenue by leading to player loss. In the gaming industry, every player retained is a potential repeat customer. This is why PayNearMe has built MoneyLine to be an all-in-one payment platform that streamlines the deposit and withdrawal process for players. It offers the tender types that players trust and are comfortable with using, all from a single integration that simplifies the payment experience. To learn more about how MoneyLine can optimize second chance payments, schedule a demo today.
*All data points are sourced from research conducted by PayNearMe in a February 2022 survey of U.S. bettors.