Let's Talk Walmart: Exploring the New Partnership with Laura Rummel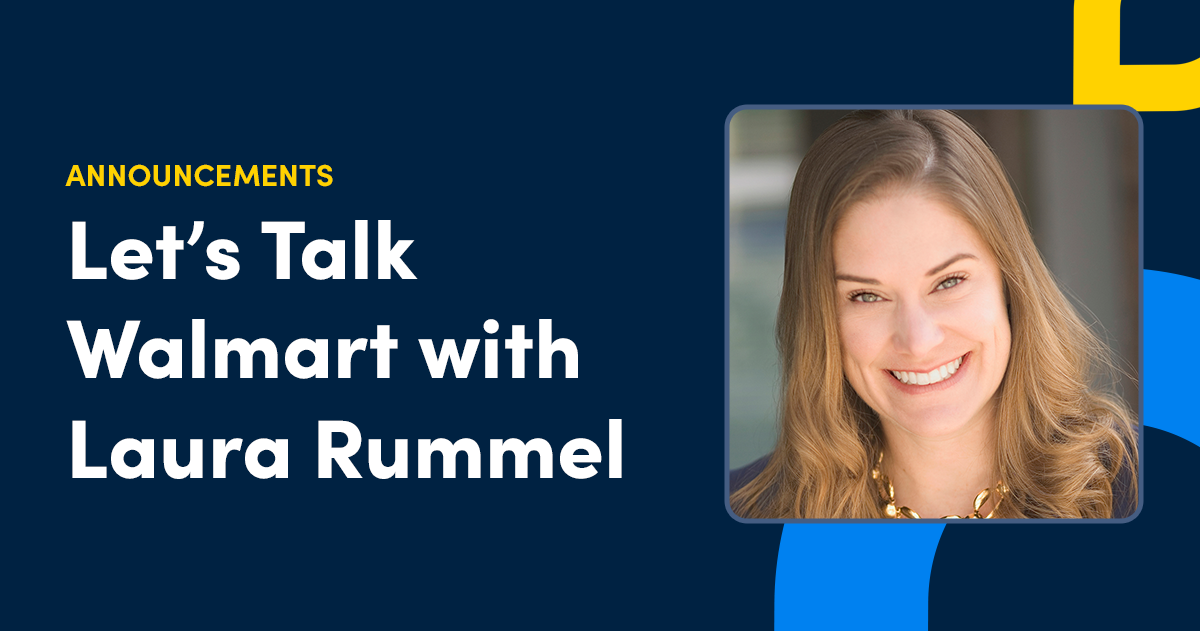 PayNearMe is excited to announce a new partnership with Walmart for in-person cash bill payments. This partnership expands PayNearMe's retail footprint by over 4,600 stores and expands our growing relationship with Green Dot. We sat down with Laura Rummel, Senior Director of Account Management at PayNearMe to learn more about this exciting news and explore what it means for current and future clients.
Q: What gets you most excited about this new partnership?
A: We're excited to partner with Walmart because it's a business that emphasises offering a wide range of financial solutions for all Americans. Walmart's in-store Money Center, in particular, is solely dedicated to providing necessary financial services, especially for the underserved and underbanked market.
This aligns well with our mission to digitize cash payments for businesses and consumers. Our ecash offering was created to serve consumers who need (or prefer) to pay with cash,, while giving businesses a secure, reliable and modern way to handle these payments
This expansion adds another retail chain (in addition to our existing locations with CVS, 7-Eleven, Family Dollar, Casey's and ACE Cash Express) where our clients can now easily accept cash payments. This allows them to move cash payments out of their physical offices and into a wide range of retail locations across the U.S.
We're excited to work with such a globally recognized brand as Walmart, and for the opportunity to increase our competitive advantage in the industry.
Q:How do PayNearMe's cash payments work for consumers?
A: PayNearMe alleviates much of the risk, hassle and expense of accepting cash by digitizing the experience.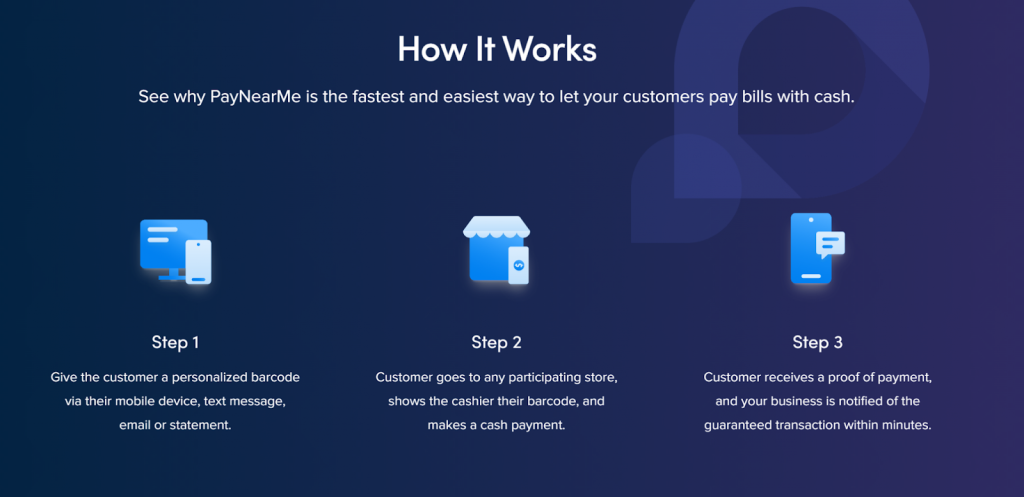 This process eliminates the need for paperwork at the point of sale by pre-staging all the KYC work, meaning a customer doesn't get a cash barcode until they've been vetted by the biller. The actual payment process is as simple as scan, pay and go.
Q: Which industries can use PayNearMe's digitized cash solution at Walmart?
A: Walmart will accept cash bill payments for all of PayNearMe's clients, including municipalities/utilities, personal loan companies, auto lenders, insurance companies and mortgage companies.
Contact us for more information about the industries PayNearMe works with and Walmart supports.
Q: How is Walmart different from our other retail cash partnerships?
A: Millions of families go to Walmart every day to buy essentials such as groceries, clothing and home supplies, along with nearly any other shopping needs they may have. When consumers make these big trips, they can now pay their bills in cash without the need to make another stop. This makes a trip to Walmart a true one-stop experience.
We are thrilled to make bill payment easy for families across the U.S. with this new partnership.
Q: How does this partnership expand PayNearMe's relationship with Green Dot Network?
A: Green Dot is the nation's leading prepaid card reload network. Green Dot's payments technology is leveraged by some of the largest companies in the U.S. across a wide range of retail locations.
By partnering with Walmart, part of the Green Dot Network, PayNearMe expands easy bill payment access across thousands of new locations and opens up the opportunity to grow our partnerships even more in the future.
Learn more about cash payments with PayNearMe
Continue reading for additional information about PayNearMe's unique retail cash network.
Ready to take cash payments at over 31,000 stores nationwide? Contact us for a demo today.