PayNearMe's MoneyLine Platform Shortlisted for Two Major SBC Payment Awards—Here's Why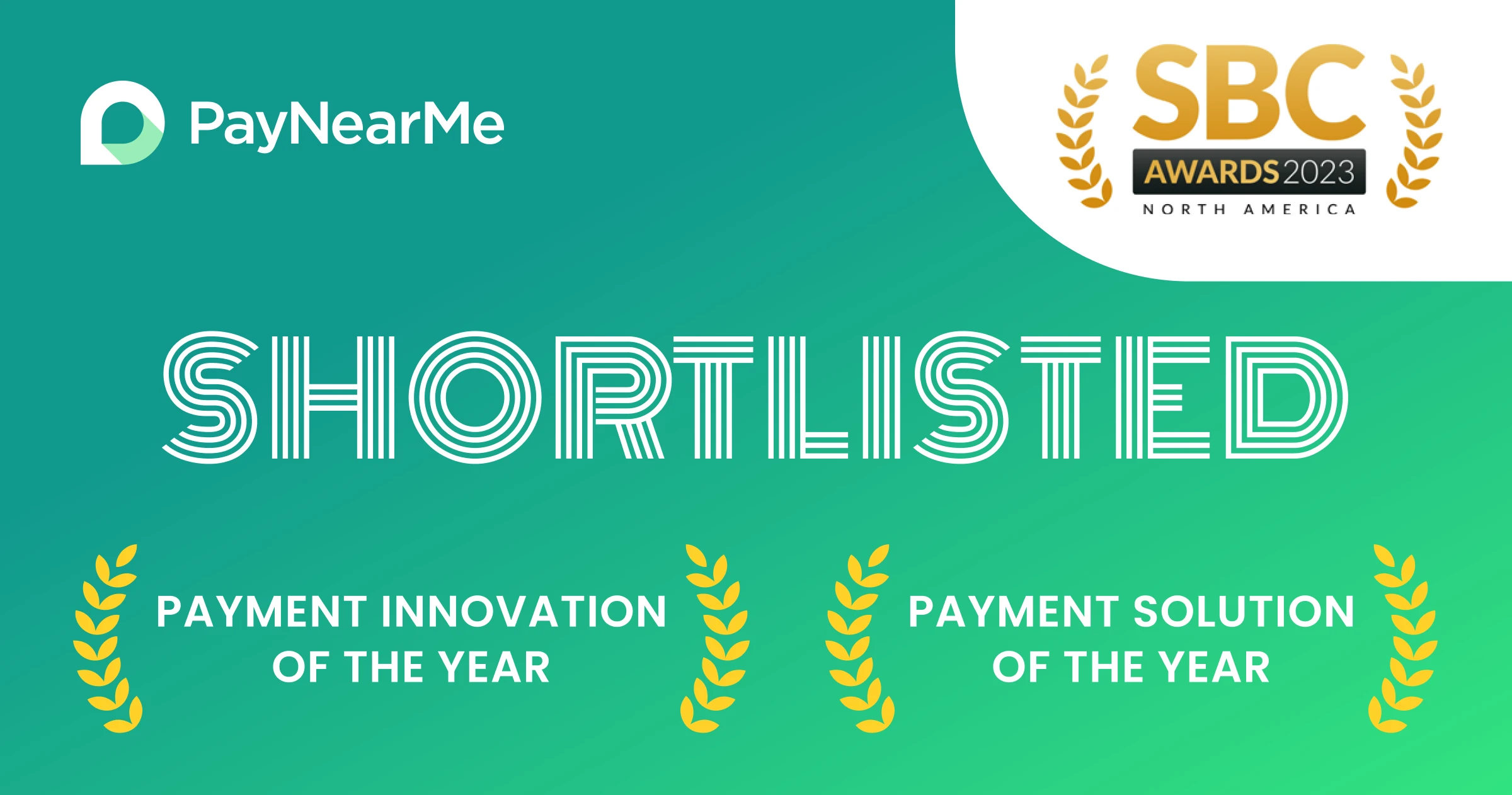 We're thrilled to announce that PayNearMe's MoneyLine™️ platform has been shortlisted for the Payment Solution of the Year and the Payment Innovation of the Year award at the 2023 North American SBC Awards.
MoneyLineTM, powered by PayNearMe, makes deposits, payouts, card acceptance and engagement easy for gaming operators and players—all in a single, powerful platform. Our technology powers payments for many of the most recognizable names in betting, including 9 of the 10 largest U.S. iGaming operators and 16 of the top 17 largest online casinos in the U.S., including FanDuel, Caesars Casino & Sportsbook and BetMGM. We also have direct integrations with eight of the top platform providers in the industry including: IGT, Amelco, White Hat, Light & Wonder and GAN.
Here are a few highlights from our award submission to show why the MoneyLine platform was selected for these two prestigious award shortlists.
Notable Features
The Latest Mobile Deposit Options: With MoneyLine, operators can appeal to new and casual bettors, allowing them to easily make deposits with mobile options they already trust like PayPal, Venmo and Apple Pay, among other options. This greatly reduces friction in the deposit process, particularly at the point of acquisition, by increasing payment acceptance rates vs. more traditional methods.
In addition, our cashiering solution provides an elegant, secure and user-friendly experience that consolidates multiple deposit types seamlessly and supports data-driven player workflows to increase player satisfaction and reduce operating costs.
Streamlined Payouts: In the gaming industry, one common pain point players encounter is the difficulty of extracting winnings from iGaming/sports betting platforms. Players haven't always had the options they wanted, and the options they did have often took a long time to process.
When it's time for players to withdraw funds, the MoneyLine platform offers more payout channels from one vendor (Cardless Cash at ATM, debit, ACH, PayPal and Venmo) for faster payouts and increased customer satisfaction. On the operator side, this offers consolidated reporting and a streamlined compliance and risk process, allowing for improved operational efficiency and fewer manual interactions.
Reduction in Tech Debt: MoneyLine's single-integration approach consolidates all of an operator's deposit and withdrawal types into a single platform. This helps reduce tech debt by simplifying and lowering the number of systems to integrate into their app. It also gives them a way to quickly add new tender types without going through a lengthy evaluation, selection and implementation process in the future.
An Omnichannel Experience: PayNearMe offers a cash at cage solution that allows iGaming and sports betting organizations to bridge the gap between cash and digital deposits, providing the ability to deliver on a true omnichannel payments strategy, as well as a multi-channel wallet that gives players the ability to store and use funds across a wide range of channels—all in one platform.
Guaranteed Cash Deposits (and Instant Cash Payouts!): Skip the card declines and ACH errors by allowing players to deposit with cash at thousands of retail locations, including 7-Eleven and CVS stores. Player barcodes are linked to their gaming accounts, which means there's no complicated paperwork or signup process—just scan and deposit at the counter.
For withdrawals, PayNearMe's Cardless Cash at ATM feature is a revolutionary way for players to instantly withdraw their winnings in cash at local ATMs – with nothing but their mobile phone.
These features only scratch the surface of what PayNearMe empowers operators to accomplish. PayNearMe's configurable and scalable platform helps new operators get to market quickly, while providing a more flexible, reliable and innovative payments experience for those already up and running.
Why This Matters
The payments ecosystem in the online betting space is fragmented and complex. Operators must rely on an array of solutions, all promising to solve a specific challenge, but many fall short on offering a connected, seamless experience. This makes it cumbersome for large operators to innovate and difficult for up-and-coming operators to manage the complexity of a payments solution while getting to market quickly.
PayNearMe solves these challenges by offering a feature-rich, flexible and scalable payments platform that can be configured to meet the needs of operators of any size. PayNearMe offers a complete platform to manage the full player payments experience for iGaming and sports betting operators. This single platform combines fast and easy deposits and payouts with powerful player engagements, built-in regulatory and security features and industry-leading logic-based user flows that drive down operational costs, improve player satisfaction and reduce back office efforts around managing payments across vendors, channels and locations.
Trust the MoneyLine platform for iGaming payments
See how the MoneyLine platform makes deposits, payouts and engagement easy for you and your players—all in a single, powerful platform. Schedule a demo.