New iGaming Research Finds Bettors are Drawn to a Seamless Payment Experience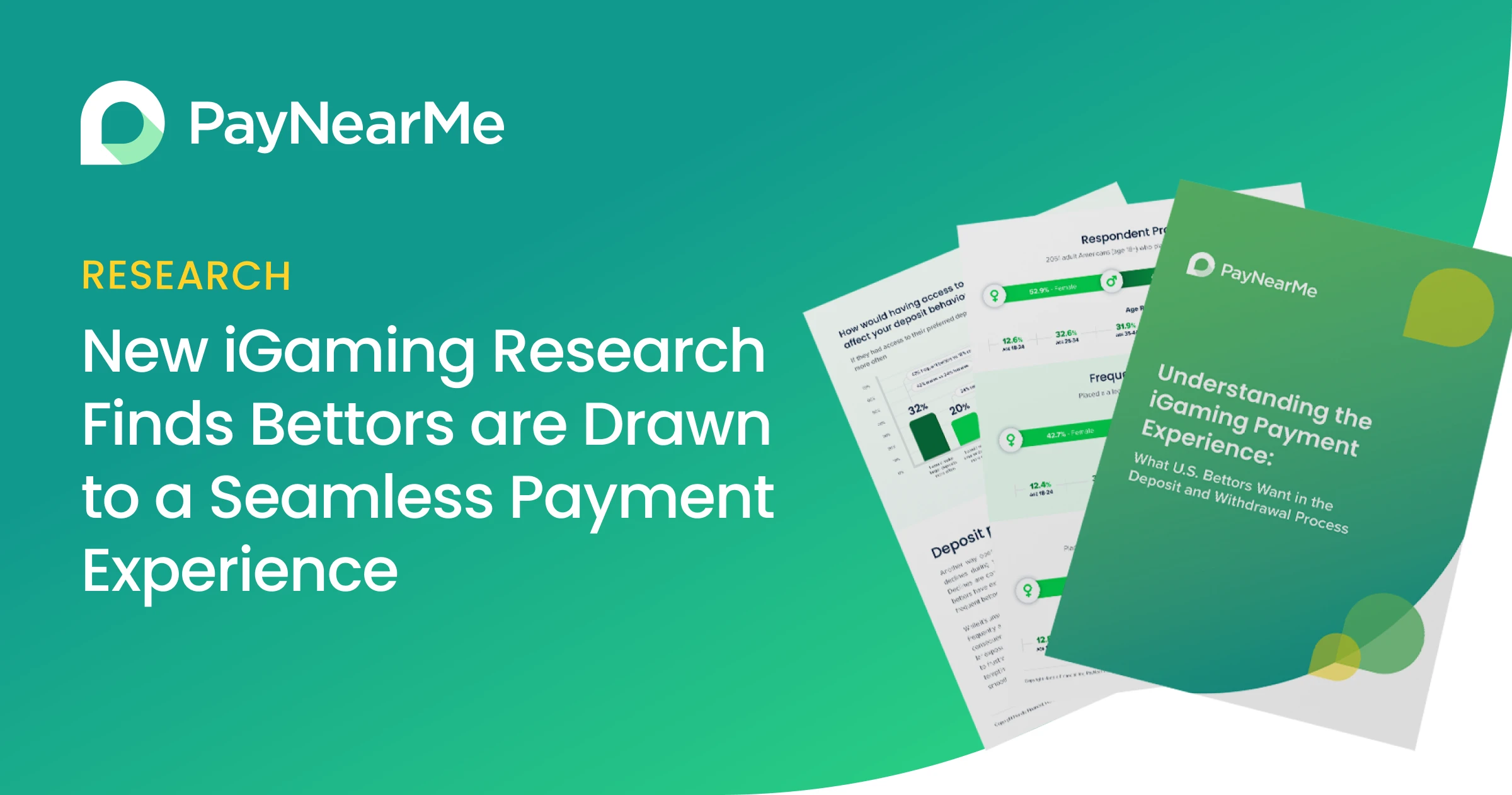 Online betting is exploding in popularity in the U.S. in 2022. Insider Intelligence predicts that 19 million Americans will place sports bets alone, an increase of 31% from 2021. Predicted and pending legislation in several U.S. markets could boost those numbers even higher.
As the industry sees wider adoption of legalized online betting, millions of first time bettors will download iGaming and sports betting apps to try their hand. To compete for this growing market, operators will need to uncover more ways to attract and retain bettors while managing acquisition costs, and one of the key areas they can do is around the payment experience—not only at the point of deposit and withdrawals, but along the entire customer journey.
To help operators understand where opportunities exist for improving the payment experience, PayNearMe and Sapio Research conducted a study to uncover insights about the modern American bettor. We explored attitudes around the payment experience, and dug into what bettors want and expect from their iGaming and online sports betting applications.
The new report, titled "Understanding the iGaming Payment Experience: What U.S. Bettors Want in the Deposit and Withdrawal Process", polled 2,051 adult Americans who placed a legal bet online, with respondents being both male and female and ages ranging from 18-66+. The study segmented respondents in two categories: frequent bettors and casual bettors, with frequent being defined as those who placed a legal online bet at least once per week. The division of frequent vs. casual bettors shows significance throughout the research.
The study placed particular emphasis on the payments experience, honing in on deposits and withdrawals made by active U.S. bettors and exploring the challenges they face. After all, the customer journey begins with making a deposit, and this experience can deeply impact first impressions. For operators interested in differentiating from competitors and growing market share, it is vital to understand what bettors want in the payment experience.
Payment Choice Matters to Bettors
It would be a mistake to assume that all players prefer the same payment types when placing iGaming bets. In fact, our research showed that bettors find a wide array of payment options important.
To understand the importance of payment method choice for customers, players can be broken down into two categories: the frequent (the early adopters in iGaming) and the casual player. As their names suggest, each type of player has a distinct profile and set of preferences outside of how often they place bets.
Catering to the behaviors and preferences of both types of players does not have to be a mutually exclusive undertaking. The research found that both bettor profiles shared a similar perspective on depositing funds; they want to have a range of choices at their disposal.
In fact, respondents identified more than 20 different deposit methods for iGaming. PayPal was found to be the most important option, with 64% of respondents having it as a top choice for making deposits. However, PayPal is not the preferred option for every player. Our research showed that 14 additional payment types were important for more than 45% of respondents.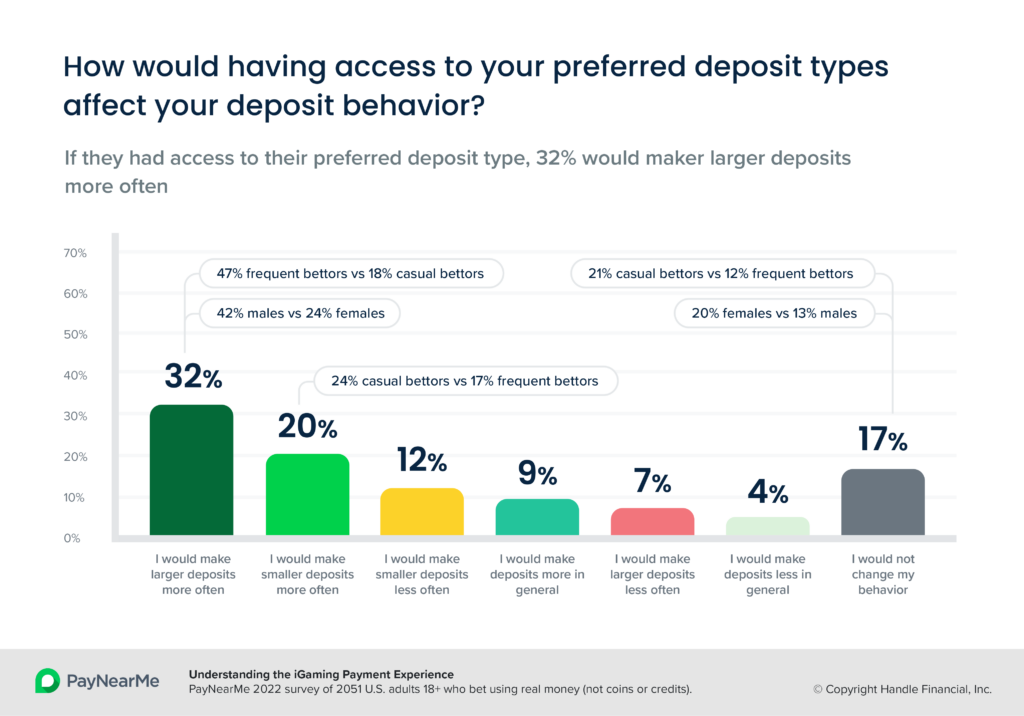 There is a concrete benefit to providing payment method choice within iGaming platforms. When bettors can deposit with their preferred payment type, 32% are more likely to make a larger deposit more often.
This finding sends a clear message to operators: providing top payment choices is attractive to bettors and can lead to larger deposits, especially for frequent bettors (47%).
Friction Drives Attrition
Better want payment choice, but this doesn't mean that they're willing to sacrifice user experience. Above all, players want the deposit and withdrawal process to be easy. When asked questions about difficulties in the payment process, our research found several recurring pain points for bettors.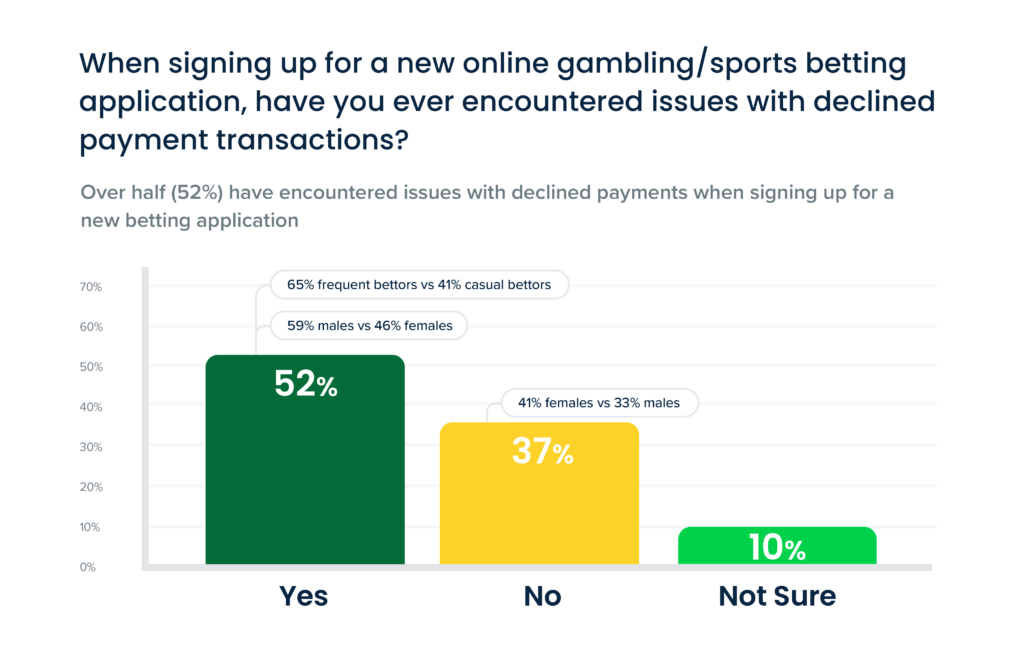 The most common issue faced is a payment being declined when signing up for a new online gambling or sports betting application, with 52% of respondents experiencing this problem at some point. Declined payments deterred players from placing initial bets, and in turn made them less likely to return.
A similar complaint was found when respondents were asked about withdrawing funds, namely that the process takes too long. For example, a bettor may be required to provide too much personal or bank data, or there is a wait after the initiation of the transaction.
To overcome this issue, operators should enable bettors to interact with their platforms on each bettor's terms. By supporting their efforts to move funds in and out of the platforms more easily and quickly, operators are promoting their initiatives to grow player satisfaction and retention.
Our research also showed that choice had a tangible benefit for withdrawals, with bettors responding that they would deposit more money if their preferred withdrawal method was available. In addition, nearly half (49%) of respondents said that they would both play more and withdraw more if they had access to their preferred withdrawal type.
Trust and Security are Paramount
Providing personal information is a necessary component in betting. However, our research showed that requiring bettors to provide more than they have to (such as bank account numbers or card details) can be a barrier in the signup process. Respondents noted concern whenever additional financial details are required and they are not prepared to compromise.
It is also in this regard that we see the preferences of the casual and frequent player diverge. There is greater concern among casual players about divulging their private information. One quarter of respondents identified this as a pain point and a further quarter said that they would be prepared to leave the app if they feel uncomfortable with the amount of personal information they are required to share.
This concern is not as widely shared with frequent players: only 13% would abandon an app due to inputting personal information. Nevertheless, the research identified this as a notable area of concern.
Players want to be able to use a platform that they trust, and operators should offer alternative payment methods that allow bettors to initiate deposits and withdrawals without inputting sensitive payment details. Trusted payment options such as PayPal, Venmo and Apple Pay allow individuals to authenticate payments without ever having to type in a card or bank account number, putting them among the preferred payment choices for many bettors.
Final Thoughts
It's no surprise that the rapid growth of the online betting industry will bring new challenges to operators, especially in regards to the payment experience. Operators must consider the deposit and withdrawal process as part of their overall product rather than an afterthought. After all, the surveyed bettors made it clear that the payment experience can be a make-or-break component of choosing an iGaming or sports betting platform, especially to the new or casual bettor. To win and retain the growing field of bettors today, operators need to offer choice, speed and convenience in the payment experience.
Download the full report , "Understanding the iGaming Payment Experience: What U.S. Bettors Want in the Deposit and Withdrawal Process". To learn more or inquire about press opportunities, contact us here.