Payment Processor, Gateway or Bill Payment Service Provider: Which One is Right for You?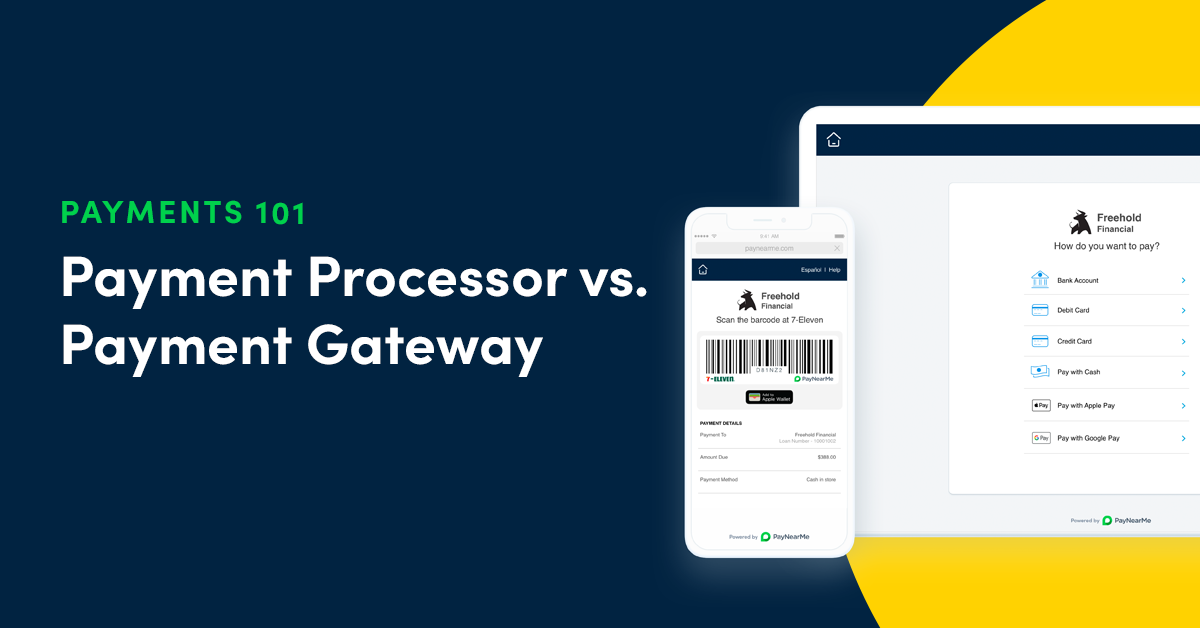 If your business needs to accept electronic payments, you've likely already chosen some sort of solution to help you achieve that functionality. But if your contract is nearing its end, or you're expanding into new electronic payment types, or if you're otherwise considering moving to a new vendor, you need to know exactly what type of services are available to make the best decision moving forward.
Below is some information that can help you determine whether a payment processor, a payment gateway, a bill payment service provider (or a combination of the above) is right for you.
What is a Payment Processor?
A payment processor completes a payment by transmitting data between your business and the issuing bank (which issued the card) and the acquiring bank (your business' bank). As part of this process, the payment processor will set you up with a merchant account that allows you to accept cards.
What is a Payment Gateway?
A payment gateway is a service that securely sends payment card information from a website to the card payment network for processing. It then returns transaction details and responses from the payment network back to the website. As part of the process, the gateway also authorizes payments for card-not-present transactions.
A payment gateway is typically integrated with the merchant's website/app as a checkout or payment button. It's like a POS terminal that operates exclusively online.
What's the Difference Between the Two?
The difference between a payment processor and a payment gateway is that a payment gateway communicates the status (approval/decline) of transactions between you and your customers, and a payment processor facilitates the transaction.
If you plan on accepting card payments online, you'll likely need both a payment gateway and a payment processor. Often, if you choose a gateway first, that company may steer you towards a particular processor.
Where Does a Bill Payment Service Provider Fit in?
Any merchant, from government organizations to eCommerce giants, can use the above tools to accept card payments. But what neither of these tools provide is the front-end user interface for accepting payments, such as a consumer web flow, IVR, agent interface, text-to-pay, etc.
That's where a bill payment service provider (BPSP) comes in. A bill payment service provider is an organization that acts as the connecting force between the consumer and the biller.
The exchange begins when the consumer pays a bill, whether that's one time or on a recurring basis. The merchant, or biller, is the company that requires payment for those products or services. When the consumer makes a payment, the BPSP acts as the receiver of payment information and sends that bill payment data to the merchant account via a payment processor partner.
What Services Does a Bill Payment Service Provider Offer?
Not all bill payment service providers are alike, but most tend to provide a user interface for consumers to complete payments. More advanced bill payment service providers offer easy-to-use consumer interfaces that support multiple payment types (ACH, card, Apple Pay, Google Pay, etc.), as well as additional features and services such as agent portals (for customer service agents taking payments), payment validation, reporting, interactive voice response systems, customer communications and pay by text or email.
The most innovative providers also offer the ability to customize their payments platform to meet your specific business needs, with features such as configurable business rules.
When Should I Not Use a Bill Payment Service Provider?
If your business only needs to send card data and allow customers to make payments but doesn't need a platform that helps manage the customer payment experience, a bill payment service provider is not always the best choice.
Not needing this type of platform means that you have the internal IT and compliance resources to build your own customer-facing website and/or app experience to accept payments. In this case, a payment processor or gateway that provides great APIs and documentation is a good fit.
When Should I Use a Bill Payment Service Provider?
For companies that don't have the bandwidth, resources or risk appetite to build their own payment platforms, relying on a bill payment service provider is a smart choice. Internal systems can take a long time and a lot of resources to build. This type of project can take precious IT resources away from other, more pressing concerns—particularly because your team likely aren't experts in this area and additional research and development time will be needed.
Building in-house also raises concerns around innovation. If processing payments is not your organization's primary function, you likely won't have the same amount of long-term resources to dedicate to bill payment platform improvements.
This means you will be lagging behind the experts in this space that are solely dedicated to remaining innovative. Your internal system will always be playing catch-up with new features and payment types such as Apple Pay and Google Pay. This could eventually lead to poor customer satisfaction, late payments and lower adoption rates.
Compliance is also a concern. If your team members aren't experts in compliance (or can't keep up with new regulations and requirements as they become available), you could be putting your business at risk by using an internal solution, whereas a bill payment service provider would have dedicated resources in this area.
Where Does PayNearMe Fit in?
PayNearMe provides a bill payment platform that's accessible by both consumers and agents to accept payments across multiple payment types and channels.
Built from the ground up to solve the challenges of modern-day payments, PayNearMe gives businesses the simplest, most reliable way to get paid – every time.
As consumer payment options evolve, businesses face increasing complexity in managing and accommodating those options. But whether your customers are mobile-centric or prefer to pay in cash, PayNearMe makes it easy. We give consumers the ability to pay when they want, where they want, and how they want – while delivering unmatched uptime and security to help ensure you never miss a payment.
PayNearMe's innovative platform revolves around three core components: Our PCI-certified payment processing platform offers unrivaled uptime and performance, getting you paid quickly and dependably while reducing risk through industry-leading security, real-time validations, and fraud analysis.
Trusted by over 5,000 businesses to process billions of dollars annually, the platform is architected to handle frequent feature rollouts and software updates safely and efficiently without disruption.
Find out more about what to look for in a bill payment platform. Contact PayNearMe for an personalized demo today.