Spotlight Series: A Conversation with Javier Ochoa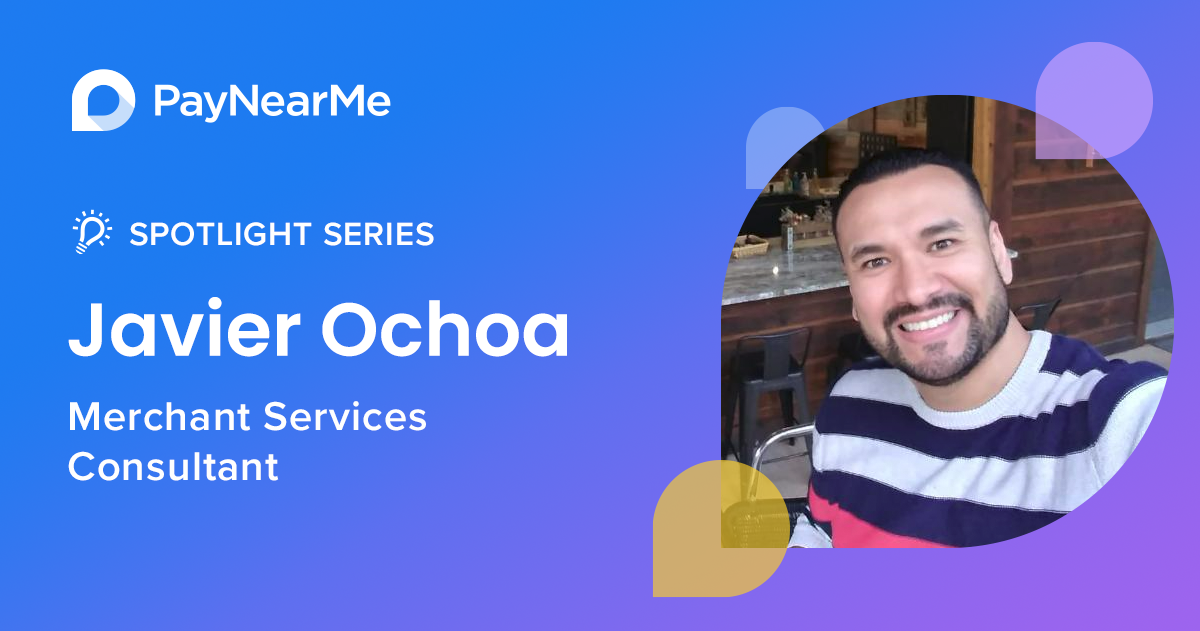 In the PayNearMe Spotlight series, we shine a light on the people that make our company thrive. In this month's interview, we sat down with Javier Ochoa, Merchant Services Consultant, to chat about his role in the company, key projects and his hobbies outside of work.
Q: Can you tell us about your career journey and what led you to PayNearMe?
Javier Ochoa: I've always worked in IT but was looking to pursue a different industry. In my previous role, there didn't seem to be much growth which sparked my interest in making a change. It just so happened that PayNearMe had an open position in my field, and a friend of mine referred me to apply. It was the best decision, and the rest is history.
Q: Have you always wanted to pursue a career in Solutions Consultant work?
JO: Prior to joining PayNearMe I hadn't specifically had a Merchant Services role, but I've always enjoyed working as the liaison between the business and merchants to help solve problems and set the client up for success.
Q: How has PayNearMe helped you in your career development?
JO: While I am only approaching my first year with PayNearMe, I feel extremely supported in my role. Our team, and the company as a whole, does a great job of providing the tools and resources employees need to be successful. There are countless blueprints available on best practices and other team members that guide folks who are newer to PayNearMe.
Q: Do you have any advice to share with those who are just getting into the fintech industry who might want to join a company like PayNearMe?
JO: The best advice I can share would be to always ask questions and be curious. Continue learning the product, processes and try to be patient. The learning curve is quite steep, but with time, patience and determination, you will be successful at PayNearMe. 
Q: You've been with PayNearMe for just under a year. What are some of your favorite things about working here?
JO: One of my favorite things about working at PayNearMe is our open door policy. I appreciate our warm and welcoming team and have felt a genuine connection with the team since day one. Since PayNearMe is a bit smaller than other companies I've previously worked for, I appreciate that cross-functional collaboration is commonplace.
Q: Let's shift the focus to your role. What does a day in the life of a Merchant Services Consultant look like?
JO: It's safe to say that I wear many hats throughout the day. I am working with clients in various stages of their onboarding program to ensure they're set up for success at the time of go-live. From coding to creating process documentation to interfacing with the business, I spend my days supporting our clients through onboarding and implementation.
Q: Let's talk about remote work. How are you able to stay connected with your team virtually?
JO: Luckily, remote work isn't a new concept for me. I've worked in a remote setting for most of my career. Having virtual meetings and coordinating team time has been critical in our success. Being virtual has allowed me to balance my work and home life much more easily.
Q: What are some things that you've learned about yourself while working at PayNearMe?
JO: The importance of patience and managing stress is so important. I've also learned that it's okay – and welcomed – to ask for help when you need it. Leaning on your teammates for support is how everyone at PayNearMe succeeds.
Q: So what about you—what kinds of activities or hobbies are you interested in outside of work?
JO: Outside of work I enjoy maintaining and fixing things around the house. I fancy myself a "fixer upper," but I've learned a lot through trial and error! My wife and I have two kids, a 16 year old and 11 year old, and they keep us very busy. My kids are active in sporting activities, so we are constantly on the go with them.
Q: If you could do another job for just one day, what would it be?
JO: I am fascinated by outer space and I would love to be an astronaut for a day.  
Q: Any fun facts you'd like to share with us?
JO: I speak fluent Spanish and it came in handy when supporting one of our merchants during the onboarding process. I was happy to lend this skill to make the onboarding process more seamless for our client!
Q: Do you participate in any volunteer work or have any organizations you'd like to shine a light on?
JO: My oldest child was diagnosed with special needs, so our family is very active with Challenge Air. It is an organization that was created to change the perception of children with special needs through the gift flight. To date there are over 3500 volunteers that support this group.