Strategies for Auto Lenders to Collect More On-time Payments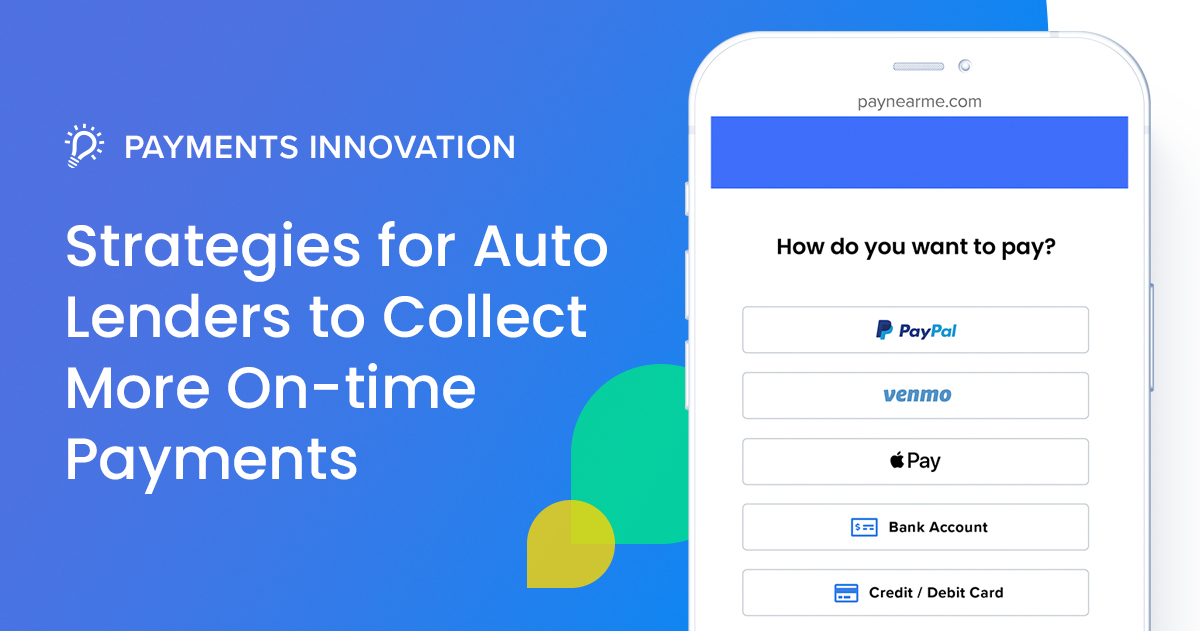 How the current economic climate is affecting collections, and what dealers can do to get ahead to keep their customers in the driver's seat.  
Inflation is affecting bill payers across the board, and it's no secret that collecting payments has become more challenging. PayNearMe original research, How Economic Uncertainty Impacts Bill Pay Behavior, reported that 74% of consumers are substantially impacted, with a full quarter saying they are feeling it to a great extent.
With a potential recession looming, our research also shows that many consumers, especially those aged 30-44, are most concerned about defaulting on loans like home, personal and auto. Borrowers are prioritizing bills by necessity and could turn away from bills that are less consumer friendly or easily forgotten.
When speaking to auto loans specifically, survey respondents stated their auto loan was second most likely to have been paid late over the past twelve months. Moreover, delinquency rates are on the rise across all areas of the country. According to the latest Quarterly Report on Household Debt and Credit report, auto loans appear to be the most at risk to transition into a 30+ day delinquency status.
Challenges contributing to this outcome can include matters like disorganization, availability of preferred payment type, and even procrastination. So, in an unsettled economy where the slightest friction will deter consumers from making their payments, what can lenders do to improve on-time payments and keep their customers in the driver's seat for paying on-time and in full?
Offer mobile payment types for fast, secure transactions
The best way to reach your customers is to understand their needs and preferences. According to PayNearMe's original consumer research, younger consumers are very interested in non-traditional payment types like PayPal and Venmo—54% would be likely or very likely to use these channels if offered.
Did you know that in the top five states where Cash App is most popular, users have lower credit scores? This could have interesting implications for those working with non-prime borrowers, and finding more creative ways to make it easier for them to pay.
Additionally, with options like PayPal and Venmo, customers no longer need to spend time typing in sensitive payment information such as card or bank account numbers. Customers can pay with a saved payment account in PayPal or Venmo, or use the balance in their wallet to complete a payment, reducing friction and saving time.
TIP: Mobile wallets such as Apple Pay, Venmo and PayPal can help decrease fraud and chargeback rates, as they require a PIN or biometric authorization to complete a transaction. This additional layer of authorization can help lenders provide a secure paper trail that leads back to the payer.
Offer the convenience of accepting cash payments outside the business
In addition to mobile wallets, consumers still want access to traditional payment options. Cash remains a viable bill payment method even as digital payment types gain popularity.
What is your strategy for accepting cash payments today? PayNearMe research concluded that among younger payers, cash is still a preferred method for bill pay.
35% of 18-29 year olds would be likely to pay bills with cash
26% of all consumers would be likely to pay bills with cash, if offered
200% increase in on-person cash holdings from 2019 to 2020 (18-24 year olds) (reported by the FRBSF)
Accepting cash doesn't have to require more staffing resources for your team. A solution like PayNearMe Cash at Retail allows your customers to pay at locations they are already shopping at in their neighborhood, including 7-Eleven, CVS, Walmart and Walgreens. This allows lenders to collect cash payments without worrying about accepting, storing or transferring cash from their physical locations.
So we've covered payment types. What else can we control in a wavering economy? Some questions to ask yourself as we continue on are:
How efficiently is my collections team functioning today?
Are there opportunities for the team to automate manual processes?
How can we increase call center capacity without increasing headcount?
Improve efficiency and remain top of mind with automated engagements
Staffing continues to be a challenge for many lenders, especially those fielding a call center. Teams are running lean and turnover is a concern. According to The Bureau of Labor Statistics released February, 2023, job openings in 12/22 reached 6.7%, up from 4.6% just two years prior.
Take back control of how you are reaching your customers and how often with automated tools to decrease the manual workload for your overworked employees. Sending payment reminders by SMS can help collections like PayNearMe Smart Link™ SMS text messaging can help collections while also protecting your business.
Consider the risks of manual text messaging – allowing staff the ability to send free-form text messages without compliant copy can be risky. As noted, turnover is a concern across the industry and staff can be stressed. If a text exchange becomes non-compliant or inappropriate, your business is at risk.
Additionally, sending automated secure payment links by text eliminates not only the need to take card information over the phone, but also reduces manual entry errors by agents.
Lastly, this low-tech option packs a punch, and creates lifelong loyalty. The auto sales community is built largely around relationships and comfortability with the buying and ownership process.
Your relationship with your customer matters
Of the strategies discussed above, your commitment to your customers is the most critical. Your brand and reputation rely on how your customers see you, and that will show through word of mouth marketing.
Small mistakes in customer experience can add up to big issues over time—including late or missed payments, increased customer service costs and lower engagement. Stay laser focused on the customer experience to in turn promote customer loyalty. Happy customers will become raving fans and customers for life.
Inflation and economic uncertainty are certainly top of mind and a cause for concern among most consumers. The right payment partner can help you as collectors ease that stress on your customers by focusing on ways to make payments easier for them, and more efficient for your staff.
Lastly, be flexible. When it comes to collecting, customers will have issues, and life happens. Listen, capture and resolve. Focus on ways to be proactive with client issues and situations, and remain adaptive to your customers' needs.
Throughout the auto industry, community and reputation is the backbone of many dealers 'why'. Your payment partner and other software providers are simply the tools to help you succeed behind the scenes. In order to make a true impression, customers want to feel valued, respected and taken care of. Find a technology partner who aligns with your vision, and supports your needs.