In Their Own Words: Why Clients Love Working with PayNearMe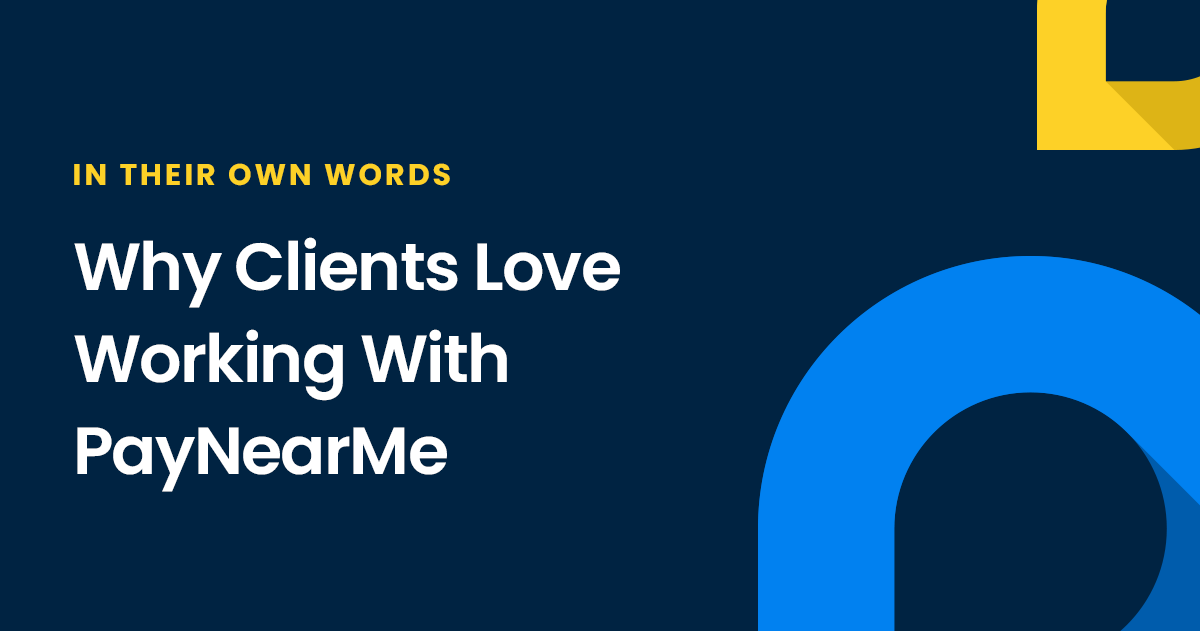 This month marks PayNearMe's 13th year in business. To celebrate, we're looking back at some of the positive feedback received from clients that have helped shape the PayNearMe platform into a market-leading bill payment provider.
Here are some of our favorite features, and what our clients have to say about them.
Frictionless Self-Service
Smart Link™ technology is the secret sauce behind many of PayNearMe's most popular features. A Smart Link is a personalized payment URL that when clicked, allows a consumer to enter a registered guest payment flow and complete a translation without entering a username, password or account number. This greatly reduces friction in the bill pay process, allowing a consumer to complete a payment from a text, email, push notification or QR code in seconds.
What clients are saying:
"This solution significantly reduced both call time and frequency in our call centers, while enabling our customers to easily make self-service payments. Many providers promise innovation—PayNearMe actually delivers."

Rafe Dunlap
VP Collections Strategy
LendingClub
"Previously, we needed an agent dedicated to taking payments. Since implementing PayNearMe Smart Link™, customers set up their digital wallet and easily make payments on their own. Our incoming calls have significantly decreased."

Govinda Romero
CEO
First Union Financial
Faster, Easier Payouts
Digital disbursements allow billers to ditch snail mail and get money out to customers quickly, securely and cost effectively. Push-to-debit enables near real-time disbursements, while ACH disbursements offer an economic way to send payments to a customer's bank account overnight.
PayNearMe enhances this experience by allowing billers to push the disbursement authorization over to consumers, allowing them to securely enter their own payment information (i.e. debit card number or bank account) without sharing this information over the phone.
What clients are saying:
"The PayNearMe platform makes it possible for us to get the funds to members in need quickly, without a physical handoff and with minimal risk."

Marcus Berkowitz
Vice President of Technology and Innovation
Grameen America
Award-Winning UX and Modern Design
When asked what makes bill pay difficult, 30% of consumers cited "navigating poorly designed biller websites", the third most popular reason (behind remembering login information and keeping track of due dates).
PayNearMe's modern, intuitive interface makes the bill pay process easy for consumers, giving them a single place to make and manage their payments. The web-based payment portal is accessible on any connected device, no matter what the screen size, device type or operating system.
What clients are saying:
"It's a brilliant, elegant solution that our customers adopted quickly without any disruption to our business."

Steven DeLutri
Assistant Treasurer
OneMain Financial
"The UI is sleek, clean and easy. It's been great for our team to use. It's also simple to track any issues that arise throughout the month."

Arthur Helmick
COO
HCAC
A Relentless Focus on the Customer Payment Experience
The billing process is often the most frequent touchpoint that billers have with their customers. Each month (or more often, in some cases) customers may change their perceptions and evaluate their relationship with a biller.
For example, if a customer needs to pay with a different payment method one month, is the process simple and familiar? When updating autopay, does the customer have the right options to fit their financial needs? Are there clear error messages when something goes wrong, and real-time receipts when a payment goes through? These interactions can shape how the customer perceives a biller—and potentially impact their desire to do more business with the biller in the future.
What clients are saying:
"PayNearMe has made our payment options easier, which has made our customers' lives easier. This is the mark of a good vendor."

Josh Austin
CFO
Adonis Auto Group
"The interface is very easy-to-use and gives us a number of ways to engage our customers to ensure on-time payments without additional charges or hidden fees."

Mike Melster
CEO
Capital Auto Finance
Become Our Next Success Story
We invite you to experience the PayNearMe difference at your organization. See how our innovative platform is helping billers of all sizes collect every payment, every time by scheduling an interactive demo today.