What's New at PayNearMe: 2022 Year in Review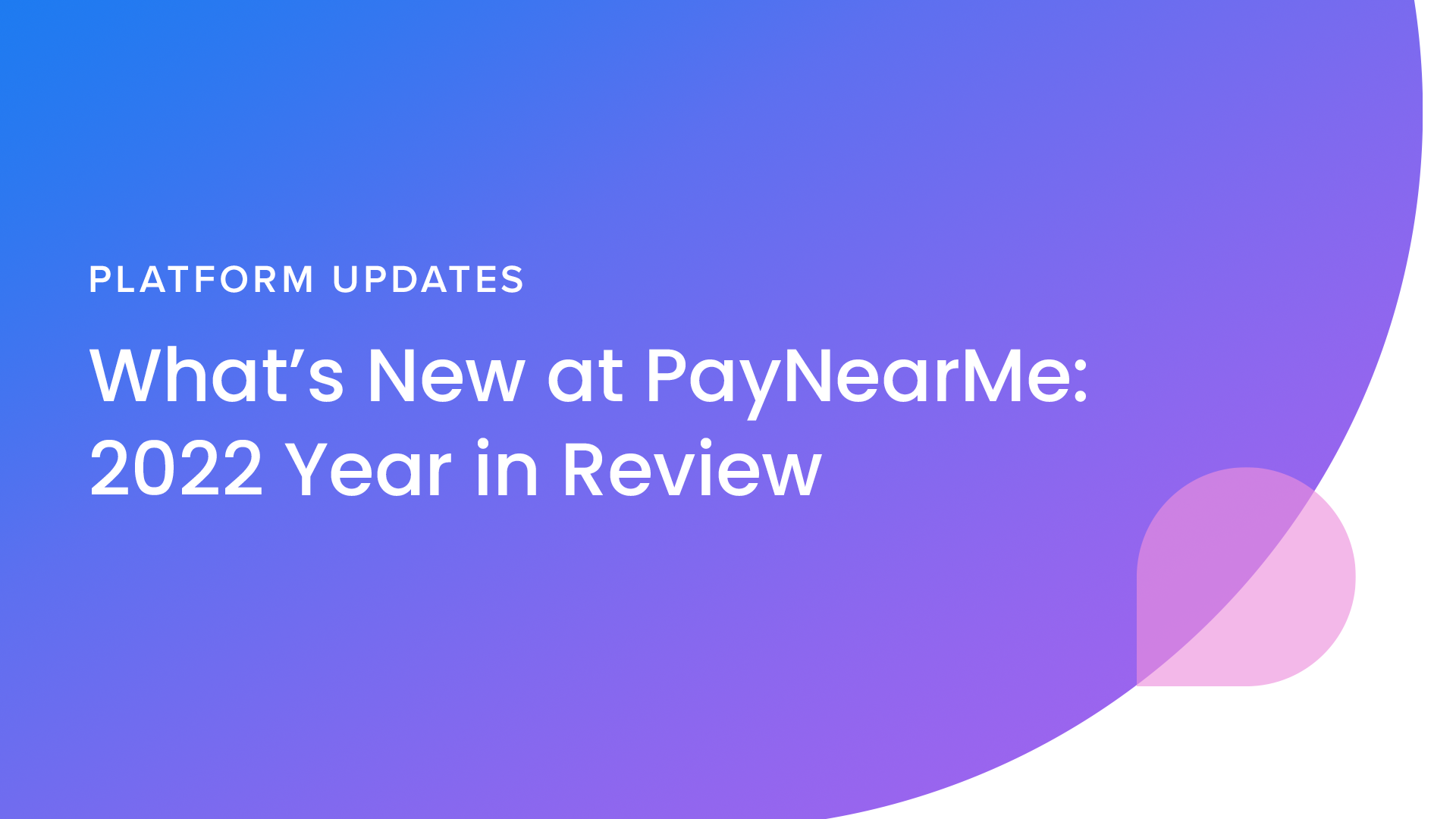 In 2022, our dedicated team of engineers shipped over 50 releases. Although the economic climate remained uncertain, our commitment to solving the biggest payment challenges for our customers has never been greater. Along the way we uncovered insights, received awards and reached new heights.
From new payment types to expanded partnerships, we're looking back at some of the most significant product highlights of 2022.
Accept Mobile-First Payments with PayPal & Venmo
In an effort to make payments easy for all, we added PayPal and Venmo as mobile-friendly payment options. As of late 2022, PayPal has over 432 million active accounts while Venmo boasts more than 70 million users with most residing in the United States.
It's important for lenders to continuously consider how they can grow alongside their customers; offering payment types customers are used to working with is one way to connect better with them. In fact, 43% of consumers say they consider PayPal an important option for bill payments, while 27% say the same about Venmo, according to our research.
Lenders can let their customers make payments with their available PayPal and Venmo balances. By removing the need to transfer funds into traditional payment methods, businesses can increase their on-time payments. Consumers with privacy concerns can pay with saved cards or banking information as well.
Cash Payments Made Easy with Walgreens
We grew our cash retail network by adding thousands of Walgreens stores to our list of in-person cash payment locations. The expansion brings PayNearMe's total number of U.S. retail partners to over 40,000. The growing retail footprint not only makes paying with cash accessible and convenient for consumers, it also reduces the risk of handling cash on premises for businesses.
Streamline Your Payments with New Integration Partners
Part of addressing real world challenges includes understanding our clients' existing tech stacks. Payment technology should connect seamlessly to the other tools used alongside the payment processor. That's why here at PayNearMe we are continuously improving our existing integrations with loan management systems (such as Auto Master and Shaw Spectrum) while expanding our partnership network with the addition of Black Knight loan management software. Leveraging our partnerships and integrations gives clients and end users a more seamless payment experience.
Embedded Client
Because what makes your business great is unique to you, we've made it easy to implement PayNearMe in any number of ways with Embedded Client. This solution lets a business embed the entire PayNearMe payment flow (or specific elements) seamlessly into their website or application. The highly configurable nature of Embedded Client allows businesses to own the user experience and decide when and where to fit PayNearMe into their customer journey. This solution can even run completely in the background to keep the focus on the corporate brand.
Security Updates for Smart Link ™
We're constantly collecting insight into ways to strengthen our platform. This year, we released more configurations with our award-winning Smart Link™ technology. This feature helps consumers make payments in less clicks by removing the need to log in and placing the consumer on the payments page of their account. These links can be set to expire after a specified date or after a specific number of uses to accommodate businesses with various security standards.

Platform Improvements and Enhancements
As a part of our mission to continue to build reliable solutions that scale, we've also released dozens of security, speed and performance updates that benefit everyone who uses the PayNearMe platform.
For consumers, we made IVR easier to use by allowing consumers to authenticate themselves with details besides their account number. This lets them access the accounts with easy-to-remember information like their date of birth or the last four digits of their social security number.
Our merchants can take advantage of improved reporting in the Business Portal where they can drill into the details of their transactional data. This allows them to isolate anomalies to identify potentially fraudulent activity. Merchants may also configure additional data to be captured in our callbacks to better understand the details surrounding individual transactions.
Before we turn the page on 2022, we want to share our deepest gratitude for our clients, partners, and team members. And there you have it folks, our 2022 wrap up. From the wise words of our CEO, Danny Shader, "onward and upward!"

Ready to try one of these updates on for size? Reach out to your sales representative or account manager for more details. Want to stay on top of the latest & greatest at PayNearMe? Sign up for our Product Update newsletter here.