Offer Customers More Choice with ACH Disbursements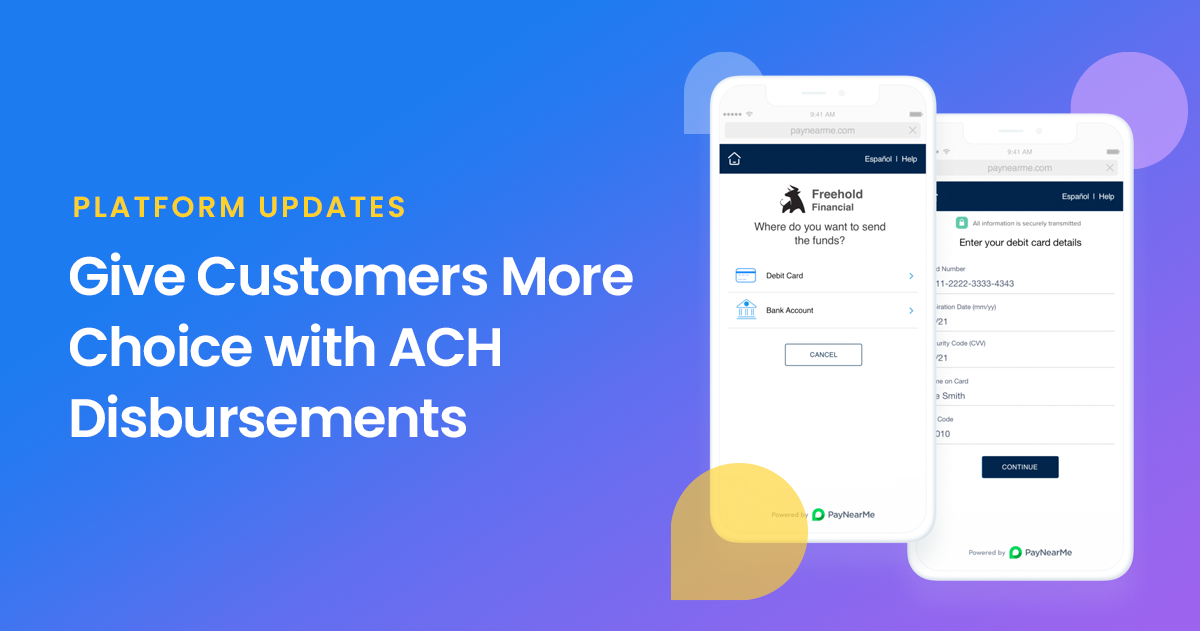 As a bill payment software provider, PayNearMe has always offered our clients and their customers easier ways to pay their bills. A couple of years ago, we expanded our services to offer ways to not only collect payments—but  push money out as well. 
PayNearMe's push-to-card digital disbursements enable organizations to send overpayments and refunds to bill pay customers and disburse winnings to iGaming & sports better players a in under 30 minutes. But did you know that PayNearMe also offers ACH disbursements? 
How Do ACH Disbursements from PayNearMe Work?
This cost-effective disbursement method allows organizations to disburse funds to a customer's bank account using the traditional NACHA ACH networks and can be combined with push-to-debit disbursements under one merchant pre-fund account. 
Like debit disbursements, customer information (routing number, account number, etc.) can either be put in by the agent or by the customer directly. The latter option helps reduce PCI compliance concerns as well as mistyped account information by agents.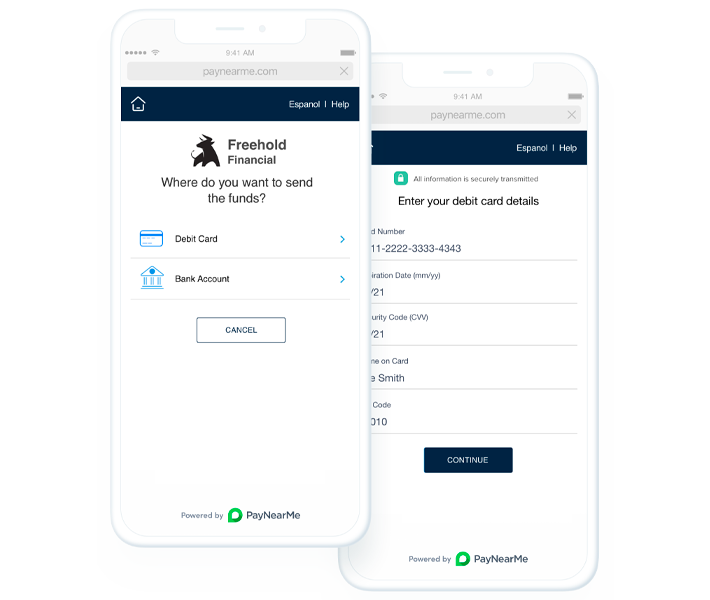 ACH disbursements expand PayNearMe's current banking partnerships, allowing us to leverage immediate funds flows and consolidate merchant settlements. Following the NACHA processing schedule, funds will typically appear in the receiver's bank account the next banking day.
When a PayNearMe client elects to use ACH disbursements, PayNearMe's direct integration with our verification partner will support bank account validation and authentication, ensuring that the account entered is active. 
To track usage and other key payment data, organizations' internal teams can access centralized reporting details for both cards and ACH transactions across different accounts and settlement methods.
Why Use ACH Disbursements? 
While push-to-debit  is a phenomenal experience, not all consumers have debit cards that can accept funds, leaving them without an option to receive disbursements this way. 
Additionally, ACH disbursements typically have a lower cost when compared to push-to-debit disbursements, allowing for reduced operating costs for merchants.
Finally, some customers simply might prefer to receive funds directly to their bank accounts. Giving customers more choice in how they receive funds allows you to improve your user experience and reduce support calls.  
Get Started Today 
Speak to your PayNearMe sales representative or account manager to discuss enabling ACH disbursements today. Or, contact us to request a demo of the full PayNearMe platform.