Three Smart Ways to Automate Payments with PayNearMe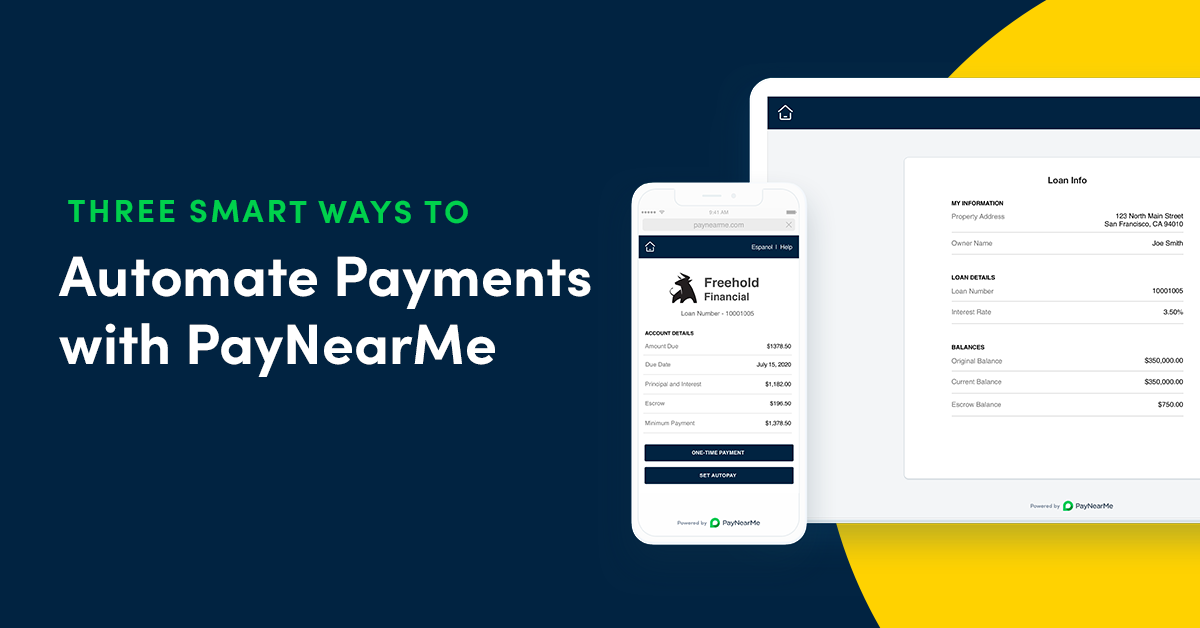 Automation gets a bad rap. Some think of automated technology as annoying autoresponders and internet bots that make your customers' lives more difficult. A few others might even equate automation with a wholesale replacement of your workforce by an army of robot drones and sentient AI hellbent on overthrowing humanity (not this time, HAL.)
In reality, automation is the key to progress, allowing your employees to accomplish more and stress less. This is especially true in the case of payments, where you want your customer service agents spending their time on complex issues that require human intervention, such as resolving exceptions, collecting late payments or converting one-time payers into autopay customers.
In our recent webinar, "Streamlining Collections with Payments Automation", we go into more detail about the benefits of automation, which include:
Free up staff time: Have your customer service agents focus their energy on problem solving rather than order taking and busywork.
Reduce risk: By reducing manual data entry, you lower the chances of mistakes that can come back as risk management nightmares.
Lower costs: Lower the amount of time spent collecting each payment, which increases portfolio profitability.
Satisfy customers: Give on-time payers a fast and easy way to complete payments without having to call you or take the time to mail a coupon.
Scale your business: Add more loans to your portfolio without having to beef up your staffing requirements or equipment.
These benefits create a compelling case for payments automation, especially for recurring billers. The next challenge is implementation—how do you turn the idea of automation into real-life processes and workflows?
With PayNearMe, you can turn your vision of automation into a reality. Here are three ways to start automating payments directly in the platform.
1. Add Custom Fields
Custom Fields, sometimes referred to as custom parameters or configurable fields, allow you to capture, store and display any information you want directly within PayNearMe. The most popular implementation of this feature is to connect all the fields in your system of record (SoR) or loan management software (LMS) directly into PayNearMe, allowing a clean transfer of information between the two platforms.
Custom Fields can also be used to create personalized views for both employees and customers. You may choose to show more information to a customer directly in a payment screen, such as displaying payoff amount or escrow balance, to reduce the number of customer service calls fielded for these types of inquiries. Or, you may choose to use custom input fields to industry- or business-specific information, including making additional contributions to principal only.
By giving you more control of how data flows and displays within PayNearMe, Custom Fields allow you to simplify and optimize your payment flows for more customers. The easier it is for a customer to find the right information at the right time, the less likely they will be to contact your customer service department.
2. Implement Configurable Business Rules
Adding Custom Fields does more than simply displaying the right information at the right time. These fields can also be used as a catalyst for building Business Rules that can automate an incredible number of payments and risk management tasks.
PayNearMe Business Rules allow you to define certain conditions and build if/then statements around them. Plainly speaking, you can build rules that automatically trigger and work in the background to help you streamline the payments process.
For example, imagine you create a custom field that populates when a customer's ACH payment bounces and sends back an NSF error. You can then create a Business Rules that says, "If a customer has 2 or more NSFs within a year, then only allow that customer to pay with cards or cash." The next time that customer tries to make a payment, they will no longer have the ability to make an ACH payment until the rule expires or your team overrides it.
Using Business Rules gives you the ability to automate an incredible amount of payments tasks. The only limits are the data you choose to collect and the boundaries of your imagination.
3. Communicate with Engagement Engine
While Custom Fields and Business Rules focus on more reactive processes, Engagement Engine takes a more active role in payments automation.
Engagement Engine is a built-in messaging platform that allows you to send text messages, emails and push notifications to your customers. These messages can come in the form of scheduled payment reminders, outbound promotions, automated receipts, or important company announcements.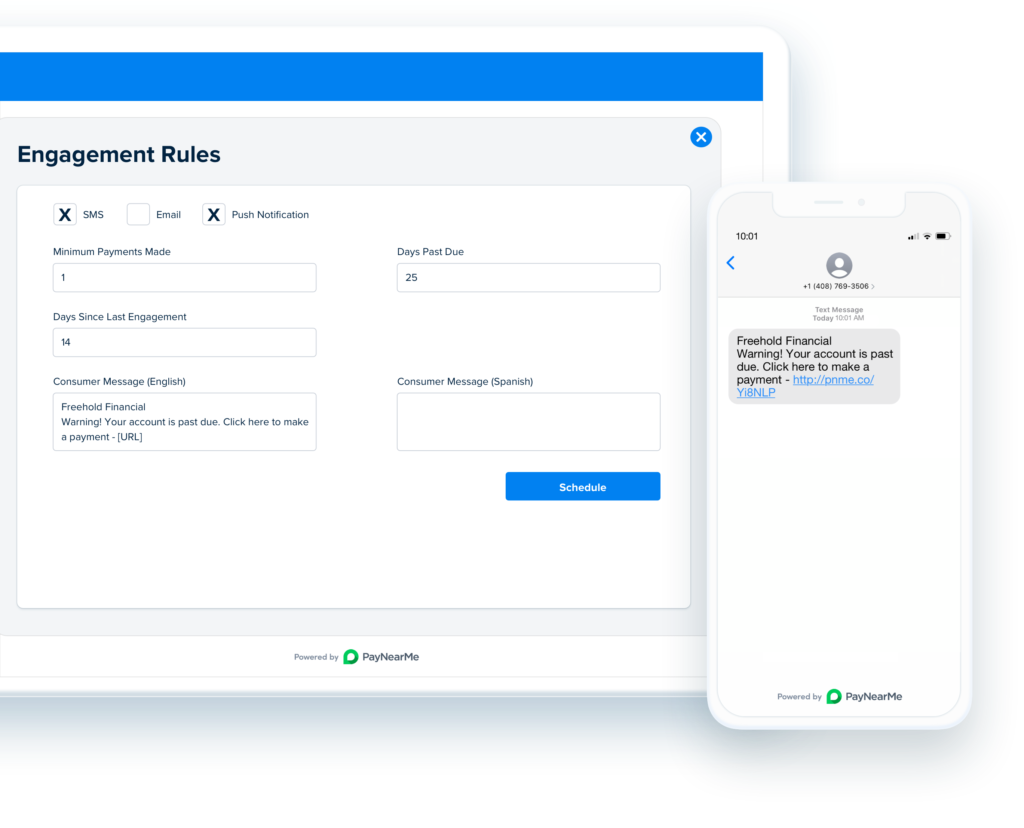 PayNearMe clients use these engagements to accomplish many goals. Here are a few use cases:
Send segmented messages based on payment status. For example, you may choose to group customers into on-time payers, late payers and 90 days past due. These groups can all get different messages automatically, depending on which bucket they fall into.
Offer bilingual options for customers automatically, so when they choose Spanish as their preferred language, they will continue to receive messages that match this preference.
Inform customers about large scale changes to your business. For example, when OneMain Financial went cashless, they were able to use Engagement Engine to educate customers on this shift.
Send emergency notifications to specific customer segments. This is especially useful when you need to shut down branches in emergency situations. In this case, you can message customers within a range of zip codes that their local branches will be closed to avoid confusion and long lines.
There are many ways you can use Engagement Engine to automate different communications workflows at your business. Speaking with your dedicated account manager can help you understand how these different engagements will work for your business.
Automate Payments with PayNearMe
Ready to take the plunge into payments automation? Contact the PayNearMe team today to see a full demo of how these tools can work for your business.