The Benefits of Accepting Mobile Wallet Payments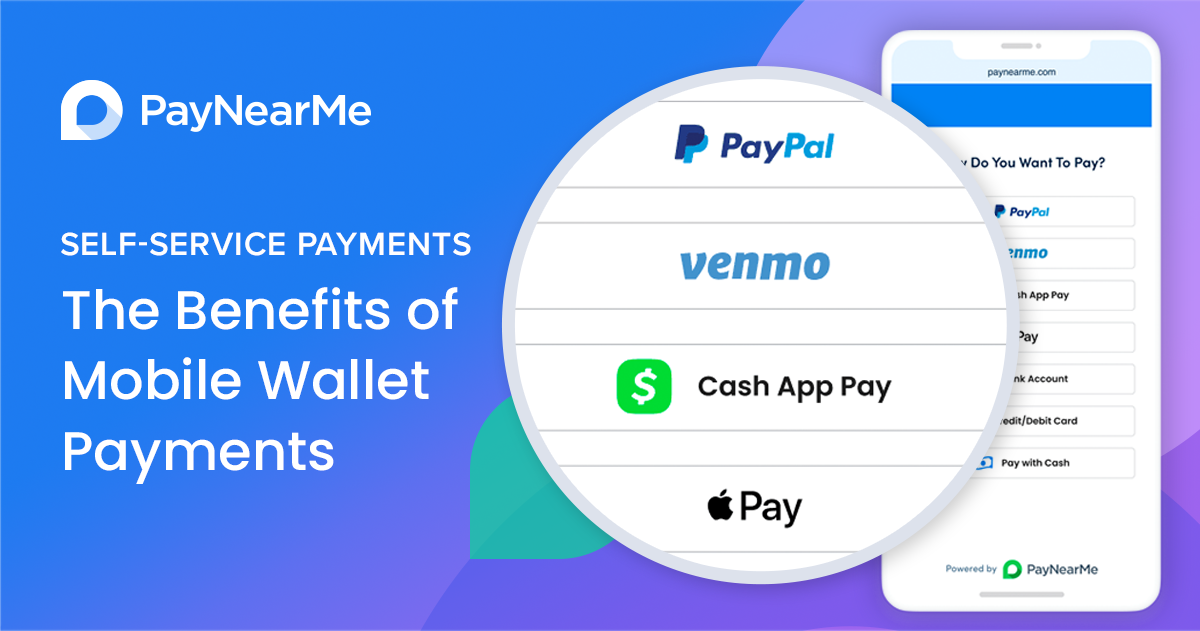 Paying with mobile wallets is now a standard part of today's digital lifestyle. 81% of consumers use a digital wallet such as PayPal, Apple Pay, Venmo or Cash App, and 76% keep a balance in their mobile wallet for future use.
Businesses that offer limited ways to pay – such as accepting only ACH and debit payments – may experience more delinquent payments, and face a greater resistance to autopay enrollment.
As consumers have grown used to the convenience and flexibility of using payment apps, it's no surprise that many people say using mobile wallet apps would make it easier to pay bills on time. It's a powerful incentive for billers to take a closer look at how offering mobile payment options can improve on-time payments and overall profitability.
The Top Mobile Payment Apps
Just how big are the biggest players in the mobile payments industry? Let's look at how leading wallets and digital payment apps are influencing consumer payment choices:
PayPal – PayPal now has 435 million active accounts worldwide, and expects a total payment volume of $1.49 trillion by the end of 2023. Embedded in a vast array of e-commerce businesses, PayPal processed 22.3 billion payments in 2022, an increase of 16% compared to the previous year.
Apple Pay – Apple Pay's global user base increased to 535.8 million in 2022. Usage is highest among Gen-Z consumers. Adoption is driven by Apple Pay being pre-loaded on iOS and devices regularly prompt users to add a card to set up Apple Pay.
Google Pay – Like with Apple, Android devices have Google Pay pre-installed, so that's a jumpstart for usage. In 2023, they now have over 150 million users worldwide.
Venmo – Venmo projects their U.S. user base to reach over 85 million in 2023, expecting to top 97 million users by 2025. Venmo appears to have its highest interest on the coasts and the northwest, and within states with higher credit scores.
Cash App – Built by Square (now Block), Cash App is growing as a super app, and has confirmed they have 51 million monthly transacting actives in 2023. This app appears to dominate in the central and southern regions of the U.S., and seems most popular in states with lower credit scores. Cash App is growing in popularity for unbanked individuals who use the app to store funds for paying online or via cash at retail locations, rather than using a bank account.
Why Consumers Prefer Mobile Wallet Payments
Mobile wallets enable consumers to send, receive and manage money from different funding sources (bank accounts, payment cards, gift cards, and stored cash) all in a few taps from their smartphone. From making an in-store or online purchase, to paying bills, to sending money to a friend to split the check for dinner – mobile wallet payments are fast becoming the preferred way to pay.
Consider some key benefits that also enable billers to improve the customer payment experience:
Financial Consolidation: Many mobile wallets simplify the payment process by providing access to multiple payment methods in a single user interface. Consumers can run all payments through their mobile device, without the need to carry or risk losing physical cards or cash. For example, a Venmo user can keep a debit card, a bank account, a Venmo-sponsored credit card and a balance of stored funds in a single account.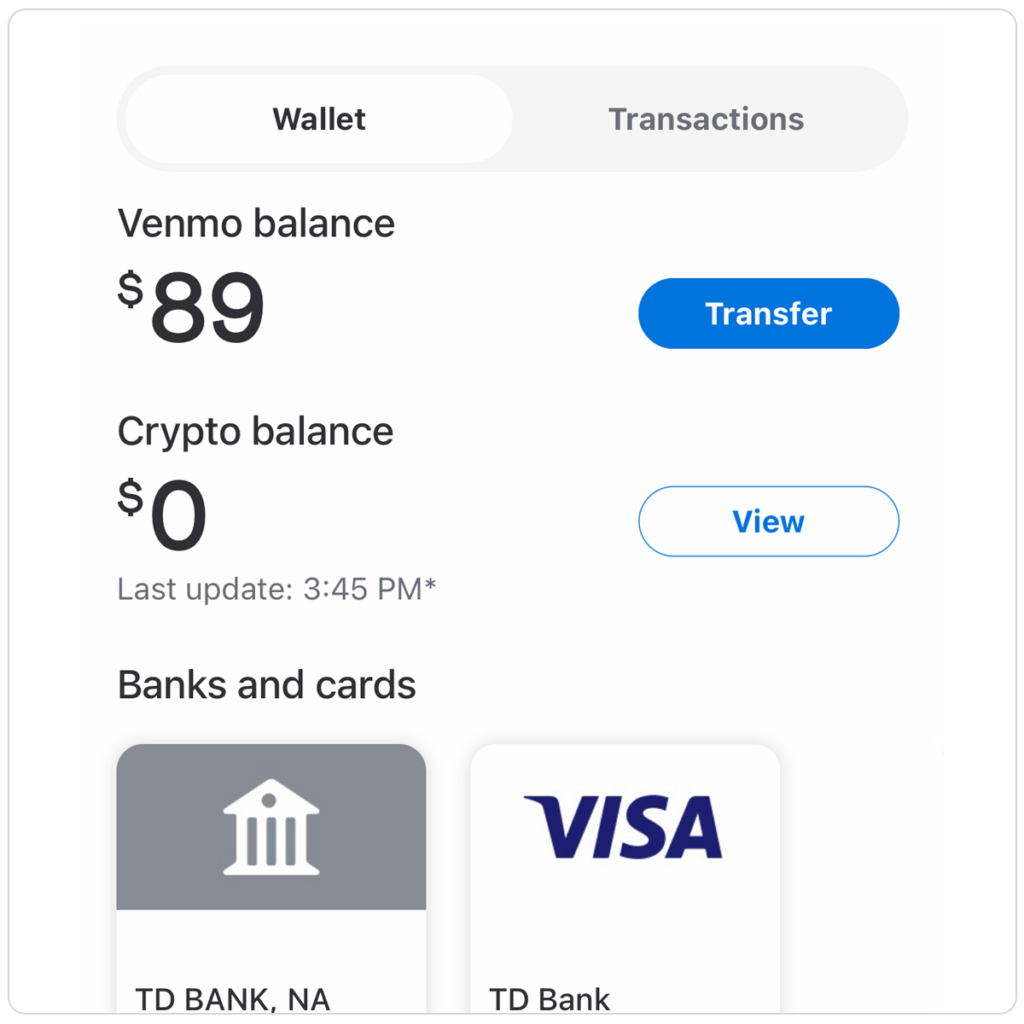 Convenience: Mobile payments offer a more frictionless experience than keying in traditional payment methods. For example, when someone wants to use PayPal, they don't need to remember and enter card numbers or bank details for each transaction, because it's stored in the app. Users can simply authorize the payment in the app, using biometrics or a pin to complete the transaction in seconds.
Security: Many users prefer mobile payments for the extra levels of security they offer, such as tokenization and biometric authentication to help ensure payment data remains secure. In addition, full payment details aren't stored on mobile devices, so bad actors would have a difficult time pulling payment account data from digital wallet apps.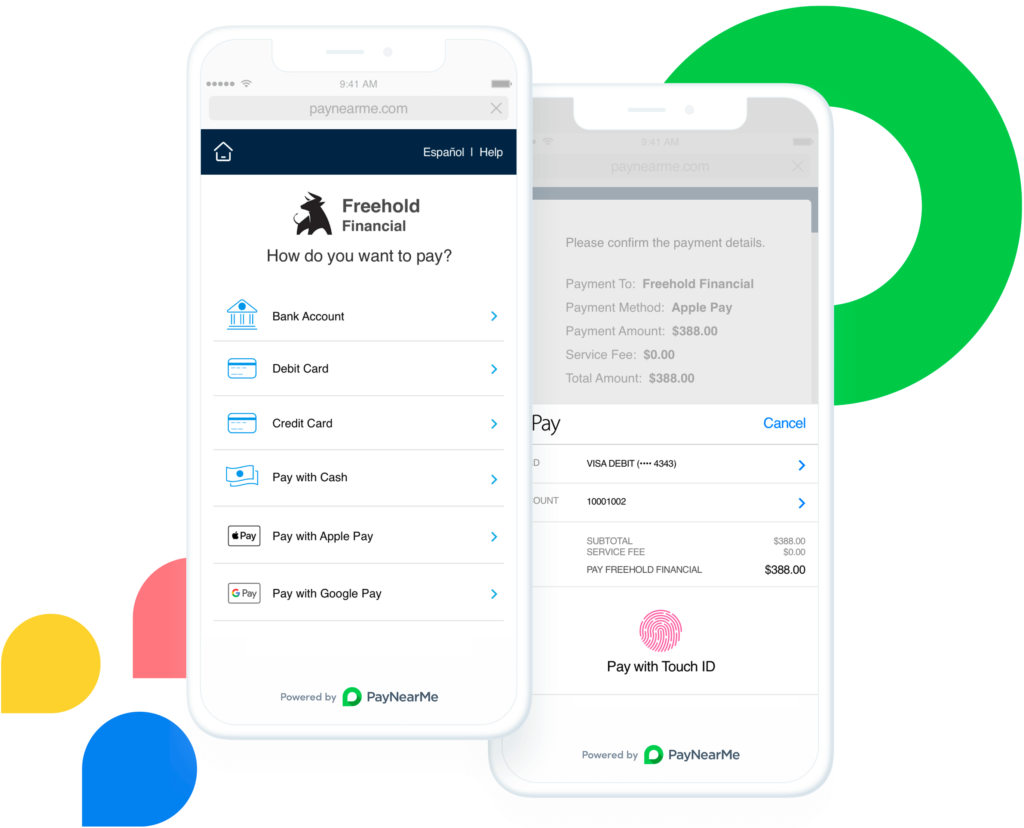 Trusted Providers: Unlike many trending technologies, the big mobile wallet options are all backed by established tech giants. Apple, Alphabet (Google's parent), PayPal (who also owns Venmo) and Block (Cash App) are all Fortune 500 entities with financial stability and familiar best-of-breed tech. Consumers trust these brands with their sensitive financial information.
Financial Inclusion: Users don't need a bank account to pay with digital wallets, they can simply store cash balances in an app (say, from P2P transactions). That allows unbanked and underbanked individuals the opportunity to participate in the digital payments ecosystem, and can make it easier for them to pay bills.
Why Billers are Slow to Adopt Mobile Wallet Payments
Many billers still don't offer their customers the ability to pay with mobile payment methods. According to an Atlanta Fed study, nearly 76% of bills are paid in the traditional ways, like online banking bill pay (ACH from a checking account), using a debit card or paying by check.
Why are mobile payment options still not making a dent in bill pay market share? The following factors likely play a large role:
Legacy payment vendors: All too often, billers can only offer the options supported by their payment processing vendor. Many providers haven't integrated all the major mobile payment methods into their platforms. Only a select few, such as PayNearMe, offer a wide range of mobile and alternative payment options for billers.
Cost concerns: ACH continues to be the payment method of choice for most billers because it sports one of the lowest transaction fees across payment methods. But what often gets ignored is the cost of a failed ACH payment—each one can result in return fees, customer service expenses and potential collections costs to minimize delinquency.
"Debt on debt" payment concerns: Many billers resist mobile payments out of concern that customers will try to pay down a loan with a credit card housed inside a mobile wallet. Payment innovators like PayNearMe have tightly configured integrations that prevent this scenario. Our platform pulls in MCC codes and other pertinent data to ensure each transaction is correctly mapped and reported to ensure compliance.
How Smart Billers Benefit with Mobile Wallet Payments
Like consumers, billers can benefit greatly from accepting mobile payment types. How can mobile payments help the business? Check out some compelling reasons:
Simplify the Bill Pay Process: Expanding beyond ACH and debit card payments for bill pay may provide a significant boost in on-time payments. Many consumers say that using their preferred mobile wallet would make it easier to pay bills: 43% want to use PayPal, 32% want to pay via Apple Pay or Google Pay and 22% would prefer using Cash App.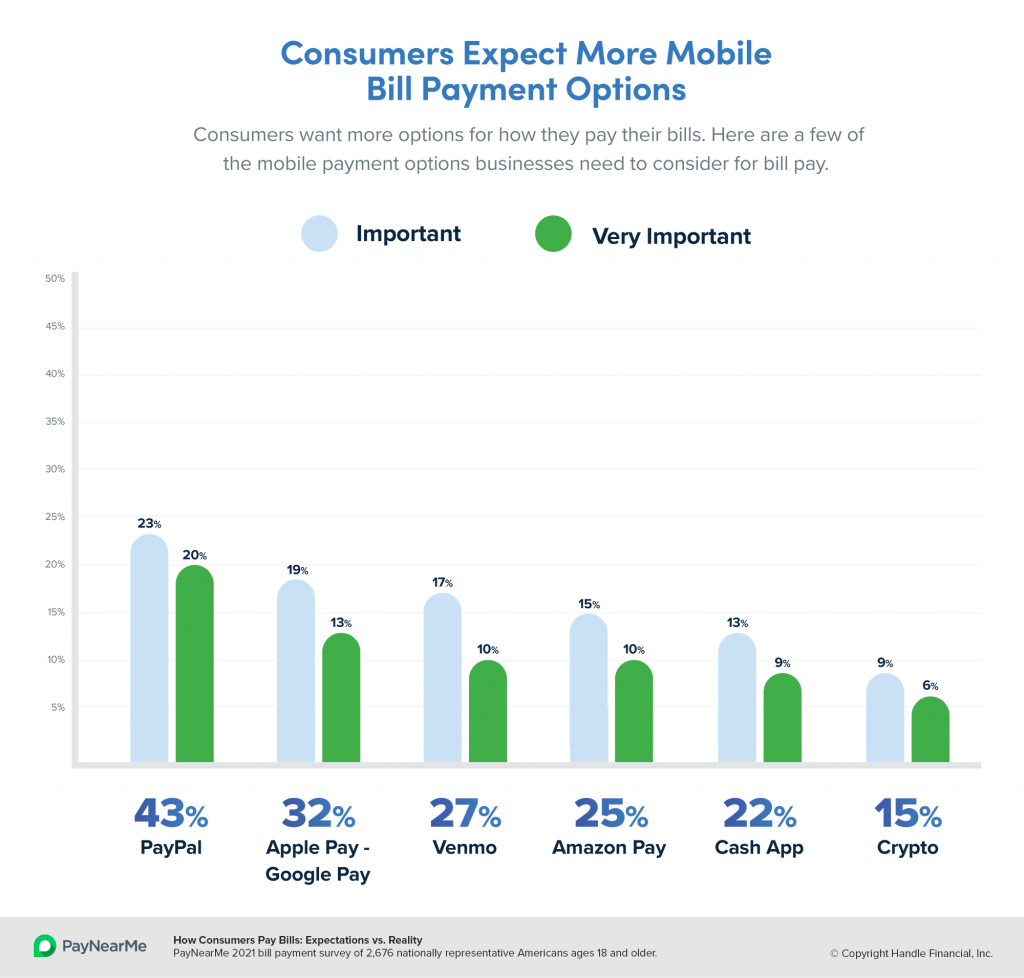 Climb the Payment Priority Ladder: Accepting mobile payments means tapping into readily available consumer funding sources. For example, if a biller allows payments from Venmo, the consumer can potentially pay with a debit card, a bank account or stored funds in the app. If the consumer prefers to pay with stored funds first, they may prioritize any biller willing to accept this payment—potentially putting them at the top of the priority ladder.
Good Funds: In many mobile payment transactions, funds must be available at the time of payment for the transaction to successfully post. This is similar to a "good funds" model, which reduces the likelihood of a bounced or rejected payment. In industries like lending, high authorization and acceptance rates can make a substantial difference in the bottom line each month.
Reduced User Input Errors: Keying in the wrong account number or zip code, especially on smaller mobile keyboards, can cause an honest payment to fail without warning. Many mobile wallets pre-authorize the payment account before it can be added to the consumer's wallet, helping to reduce these errors both at the initial payment and for follow up payments.
Drive down delinquency: Offering mobile payment options to customers who have multiple non-sufficient funds (NSF) errors or other declines can be a way to help improve outcomes, and make it easier for people to pay. With a modern digital payments platform like PayNearMe, billers can lower costs by supporting more payment methods and setting automated business rules for payment acceptance.
Climb the Payment Priority Ladder with Mobile Payments for Bill Pay
Billers can help improve on-time payments by empowering customers to pay in ways they prefer – including "the big five" mobile wallets, cards, ACH, and cash at retail locations – all from a single platform. PayNearMe offers a full range of payment options, including configurable solutions for consumer finance, auto lending and others.
See the PayNearMe Platform in Action