Four Steps to Promote Mobile Payments
Mobile is on a roll. In the past decade, mobile web browsing has exploded, climbing from 7% in 2011 to over 48% in 2021, putting it neck and neck with desktop traffic.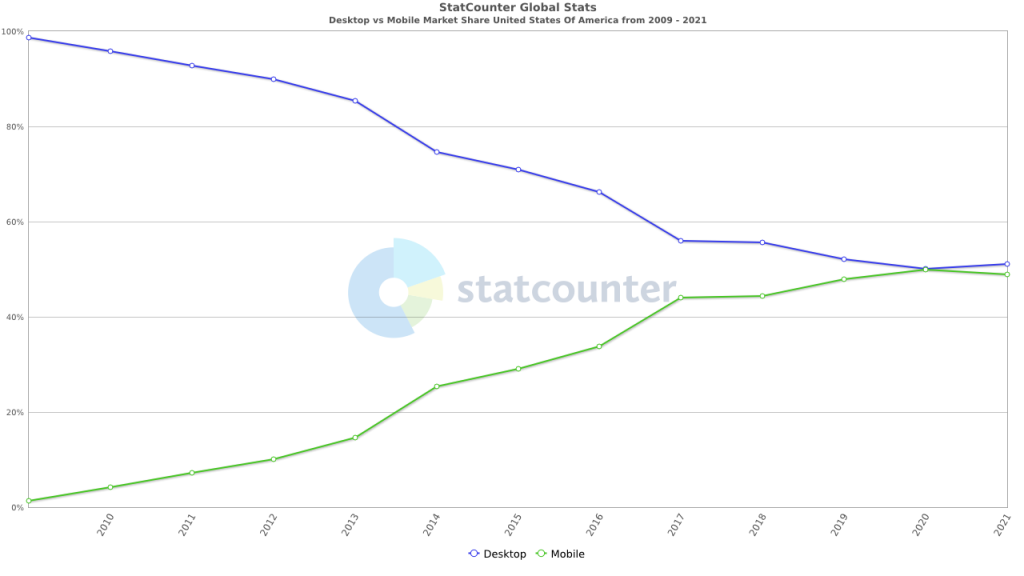 The sheer ubiquity of smartphones in the US is largely responsible for this growth. Over the same time period, smartphone adoption in the US has climbed from 35% in 2011 to a staggering 85% in 2021, putting the technology on par with automobile ownership (88% of households) and air conditioning (87.6% of households).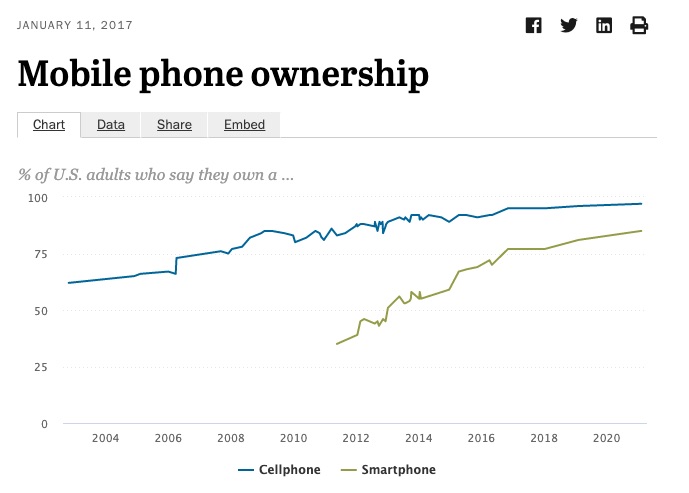 Despite all this, many billers still struggle to get their customers to adopt mobile payments. Part of this may be due to technical limitations, such as a biller not offering electronic payment options such as debit or ACH. Another reason could be that a large subset of customers may be un- or underbanked, relying on analogy alternatives such as cash, money orders or checks to pay bills.
For the rest of your non-mobile paying customers, there are simple and proven ways to improve adoption rates. Here are four of our favorites.
Ditch the Apps
Forcing your customers to download a native smartphone app is a recipe for lower mobile payment adoption. Native apps (i.e. the kind you download from your smartphone's app store) require a big up front investment from businesses and their customers. Apps take time to develop, resources to maintain and require customers to download and often upgrade the app. This can be a turnoff for those who want to spend as little time paying bills as possible.
| Feature | Mobile Web | Apps |
| --- | --- | --- |
| Compatibility | Works on any device with internet | Must be developed for each OS (Android, iPhone, Amazon, etc.) |
| Availability | Instantly ready to use | Must be downloaded from app store |
| Maintenance | Always up to date | User must update app to get new features |
| Saving | Can be saved as a tile on your phone | Can be saved as a tile on your phone |
| Experience | Always the same across devices | Different dev cycles can create inconsistent user experiences across devices |
| Content Updates | Make one change for all users | Must change on web and all apps separately |
Web-based payments can offer all the same perks of a native app without the hassle. They work on any connected smartphone, don't require any downloads or maintenance, and can offer many of the modern web experiences that customers expect.
Upgrade the User Experience
Speaking of experiences that customers expect, it's important that your mobile payment options align with the latest trends. For example, responsive designs look and work flawlessly on any device, regardless of browser, operating system or screen size.
Small tweaks to your payments experience can make a big difference. Take the keyboard—does it automatically shift to a number pad on mobile devices when a customer needs to input their card or bank account information? This seemingly trivial update can reduce typing errors and help your customers make payments more quickly.
See how seamless this is on Apple's ecommerce experience: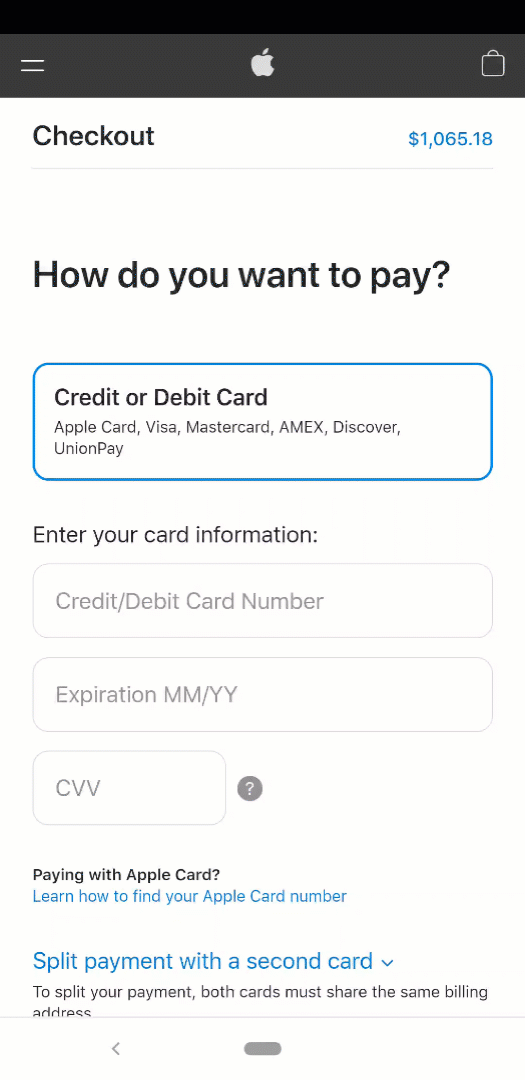 Bill pay platforms such as PayNearMe build these best practices into all of our billing experiences, ensuring your customers will have the same delightful experiences on your bill pay portal that they do on popular ecommerce sites and subscription services.
For customers that still receive and pay via paper statements, the learning curve of mobile payments can feel much higher than the inconvenience of writing and mailing a check each month. Making the switch easier for these customers is critical for promoting mobile adoption.
Make the Switch from Paper Seamless
Scannable QR codes provide a simple and intuitive solution. This technology has recently taken off, offering customers an easy way to view restaurant menus, check-in at doctors appointments and even sign in to popular streaming TV services (author's note: this is always better than typing in your username / password with a tiny TV remote.)
To start, use a technology such as PayNearMe's Smart Link™️ to generate personalized payment links for each customer. These links can then be turned into scannable QR codes and printed on paper statements. All your customers need to do is scan the code with their smartphone camera, click the link that shows up and get placed directly in a bill payment flow—no lengthy registration or login required.
Send Smart Mobile Reminders
One way to encourage mobile payments is to start the process on mobile-first communications. The most obvious channel is sending SMS payment reminders. A text message reminder that a payment is due, with a Smart Link that links directly to a personalized payment flow, is the fastest way for your customers to click and pay on their phones. These messages can even be customized based on the customer's payment history or delinquency status, making them powerful tools to encourage on-time mobile payments.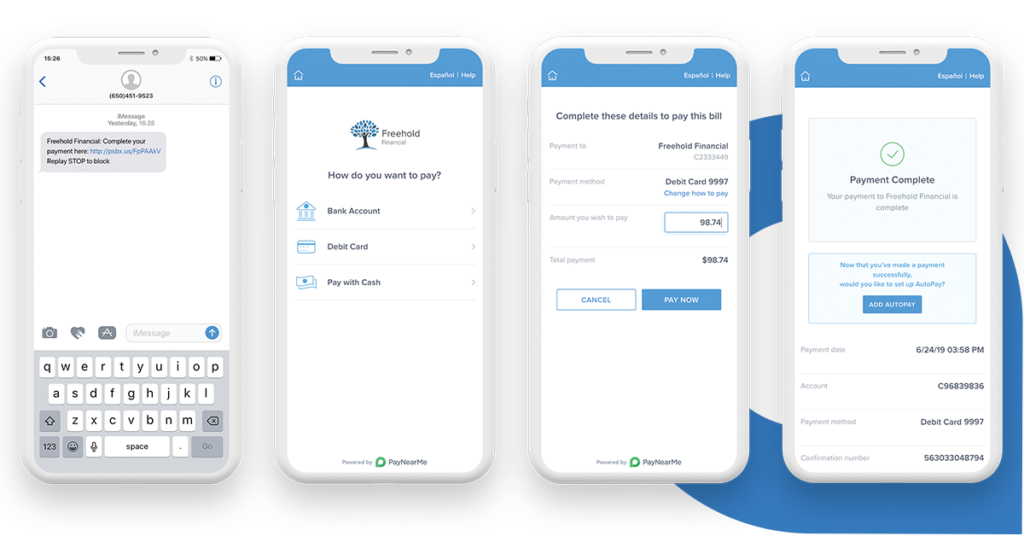 Another mobile-first use case comes in the form of push notifications on smartphones. By asking your customers to add your bill payments to their digital wallets (such as Apple Pay or Google Pay wallets), you open the possibility of sending automatic push notifications whenever a bill is due. These notifications can put your payments front and center in the customer's mobile life.
Better Mobile Adoption Starts with a Better Payments Platform
Of course, none of these suggestions will work if your payments platform doesn't support cutting edge mobile payment features. PayNearMe gives you more ways to encourage and accept mobile payments with our award-winning bill pay platform.
To learn more, request a demo or view an instant walkthrough today.