Integrated eBill Presentment: Getting More From Your Most Consistent Customer Touchpoint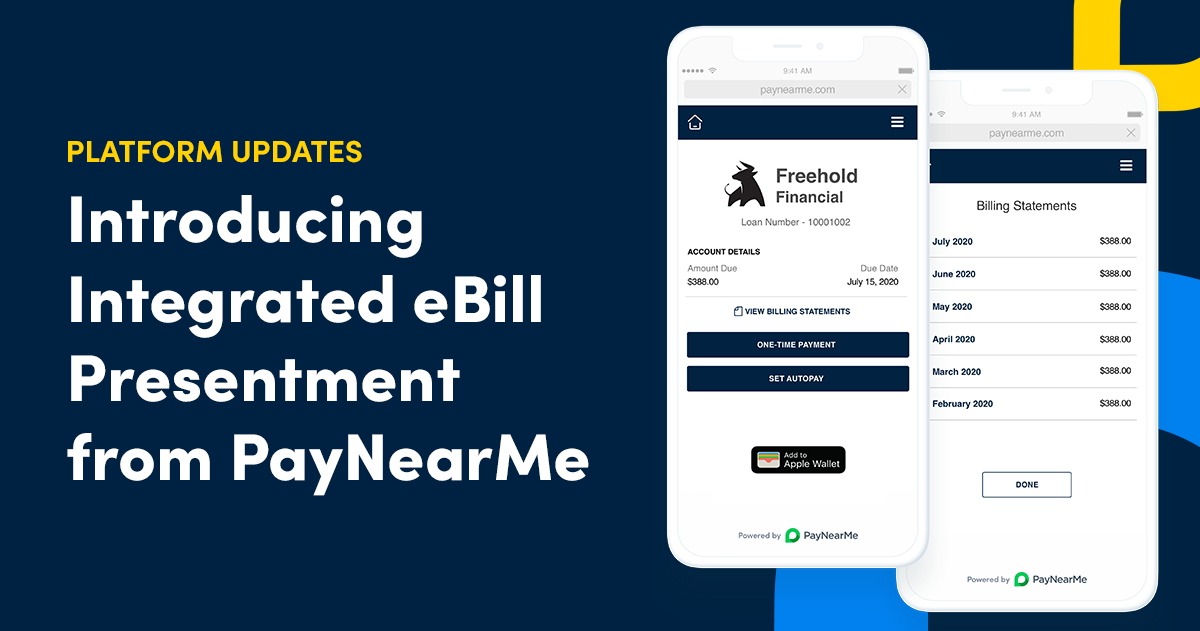 For many businesses, monthly billing statements have become one of the most consistent ways to engage customers throughout their entire lifecycle. Are you making each one count?
With PayNearMe's new Integrated eBill Presentment feature, your agents and consumers can have immediate access to current and past billing statements directly within their payment flows. 
By providing full billing statements within a few clicks or taps, you can drive better payment behaviors, reduce print and mail costs and improve customer satisfaction.
Here are a few ways you can leverage PayNearMe's Integrated eBill Presentment to delight your customers and save money: 
Give Your Agents Full Visibility 
Customer service agents are only as good as the data they can access on the fly. With up-to-date customer information easily in reach, the process of taking payments over the phone and addressing any support questions becomes much smoother on both sides. 
By making PDF eBills easy to access in the PayNearMe Agent Interface, we're giving your agents the power of knowledge. This feature complements our messaging tab feature, which shows all recent text and email communications with the customer. It's the ability to see key customer touch points, at your agents' fingertips.
More Information & Options for Customers 
Your customers can also access their PDF billing statements from the Consumer Portal to see past billing information and compare costs over time if those payment amounts change each month (e.g. utility bills).
This removes the need for you to send paper billing statements to all consumers (by giving them the ability to 'opt out' of paper statements) and save money on printing and mailing costs. 
It also means your customers have the information they need, when they need it, which can help you receive more on-time payments. No longer will customers need to go search for their paper bills; they can access them any time on their computers or mobile devices. Once they've downloaded their bills, customers can also print them if they want physical copies for their records. 
This immediate access to eBills means customers won't need to call in to check their balance or mail a check to make payments. They get the convenience of fast access to electronic payments with the key billing information they need, all without the need to speak to an agent. 
Digital Wallet Integrations
Speaking of mobile devices, eBills can also be enabled as part of PayNearMe's Digital Wallets feature. This means customers don't even need to enter the Consumer Flow to make a payment or check their balances; they can simply open their Apple or Google Wallet to see dynamically-updated passes and view and  download their PDF billing statements anytime.
It's one more way you can give your customers the power to make smart payment decisions with easy access to information when they need it.
To find out more about PayNearMe's new Integrated eBill Presentment offering, request your personalized demo today.