Want More On-Time Payments? Try These Four Proven Steps.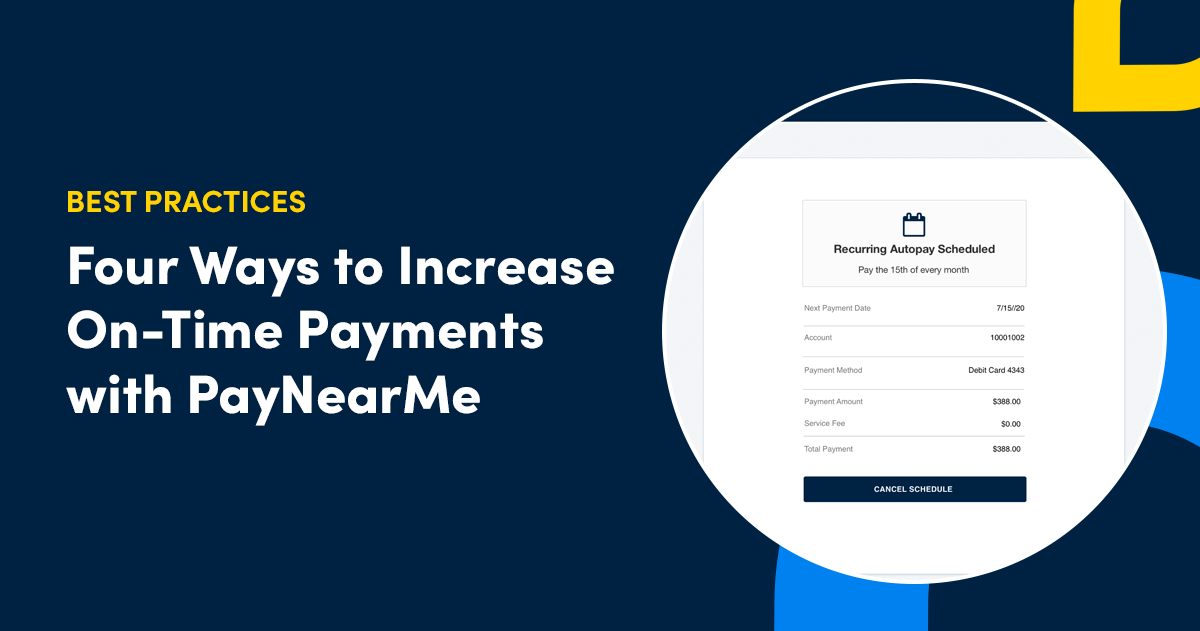 Collecting on-time payments is a necessary step to ensuring a profitable lending operation. In an industry with high competition and tight margins, minimizing delinquent or missed payments can often separate you from "simply surviving" to growing and thriving.
With thousands of clients and billions of dollars moved, we've learned a few tricks over the years to help you streamline the collections process. Here are four proven ways to collect more on-time payments with the PayNearMe platform.
Make AutoPay the Norm
By definition, automatic payments are the easiest way to ensure on-time payments. After all, you remove the need for the customer to take any action and ensure you get paid the same time(s) each month.
With PayNearMe, your business gains complete control over your autopay settings. Allow customers to set the frequency, duration or amount they want to pay, or only allow the settings that fit your business needs. For example, you may choose to allow your customers to set up weekly, bi-weekly, monthly or custom schedules to send over payments, or restrict your options to any of those settings.
Encourage your customers to sign up for automatic payments throughout the life of their experience—helping you drive adoption and retention of recurring payers. This can include training call center agents to ask to set up autopay, adding a form in the onboarding process, or even sending a text message to all customers encouraging them to sign up themselves.
Learn more about how you can supercharge autopay adoption here.
Simplify SMS Payments
Text messaging is one of the most reliable communication channels available. In fact, text messages have a 98% open rate across the board, compared to a mere 20% for email messages. And in a consumer bill pay study conducted by PayNearMe earlier this year, we found that 45% of consumers would welcome a text message or email to remind them when their bill is due, while 38% specified that it would be helpful to have a link that they could click to make an electronic payment within that text message or email.
Give your customers the ability to pay by text message to increase your chances of getting paid promptly. SMS reminders typically cost a fraction of a collections call, while simultaneously allowing your staff to focus on more important activities.
PayNearMe makes it easy for your customers to receive SMS payment reminders, while also letting your call center agents push payment links by text message on the fly. Using our powerful Engagement Engine gives you even more options, such as creating smart messaging programs or sending one-off SMS promotions.
Learn how we make text message payments even better with PayNearMe Smart Link™ technology.
Use QR Codes to Link Physical Media with Online Payments
QR codes are making a big comeback. Now that most modern smartphone cameras can recognize QR codes, there are many useful ways to use this technology to enable online payments.
By placing QR codes on your paper bill statements, you can give your customers an easy way to self-service. Using PayNearMe's Smart Link technology, each customer can scan a unique QR code and immediately enter a personalized payment experience—no usernames, passwords or account numbers required. You can even print a personalized QR code sticker and place it on the customers keychain when they buy a car, allowing them to quickly scan and pay whenever their keys are nearby.
See more about QR Code payments in our quick video.
Accept Cash Payments in More Places
What would accepting cash payments at over 31,000 retail locations across the U.S. mean for your customers?
It would mean more options when paying with cash, at any time of day and in stores they already frequent. And for your business, it means receiving a guaranteed payment without the hassles and risks of accepting, holding and transporting cash from your physical location.
Imagine creating a seamless experience for your customers while increasing your footprint. See how accepting cash payments helps you collect more payments on-time.
Collect More On-Time Payments with PayNearMe
The less time you spend chasing on-time payments from customers, the more time your staff can dedicate to sales and other activities. PayNearMe is a secure and reliable payments platform that uses modern technology to offer more payment options that your customers desire.
Ready to see PayNearMe in action? View our instant demo now.