An Introduction to Push Payments for Loan Disbursements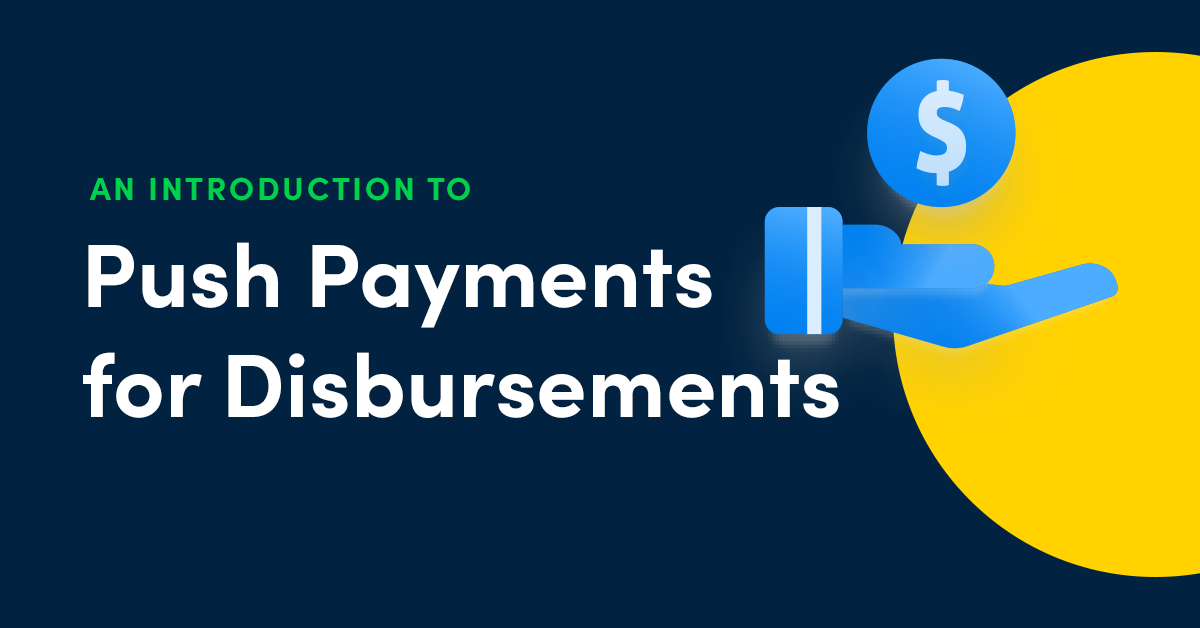 According to a study by Visa, the demand for instant access to funds is growing worldwide. This opens an opportunity for lenders, banks, and other organizations to lead the way with newer, more convenient payment solutions.
Faster payments are beneficial for everyone involved, and instant access to funds can make all the difference in someone's life. Eighty percent of merchants cited cash flow as a way real-time payments would change how they do business. Further, 82 percent of consumers are more likely to choose a business that offers fast disbursements through push-to-card. A few years ago, more than half of disbursements took between two and 14 days to clear. Today, with the total volume of payouts on the rise, this could leave consumers seeking interim funds to cover essential expenses while waiting for a traditional disbursement via check to arrive.
With push payments, disbursements can take place in real-time and in a completely digital environment.
How Push Payments Work
Push payments – sometimes referred to as digital disbursements or debit card disbursements – are a type of technology that allows organizations to transfer funds immediately to a consumer's bank account through their debit card. Put simply, transactions are executed backwards: through the card network, from the merchant, through the payment processor, and to the consumer's bank in real-time.

When the process is initiated, funds are verified and moved to the borrower's associated debit card account within minutes. Once received, the funds can be used right away.
Any lender can start taking advantage of push payments by partnering with a solution provider who offers push-to-card services through the Visa Direct and Mastercard Send programs. Leading payment processors – including PayNearMe – have push payment disbursements built-in to their feature stacks.
Digital disbursements provide a reliable and feature-rich push payment option that takes advantage of existing debit networks. Features like fraud detection, anti-money laundering and KYC programs are built into the framework for added protection.
The Benefits of Push Payments
Push payments offer several benefits that enhance the customer experience by reducing friction and improving security.
Push payments are fast. Disbursements are routed over debit rails, and funds take just minutes – rather than days – to reach a customer's account.
Push payments are secure. Digital disbursement technology has multiple security checkpoints built-in to the framework, including admin approval and customer phone number verification.
Push payments meet changing consumer expectations. Consumers, particularly millennial and Gen Z consumers, expect fast, convenient digital transactions from their chosen financial vendor.
Push payments minimize expenses. The digital disbursement process costs lenders less than issuing paper checks in both real and soft costs.
Push Payments for Loan Disbursement
Push payments are a relatively new technology but have already been championed by a number of industries. Gig economy platforms with sellers, freelancers, hosts, and developers have embraced the digital disbursement model, giving users quicker access to funds with greater convenience and improved security. Insurance firms, too, are using debit card disbursements to settle claims faster by eliminating the need to cash paper checks. This is particularly beneficial for those with a disaster claim or in an emergency situation where delayed access to funds has significant consequences.
The lending industry has much to gain from implementing push payment technology to streamline operations. Digital disbursements get cash to the borrower quickly and safely. There are no ACH transfers that can take days to arrive or checks that could get lost along the way.
Here are just some of the ways lenders are using push payments for loan disbursement:
Instantly Fund Loans:  Giving borrowers instant access to their loans helps build a better first impression, giving the lender a competitive edge and unique selling point. Real-time access to cash also positions an organization as an industry leader and innovator in the lending space.
Reward Loyal Customers: Lenders can use instant cash transfer to incentivize repeat borrowing, increasing customer retention and loyalty.
Offer Special Products: Lenders can offer specific loan products that fulfill the needs of those in time-sensitive situations that need fast access to emergency funds.
Minimize Risk: Checks have inherent risks. They could get lost in the mail, or even worse, stolen and cashed fraudulently. Digital disbursements ensure the funds are delivered directly to the intended recipient.
Reduce Costs: By digitizing disbursements, lenders can save on returned checks, postage fees, and other operational expenses.
A Differentiated Product for Modern Borrowers
By adding push payments to your technology mix, you can better meet the needs of modern-day borrowers by providing real-time access to funds, improving security, and increasing the convenience of your service.
Here at PayNearMe, we include disbursement capabilities with built-in security in our platform. If you're an existing customer, talk to our team and start pushing funds to customers instantly. If you're not yet a customer, request a demo today and discover how PayNearMe can help you disburse funds to your customers faster.