Why Omnichannel Betting is an Untapped Opportunity for Operators
With the rapid rise in legal online gaming in recent years, it's becoming evident that land-based casinos need to adapt in order to compete with "play anywhere" experiences. But what exactly does this evolution look like? If we turn to other industries for historical proof (e.g. retail), it will look like land-based casinos bridging the gap to the digital gaming world in order to take advantage of the untapped potential that comes along with having both land-based and digital gaming opportunities.
This is the definition of omnichannel gaming: allowing players to move seamlessly from brick-and-mortar casino locations into the digital experiences. The question of whether an omnichannel approach will be necessary is not "if", it's "when". And the answer to "when" lies in the operator putting the infrastructure in place to allow for a frictionless omnichannel player experience.
The benefits of omnichannel gaming for operators
Just as we've seen brick-and-mortar retailers shift to a hybrid digital model to succeed, the omnichannel approach is how hybrid operators will compete with digital natives and ultimately win long term.
Land-based operators have a distinct advantage via existing relationships with a large database of customers. These customers have a history with the casino, have high brand loyalty and are typically worth more to the operator.
These existing customer relationships mean that the cost to acquire a digital player is often significantly lower. While digital native operators rely on bonus offerings and heavy advertising spends to attract new players, land-based casinos can leverage the relationships they have with longtime players and incentivize them with loyalty programs that come with experiences like comped hotel rooms or entertainment offerings.
In addition, unlocking the digital aspect of gaming will give brick-and-mortar operators more insight and data on their customers. Operators will be able to learn more about the gaming habits of their VIPs, be able to follow up with new customers for retention, and can track and analyze suspicious activity more closely.
Why players care about omnichannel gaming
Consumers want options, especially ones that are easily accessible. Recent research shows that 63% of U.S. iGaming players–including 78% of frequent players–would take advantage of being able to make cash deposits at physical locations to fund their online gaming accounts.
This preference for flexibility, whether with payment options or actual gaming locations, makes an omnichannel approach an obvious choice. While the "easy" option for a player may be digital gaming, on-site casinos are an experience–one that can't easily be replaced by a digital-only interaction.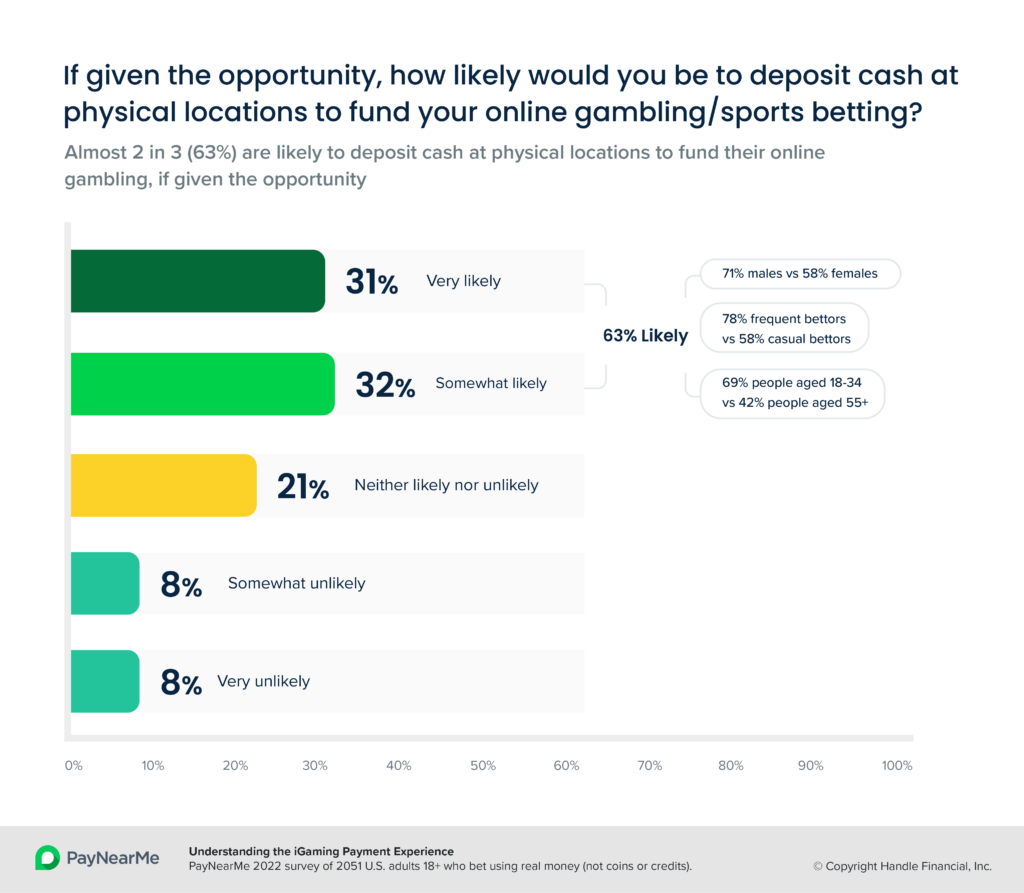 Digital gaming creates more opportunities for players to engage than ever before, but should be considered an enhancement, rather than a replacement, to current brick-and-mortar operations. This digital enhancement allows operators to provide the flexibility and choice that today's players are looking for.
Creating the optimal omnichannel experience
The experience between online and casino betting should be consistent for players, ensuring a seamless flow between the digital and physical brands. The first step in achieving this is ensuring content is aligned between on-site and online spaces: your online presence should reflect your on-site presence and vice versa.
Next, operators need to optimize the payments and money movement process for their players. Moving funds between the casino's brick-and-mortar location and the player's digital wallet needs to be a quick and easy process so that the player has funds available across channels.
The types of payments accepted is also a crucial piece of the player experience puzzle: the more payment types an operator offers for deposits and withdrawals, the more players will be able to easily fund their accounts and have a positive cash-out experience.
In fact, 32% of players surveyed in our research said that they would make larger deposits more often if they had access to their preferred deposit payment types, while 49% of players said they would play more and withdraw more often if they could use their preferred withdrawal methods. In addition, allowing players to "hold their chips" by storing funds in your universal account makes you their go-to gaming platform.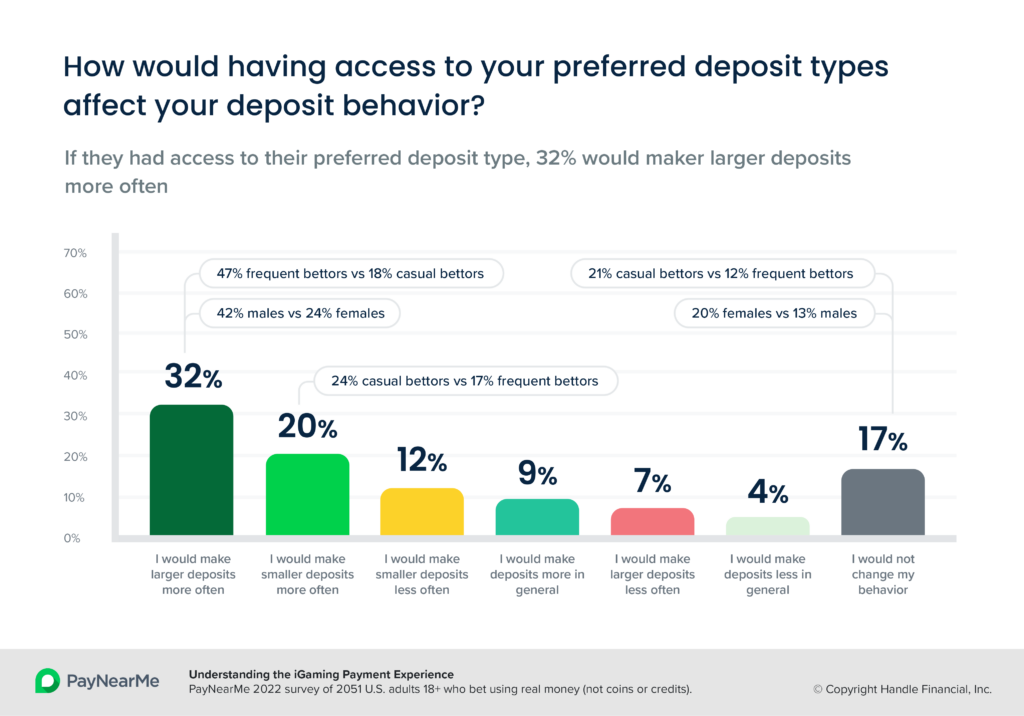 The next layer to the experience comes in the form of entertainment. When a player's omnichannel account is able to fund other elements such as shopping, dining, travel and more within an operator's network and brand, they'll be much more inclined to continue gaming within that network. This all ties back to a core loyalty program, encouraging players to essentially "eat, sleep, play" all within one consistent brand to unlock more benefits and rewards. This will create more VIPs and a much higher level of retention, growing an operator's bottom line.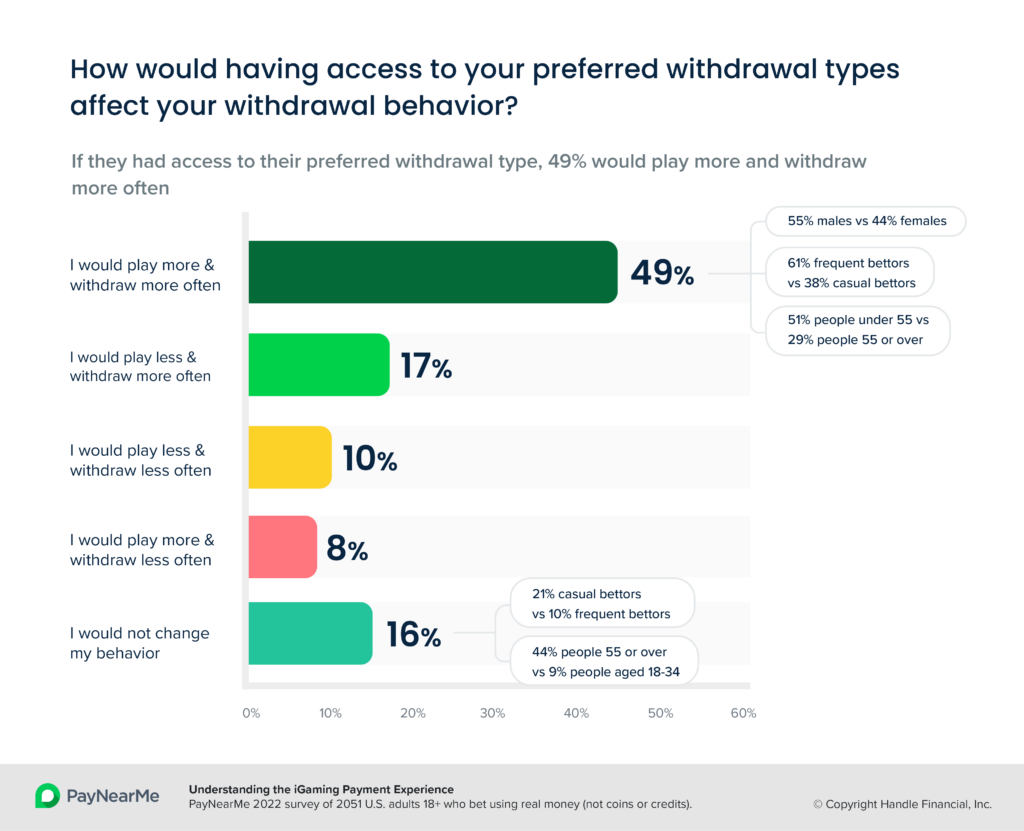 Omnichannel betting begins with the player payment experience
One of the first items operators should check off their list is creating that frictionless payment experience that allows players to move money seamlessly into, through and out of their account. The vast majority of payments in brick-and-mortar locations are made in cash today, while the inverse is true for the digital space. This discrepancy in payment tendencies is an aspect unique to the gaming industry, and requires operators to remain agile in their payment processes.
While a true omnichannel experience doesn't hasn't been perfected yet, smart technology providers like PayNearMe are putting the infrastructure–like payments–in place to make the future omnichannel environment easy to implement.
The MoneyLine platform is an end-to-end payment gateway and platform designed to remove friction, enabling operators to deliver a best-in-class player journey. With one integrated platform, iGaming and sports betting operators can process deposits, initiate withdrawals, and gather insights from player data to automate decisioning and better manage payment experiences that ultimately reduce costs and increase revenue.
Features such as the new Cardless Cash at ATM withdrawal option–which allows players to withdraw online winnings at physical locations–will give omnichannel customers the options they want when it comes to customizing their experience.
Omnichannel betting is a way to create exceptional gaming interactions for players that mold the convenience of online gaming with the irreplaceable experiences of land-based casinos. When the time comes to implement an omnichannel approach, operators will want the right technology partners in their corner to make the transition seamless.
For more information on how the MoneyLine platform can build your omnichannel foundation, schedule a demo with our team.