Reduce Risk & Automate Tasks with PayNearMe Business Rules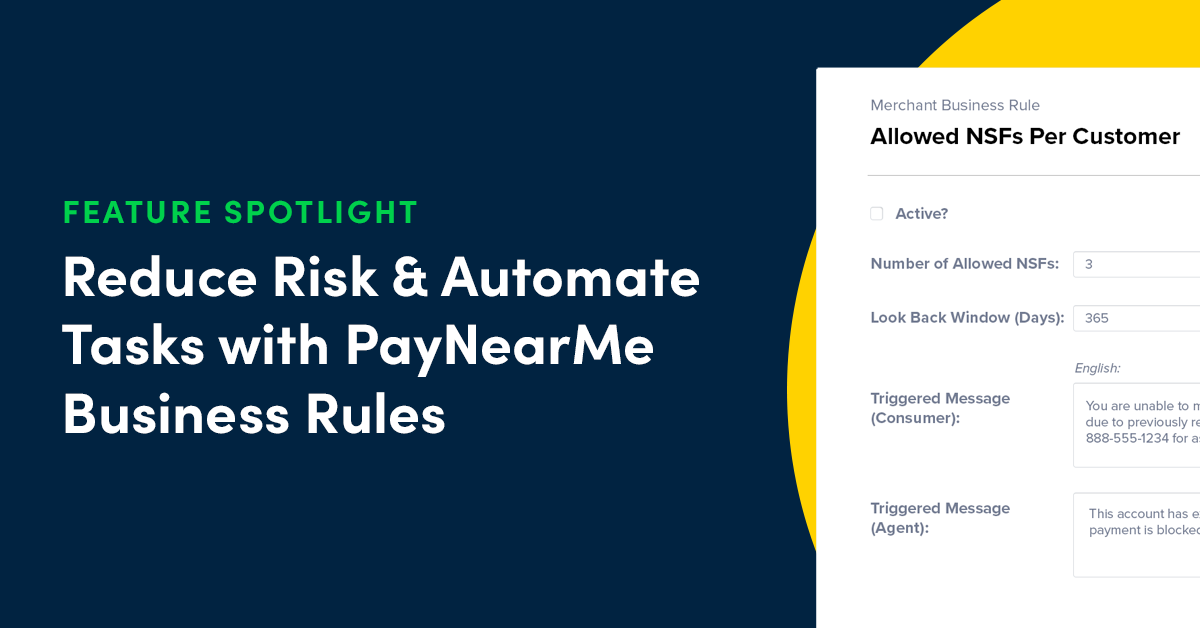 From dealing with high return rates and fees to unnecessary (and expensive) customer touchpoints, organizations often have room for improvement in their bill payment processes.
Chances are, there are tasks you could automate that would make life a lot easier—if you had a way to easily configure your payments platform to better fit your needs.
With PayNearMe Business Rules, you can configure payment and communication workflows to best fit your business.
What are PayNearMe Business Rules?
PayNearMe Business Rules are configurable "if, then" statements that allow you to modify the sequence of operations that is associated with database information on the back end.
Business Rules are an easy way to make the PayNearMe platform fit your business' specific requirements—whether that's meeting internal risk and security goals, customer service costs, fee reduction or other business initiatives.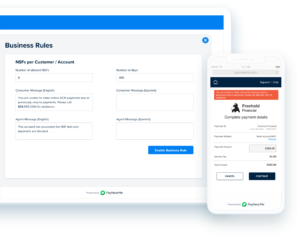 Best of all, Business Rules do not affect the core PayNearMe platform. They can be created, implemented and changed quickly without coding. There's no need to involve your IT team or risk breakage during a routine software update.
Popular Use Cases
PayNearMe offers templated Business Rules based on common customer requests, or you can request your own. Here are some of the way that our customers are currently using this feature to reduce risk and improve their bottom lines:
If a customer has had an NSF in the past six months, only allow debit or cash payments.
This rule helps reduce the amount of NSF returns, saving the merchant payment return fees and removing the need to reach out to the customer for another form of payment. The consumer is also happy not to incur a fee. See how a leading non-prime auto lender cut its ACH return rate in half with Business Rules and removed the need for manual processing and paperwork.
If a customer has paid X times per month, do not allow another payment. Or, if a customer has paid an amount of $Y, do not allow an additional payment.
Business Rules such as these set limits on how often and how much a customer can pay. This reduces the risk of fraud and potential accidental overpayment. While overpayments can easily be returned via Digital Disbursements, there is time and cost involved in contacting a customer. By avoiding these potential mistakes, merchants can limit customer service requirements.
If payment is late, show late fees custom field to customer and show pop up to agent.
Customers aren't always great about tracking payment dates, and it's important to notify them when they're late and about to incur a fee. Additionally, giving agents insight to this type of key customer account information can help them better service an account and ensure on-time payments.
Other examples include setting specific date guidelines for recurring payments, adding parameters on minimum payment amounts and setting requirements for payoff amounts that reduce the likelihood of overpayments. The options for PayNearMe Business Rules are endless.
Find out more about how PayNearMe Business Rules can help you streamline the payments experience. Request your personalized demo today.