What's New at PayNearMe: Q3 2020 Edition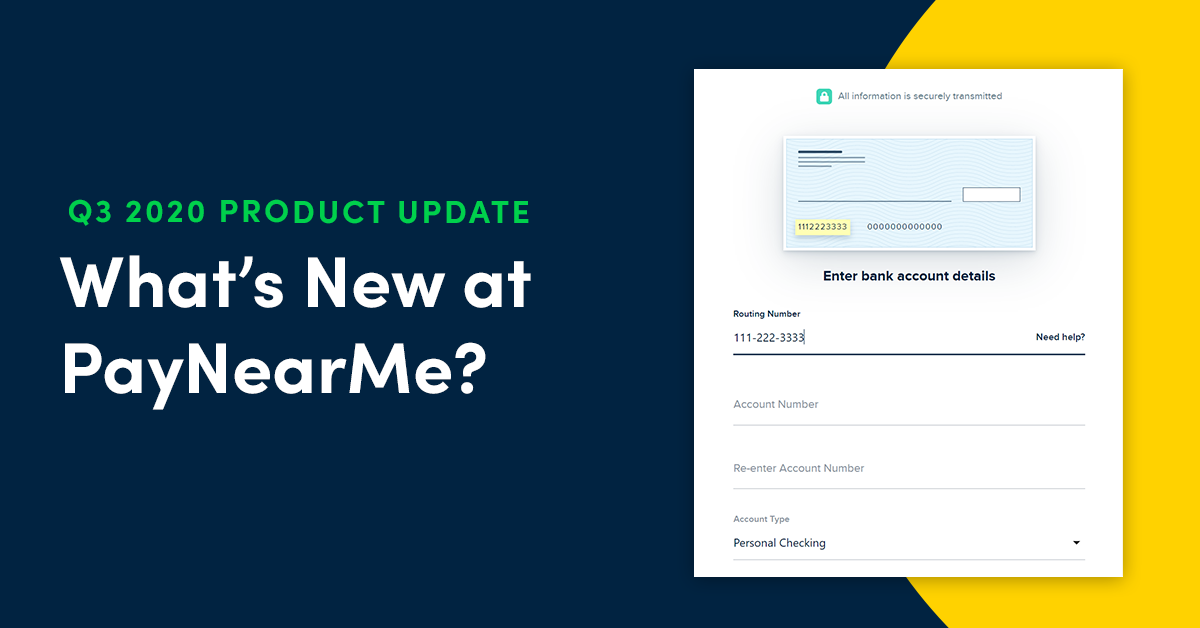 The summer season has come and gone. And as we move into the end of the year, we're reflecting on the product improvements our clients have inspired during the third quarter of 2020.
In terms of release numbers, we had 16 releases in Q3, bringing us to a grand total of 53 this year. We would be remiss if we didn't thank you for helping us improve our platform and ensure "Every payment. Every time." 
Here's an overview of some of this quarter's biggest features and how they can make a positive impact on your business. 
Recurring Apple Pay
We've been offering one-time payments for Apple Pay for some time, but this quarter, we added the ability to set up recurring payments using this payment type. This feature is only available in the Customer Portal (it cannot be set up by an agent), but it provides an option for customers to "set it and forget it." Customers can also make one-time, future-dated payments, making Apple Pay an even more flexible payment option. 
New User Permission Settings 
We're also making the PayNearMe platform more flexible by adding new user permission settings for various agent functions. These are in addition to any existing user permissions previously available. Businesses can now choose which agents can: 
Waive fees

Cancel (in addition to creating and approving) disbursements 

Clear out transaction attempts and allow consumers to add additional cards/bank accounts

Cancel and create autopay schedules (Note: all agents can view active schedules

)
User configurations are available in the PayNearMe Business Portal. For more information on how to set up these permissions for your business, contact your account manager. 
UI Upgrades 
At PayNearMe, we're proud of our flexibility, but we also understand the importance of having a smart, attractive platform you and your customers enjoy using. That's why we've added a new look and feel to our desktop Consumer Portal UI for entering ACH and card details.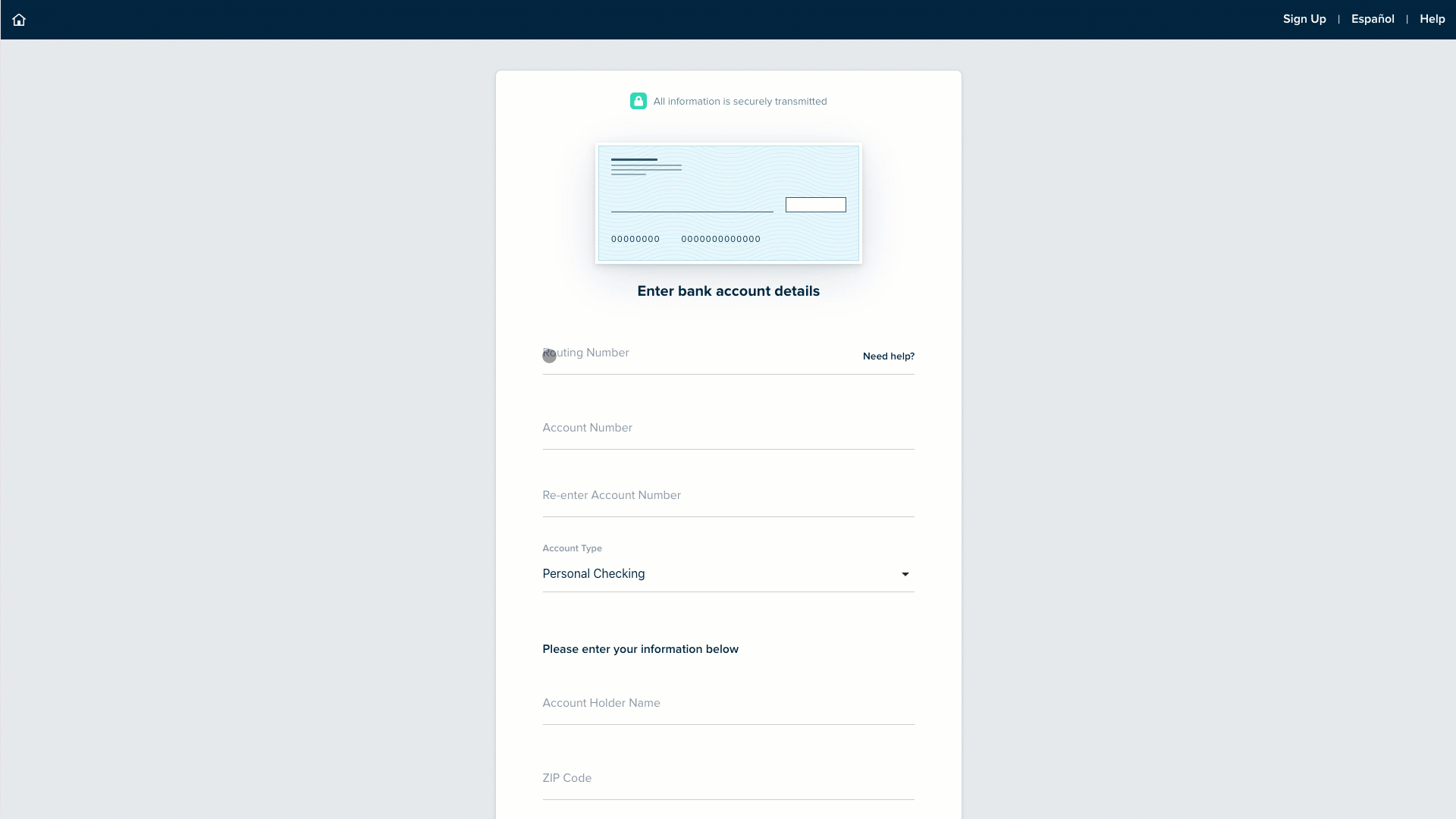 For ACH, the routing numbers and account numbers will dynamically show in a check illustration at the top of the screen as they are populated. For card, the card number, card holder name and expiration date will dynamically update in the card illustration as they get populated. Here's an example of what the changes look like for ACH.  
Digital Wallets: Dynamic Updates
Speaking of look-and-feel, another place we're making updates is our integration with digital wallets. This quarter, we added the ability to dynamically update Google and Apple wallet passes based on changing information, such as amount due, balance due and due dates.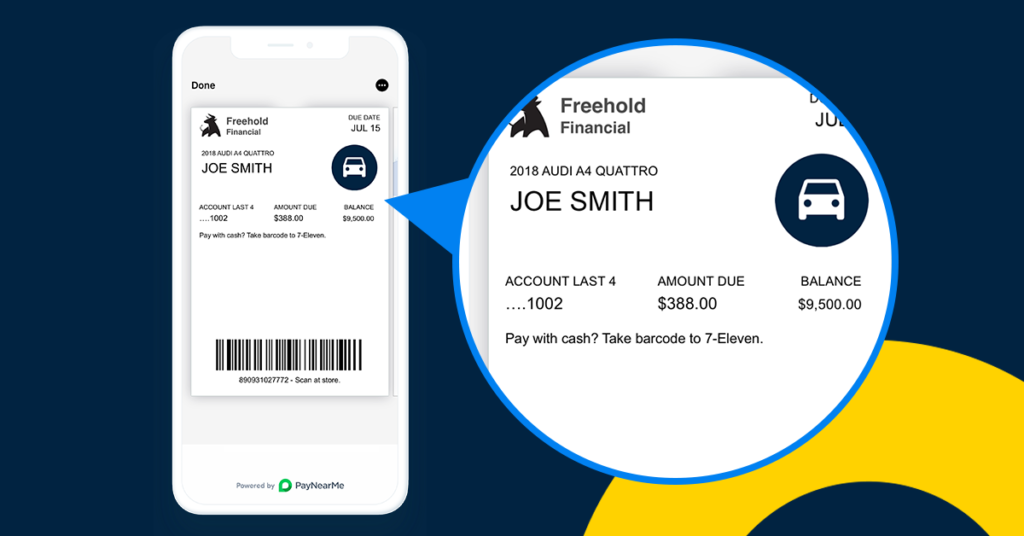 This means that you can easily push wallet pass changes to customers as information updates, ensuring they always have the latest payment information and can easily make on-time payments. This update pairs well with our existing push notifications functionality, which allows customers to receive important information or reminders quickly and seamlessly from their native wallet applications. 
New Email Reporting
Last quarter, we announced SMS reporting, which allows our clients to track the delivery status of SMS customer engagements. This quarter, we added additional reporting for email engagements. 
With the new, combined reporting, PayNearMe clients can see all communication attempts to the customers and the status of those attempts.  
For each message sent, the "delivery status" is logged, allowing for reporting/alerting based on the percent of messages successfully delivered. 

A field in the report shows whether the communication was an email or an SMS. For email attempts, if available, the account numbers will be shown, and the email address will be displayed. A phone number is shown for SMS reporting. 
Note that consumers may "opt out" of receiving any future messages by sending back the "STOP" command via SMS or by unsubscribing from emails. 
Chargeback Updates 
Finally, we've made some improvements to the chargebacks process. Previously, chargeback reporting only reported on the following statuses: open, closed, returned and error. We are now reporting on the actual status on the file to include other options such as "documentation received." These new statuses are shown directly in the payment reports. 
Chargeback documentation is available to help you win disputes and is now linked directly in our Business Portal, saving you time. We also now allow clients to upload PDF documentation within the platform. This adds to the existing supported file types. 
The new chargeback updates are in addition to the functionality that was added last quarter, which made it easy to upload documents, check chargeback status and view a history of your disputes from a single screen.
Google Pay for One-Time Payments 
This quarter, we added support for Google Pay for one-time, immediate payments. (Future-dated and autopay schedules will be supported at a later date). Similar to the Apple Pay flow, with this feature, users will see Google Pay as a payment option on their mobile devices. This allows customers to easily pay with stored credit cards accessed directly from their digital wallets. This feature is only available in the Consumer Portal.*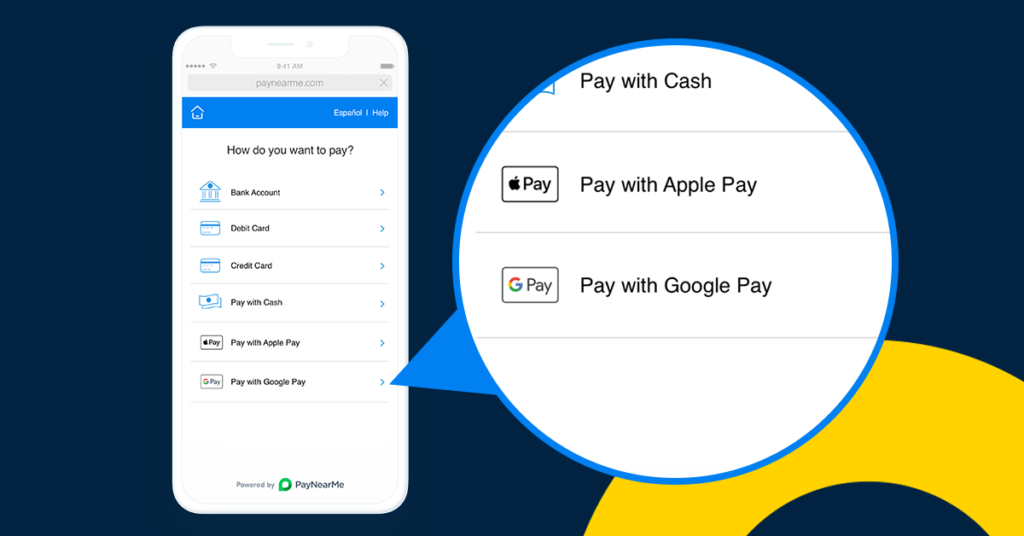 *Agents cannot make payments on behalf of customers using Google Pay. 
We've got a lot of exciting new development in store for Q4, so be sure to stay tuned here for our next round of updates. 
Schedule a Demo
In the meantime, to see these new features (and other improvements) within the PayNearMe platform, schedule your demo today.