What's New at PayNearMe: Q2 2020 Edition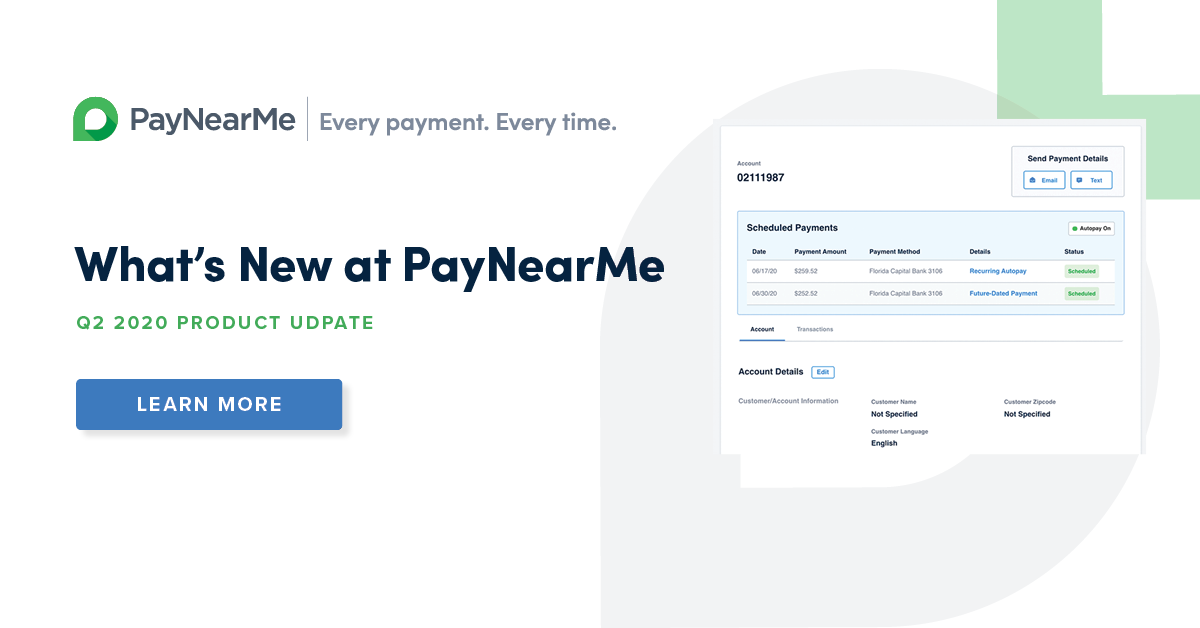 Spring has sprung into summer, and we're closing the books on yet another productive quarter. Q2 saw the release of 19 platform updates, bringing us to a total of 37 releases in 2020 so far. 
Let's take a look at some of the most meaningful updates.  
New Disbursement Workflows
In addition to API initiated disbursements, you can now push funds from a dedicated "Disbursements" tab in the PayNearMe business portal. This tab also gives you a view into all your active disbursements, allowing you to see status updates and recent history. New permissions and safety checks protect your business from unauthorized or accidental disbursements. 
And if that wasn't enough, we've added an option that allows consumers to input their debit card data directly, avoiding PCI compliance hurdles and reducing data entry errors by agents. 
Learn more about Digital Disbursements
Scheduled Payments Update
We've split one-time, future dated payments out of auto pay and into their own workflow. Now, when an agent or consumer wants to initiate a payment, they can choose to do so immediately or at any time in the future. 
This feature also allows for multiple one-time scheduled payments in addition to recurring automatic payments, giving your customers and agents complete control over scheduled payments. Future dated one-time payments and recurring payments will show up as separate line items on the "scheduled payments" screen for both agents and consumers.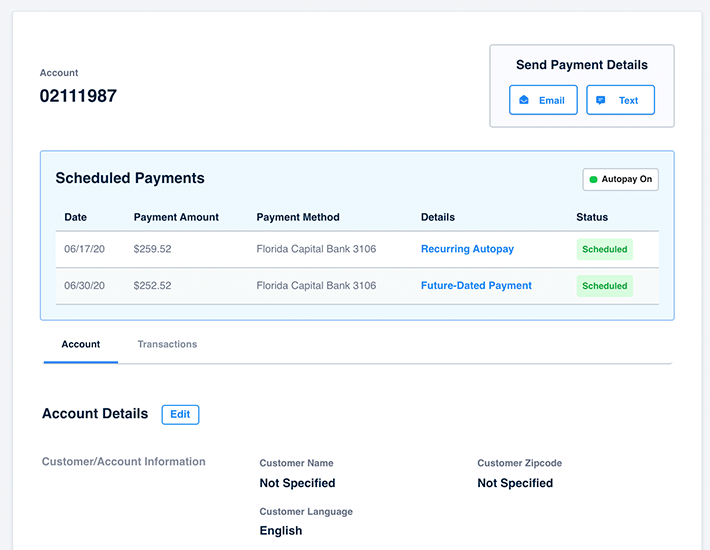 Learn more about Automatic Payment Updates
New SMS Reporting
What percentage of your customers have opted out of text message reminders? Do you have any bad phone numbers causing delivery issues? Do your customers engage differently on certain days of the week? Which messages result in completed payments? 
Now, you can answer these questions and more with our new SMS reporting function. See how effective your SMS strategy is, and uncover new insights and trends to help you improve your pay by text conversions. 
Learn more about Pay by Text
Easily Manage Chargeback Disputes
We've made it even easier for you to manage all your chargeback disputes, right from the PayNearMe business portal. You can now upload documents, check status and view a history of your disputes from a single screen.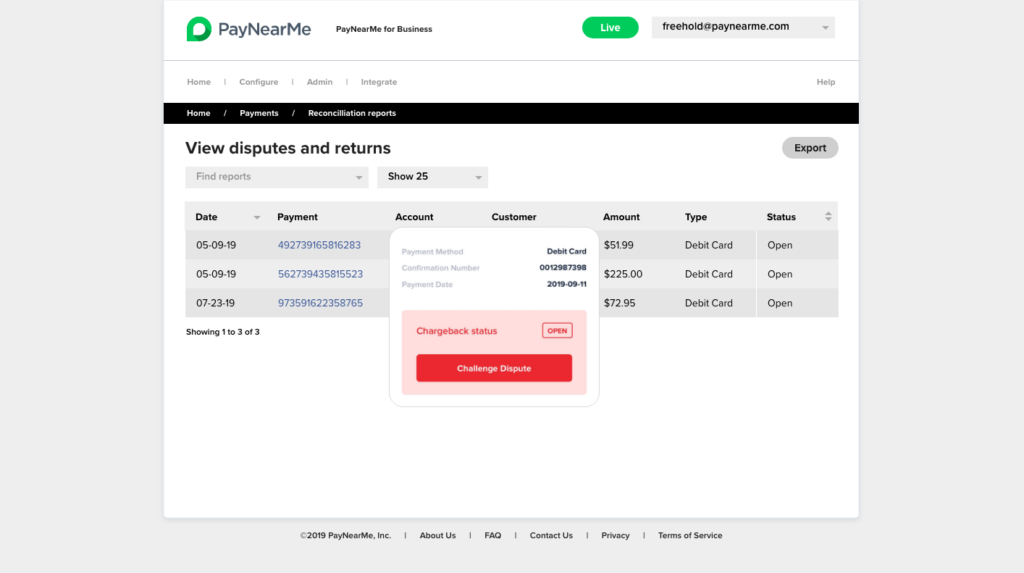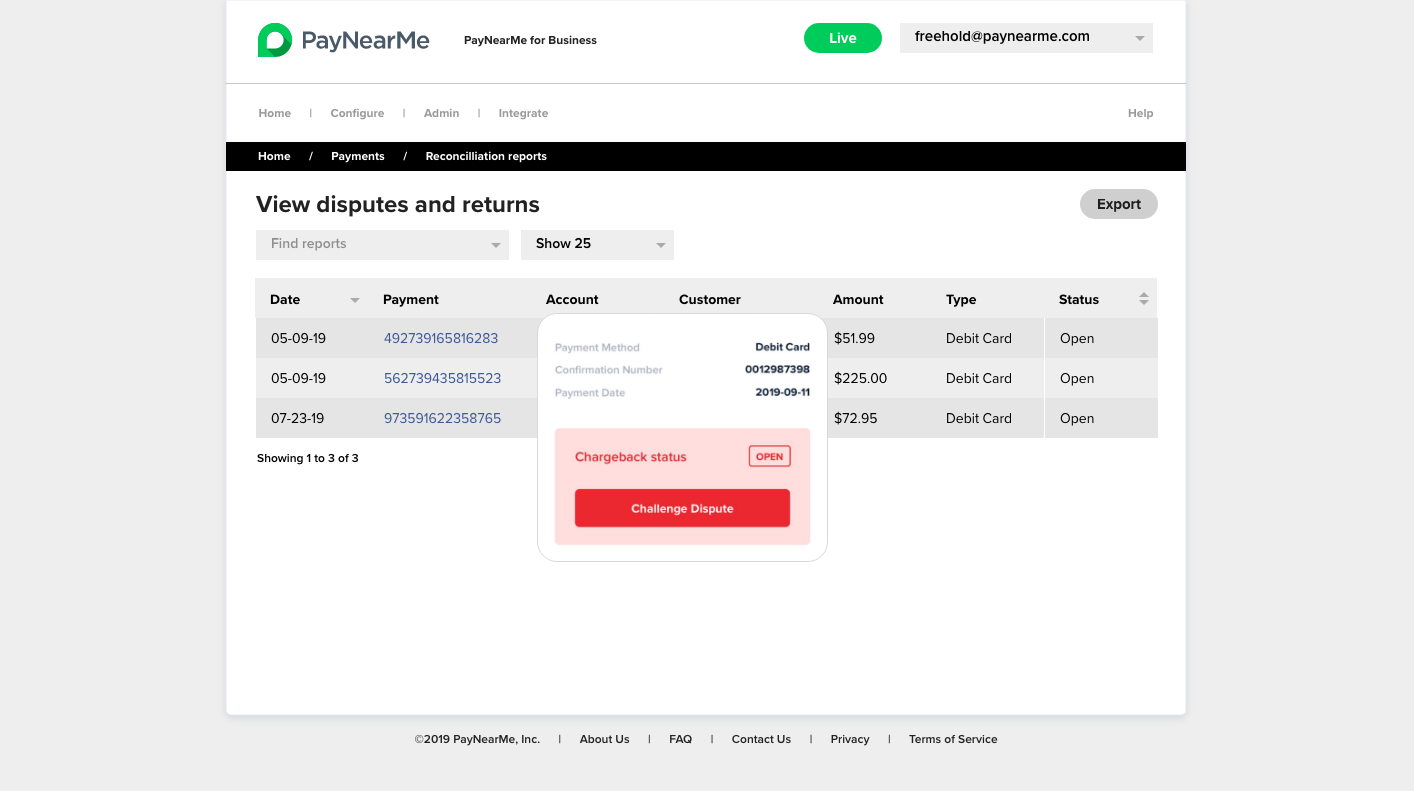 Learn more about Winning Chargeback Disputes
Additional Quality of Life Updates
Not every feature gets a billboard, but these modest upgrades can add up to big productivity gains for your business. 
IVR authentication upgrades to reduce data entry errors

A modern and intuitive redesign of our Agent Interface UI 

Make it easier for customers to use Apple Pay, even if they've never used it before

Consumers with multiple payments accounts can now easily toggle between them

Behind the scenes improvements to our Business Portal, including more processing power and a speedy architecture upgrade
New & Expanded Partnerships
PayNearMe now works even better for customers of Shaw Systems, Nortridge, CMOR Solutions, Passtime GPS and Vergent. 
Learn more about Partners
Schedule a Demo
To see these updates and get a tour of the PayNearMe platform, schedule a demo today.