How to Maintain Payment Compliance in Remote Call Center Operations

For organizations that depend on call centers to field customer questions and accept payments, the COVID-19 pandemic has presented unique challenges. On one hand, reducing call center staff can put a huge strain on operations. Yet because of the proximity of workers, physical call centers are prone to viral outbreaks. Using a remote call center for payments can ensure your staff's safety — but what about maintaining payment compliance?
The COVID-19 Call Center Problem
Physical call centers are having to go to great lengths to adapt to the new normal in business. One Ohio call center is operating at 50 percent capacity to adhere to social distancing guidelines during the coronavirus pandemic. Everyone who comes in to work has to check their temperature each day before arriving. To reduce the spread of the virus, the call center owner has put up Plexiglas barriers, and is having staff sanitize door handles and work surfaces six times a day.
Other call centers aren't even able to operate at this level without risking worker safety, with companies ranging from Citigroup to regional banks moving at least some of their call center employees to a virtual call center.
However, with high levels of payment activity for loans, rent, utilities, and more as a direct result of the COVID-19 stimulus checks, and an increase in debit card and ACH payments, your customers need your call center now more than ever. It's essential your organization is set up to help your customers when they call to make a payment.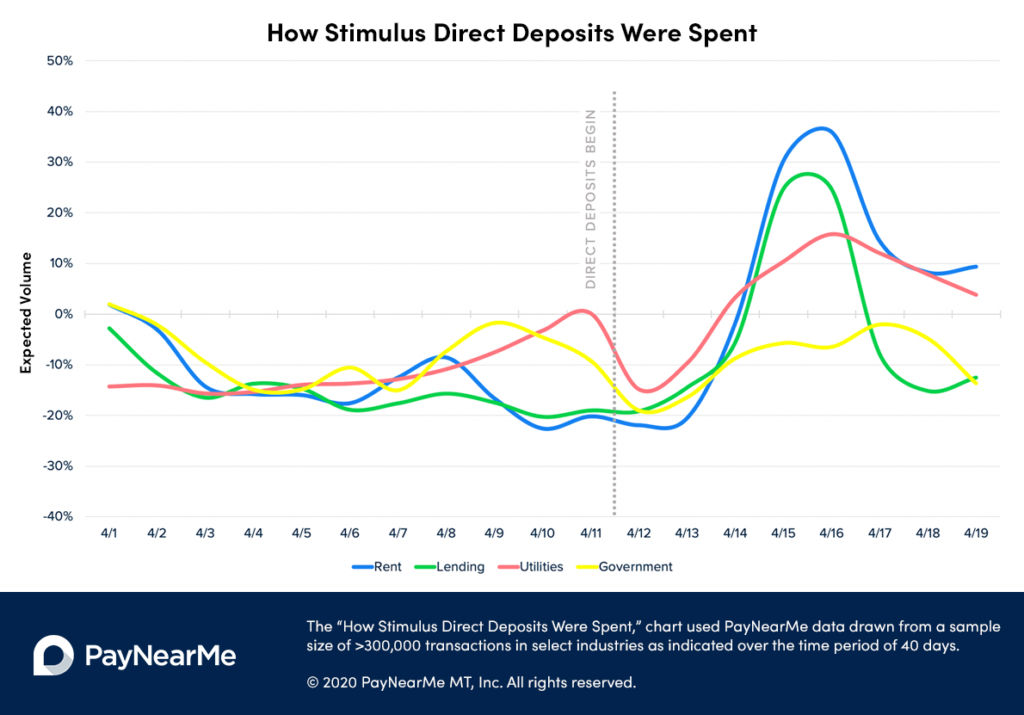 Virtual call centers can be just as effective as physical locations when it comes to customer service, but payment compliance is another issue. When working from home, call center agents don't necessarily have the same safeguards to rely on that a physical center offers. Without secure phone lines, keycard entry facilities, and other essentials, how can your agents adhere to PCI-DSS and NACHA rules and regulations?
The answer lies in technology. With the right payment technology, your agents will have the tools necessary to keep your customers' payment information safe. The PayNearMe payments platform comes with secure tools that make ensuring compliance in a remote call center environment much more manageable.
Secure Payment Tools for Remote Call Center Workers
Instead of taking card numbers over unsecured phone lines, your remote call center agents can leverage the following tools to collect payments securely.
Pay by Text or Email
Instead of asking for personal financial data on the phone, agents can use a more secure channel such as pushing payments by text message or email.
How it works:
While still on the phone, the agent sends a push message to the customer through text or email.

The customer can click on the unique link to complete the payment.

The agent is on the line and available to guide the customer, making the process easy for the customer.
Interactive Voice Response
With a built-in IVR feature, customers never have to talk to a live agent and share payment information, so their personal data is never recorded by the voice recording software. This makes remote contact center payments fast and painless for the customer — and secure for your organization.
How it works:
The customer calls the contact center and automatically interacts with the interactive voice response feature.

The IVR directs the customer to input their payment information by speaking or typing the information in from their phone.

If the customer has a question or wants to speak with a live agent, they can. The agents can then use other features such as push messages to walk the customer through the payments process securely.
Automatic Bill Payments
Another way customers can pay securely is by using automatic, or recurring, web payments. Once they authorize recurring payments or charges, they can input their card details from their own device. With a platform that makes it easy for your customers to authorize card transactions and web payments, your remote agents can focus on assisting your customers in setting up recurring payments, without the customer having to share any financial details.
How it works:
Your call center agent can recommend recurring payments.

If the customer is interested, the agent can walk them through the setup process.

The customer can update information such as their payment details, payment date, and payment frequency whenever they want through the platform.
A Flexible Platform That Fosters Compliance and Productivity
There's no reason to cut back on call center agents in a time when your customers are looking for help. With an advanced payments platform, your organization is set up to deal with any situation.
Whether you're interested in moving some or all of your agents to a virtual environment or you're looking for a better solution for your existing remote call center, you'll benefit from the reliability, security, and flexibility that PayNearMe offers. Your agents can log in securely from anywhere, without worrying about downtime, updates or system compatibility.
Ensuring secure payment processing is about way more than maintaining compliance. Remaining vigilant during difficult times will keep your employees and customer personal data safe. And, it will give your customers the peace of mind that they deserve. Contact the PayNearMe team and get started today.