What We Learned at G2E 2022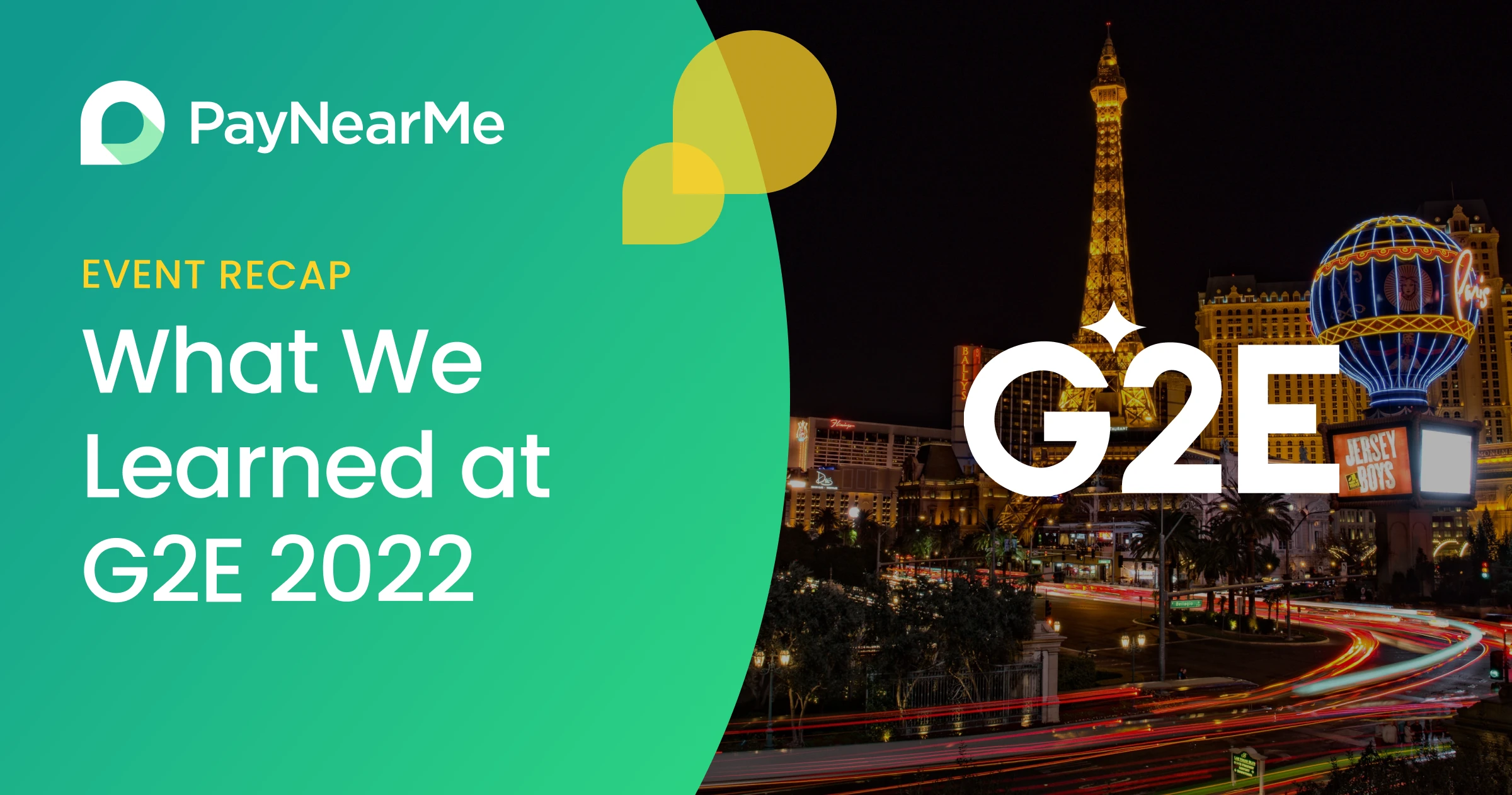 Last month, PayNearMe attended Global Gaming Expo (G2E) 2022 in Las Vegas, where the team came face-to-face with industry leaders, customers, and partners. Through conversations and observations at the show, several key themes emerged from this year's G2E:
Industry events are back and booming, and G2E was no exception. 
There's a lot of exciting innovation taking place in the gaming industry, and G2E was an opportunity to learn about the emerging trends and promising new entrants to the space. Digital payments and omnichannel betting are hot topics, along with determining the future of cash in gaming.
Now is the time for operators to focus on profitability. It's beneficial to learn how the payments component of their business operations can help lower acquisition costs and increase the lifetime value of their customers.
PayNearMe Chief Revenue Officer, Michael Kaplan, also got the opportunity to speak on a panel of experts regarding the technological advances of digital payments and what the future has in store.
What did we hear from show attendees and speakers?
Throughout the industry, there's increasing interest in omnichannel gaming and betting—that is, bridging the gap between brick-and-mortar or retail operations and online or digital operations. Operators that successfully bridge this gap will be the ones that put the right infrastructure in place to make the player experience a pleasant and seamless one—meaning a consistent brand experience, frictionless payments, and rewarding VIP incentives.
Another common theme is discovering how to promote responsible gaming within a constantly evolving and rapidly-expanding landscape. With a growing customer base in iGaming and online sports betting, how do operators remain compliant? In the digital gaming world, player data will be key, and payment data will play a role.
Lastly, cash payments will maintain a significant presence in the gaming world. While digital payment innovation is happening all around us, cash will always be a reliable and preferred payment method for gambling, as evidenced by our recent consumer research. PayNearMe continues to revolutionize how cash integrates with online betting, with features such as cash deposits at local retailers or our Cardless Cash at ATM withdrawals.
How can PayNearMe help operators?
With MoneyLine, operators can manage the full payment journey, from the initial deposit, payouts and repeat deposits, through to settlement and management of funds, to optimize the player experience across every touchpoint. New payment types and other features can be added with ease, allowing operators to deliver purpose-built experiences that meet the needs of players today and in the future.

Operators can leverage MoneyLine to address a number of payments needs, including:
Getting to market fast: Whether you are a new entrant, or an existing operator launching in new states, it's important to be able to get to market fast. MoneyLine offers everything needed to deploy payments quickly, freeing up operators to focus on other launch priorities. The MoneyLine platform is already integrated with many of the leading PAM providers, making plugging into all of the most in-demand tender types quick and easy.
Innovation as a differentiator: To stand out in a crowded market, operators must ensure their payment platform offers all major payment options for deposits and payouts, all in a consistent, easy-to-use experience. MoneyLine provides a way to offer major tender types, and create a best-in-class payment experience for players with unique features such as the ability to withdraw funds in cash at participating ATMs. By increasing your payment acceptance rates, MoneyLine can help operators attract and retain more players and increase profitability.
Future-proofing the payments roadmap: Continuing to evolve by offering modern deposit options (such as PayPal and Venmo) to the cashier is a must. But many operators simply don't have the bandwidth, scale or direct integrations to do so. With MoneyLine, operators can connect to an existing ecosystem that allows them to quickly add new tender types without developing multiple direct relationships with different payment vendors.

To learn more about the MoneyLine platform's features, click here.
Where can you find more information?
If you missed PayNear me at G2E this year, you have other opportunities to connect with us. For more information on scheduling a virtual or in-person demo of the MoneyLine platform, visit our contact us page to request a time.