What's New at PayNearMe: Summer 2019 Edition
At PayNearMe, we continue to be focused on what it means to be a technology-first company. And more importantly – how to deliver on it. Let's dig into some of our favorite feature releases from the first half of 2019.
Realtime Updates, No Disruptions
Say goodbye to inconvenient maintenance windows and planned outages. We're excited to announce that our team has completely transitioned to disruption-free product releases for all PayNearMe customers. Our product and engineering teams are committed to rolling out weekly platform updates, including new features, speed enhancements and quality of life upgrades in real time.
We're committed to giving our customers a superior, up to date platform with minimal to no downtime for releases and updates. And there's no asterisk on that statement.*
Minimized PCI Risk in the Call Center
The new PayNearMe Agent Interface delivers a unique approach to taking payments in your call center. Agents can send a pre-authenticated link through text message or email, and enable customers to complete payments while remaining on the phone.
Agents no longer have to ask for sensitive card data over the phone, removing a significant amount of PCI-DSS risk from the payment process. And by staying on the phone throughout the process, agents can focus on providing exceptional customer service experiences.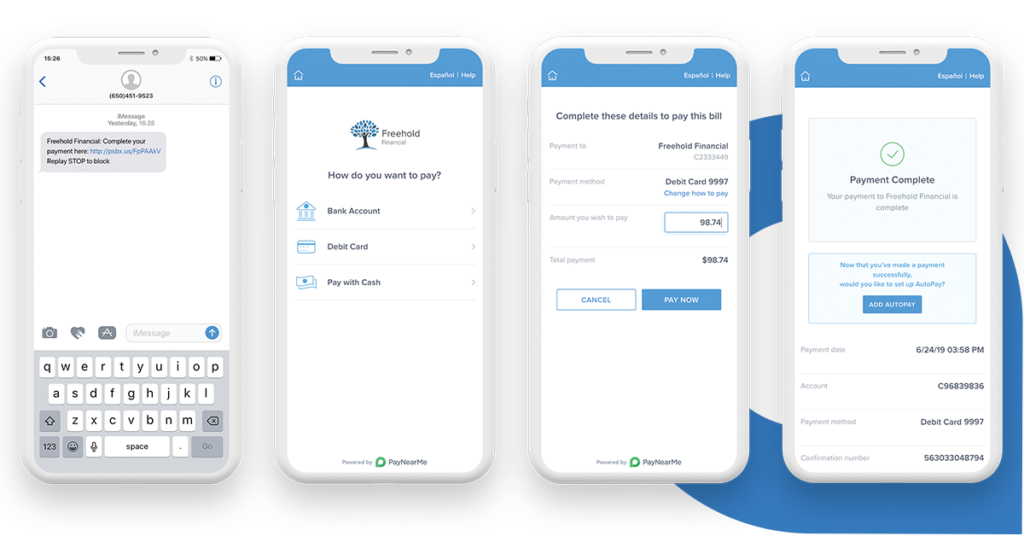 (Learn more about how we help you minimize PCI-DSS risk by viewing our webinar with AFSA.)
Robust AutoPay Features
Our updated automatic payment features enable both your collectors and your consumers to schedule payments with ease. PayNearMe offers advanced scheduling options that fit nearly any preference.
AutoPay schedules include:
One-time
Weekly
Every other week
Twice a month
Monthly
In addition, we've introduced the ability to pick precise payment dates for each scheduling option. For example, a customer can choose to pay twice a month on the 5th and 17th to coordinate with their payroll, or choose to pay every week on Monday. AutoPay schedules can even be set to expire, either at a certain date or after a predetermined number of payments.
IVR
Integrated IVR within our platform means you can enjoy the same logic, reporting and reliability for all your payment channels.
Already have IVR setup? No problem. Simply connect it via our API to connect your existing solution to our payments platform.
Custom Fields
We're thrilled to announce that you can now import and present custom fields directly within the PayNearMe platform. These custom fields enable you to show your customers detailed presentment, payment and other data they may need to complete a transaction.
Custom payment fields open new possibilities for businesses with specific payments needs, and open the door to further innovation at PayNearMe.
Automated Business Rules
Automated business rules allow you to configure PayNearMe to address unique business challenges without writing custom code or bringing on separate, one-off solutions. When combined with custom data fields, the possibilities are endless.
Here are a couple examples from our existing clients:
If an ACH payment delivers an NSF failure two or more times, then only show that customer debit and cash payment options in the future.
If a customer has less than four installments remaining, then disable the ability to edit payment amount.
If a customer is past due more than five business days, then trigger an email and text message reminder.
Automated business rules extend the capabilities of PayNearMe to help you automate repetitive tasks, reduce risks and scale your business.
Business Operations Improvements
We aim to continually make it easier for you to manage your payments and customer data. That's why we've rolled out new functionality including an auto-updater for expired cards, an improved refund process, and the ability to challenge a dispute directly from the PayNearMe Business portal.
These quality of life adjustments help your team stay focused on what matters the most – growing your business.
Expanded Technology Partnerships
Megasys and Auto Master Systems software clients can now accept card and ACH payments, in addition to cash, all from a single platform. We will continue to expand our partnership network so you can enjoy the benefits of seamless integration with PayNearMe and your software providers.
(Interested in partnering with PayNearMe? Send us a note.)
Push to Card Disbursements
Offer your customers the benefits of real-time with our new push-to-card disbursements. This enhancement enables your business to instantly send funds directly to a customer's bank account through their debit card. Reduce long waiting times and eliminate costly paper checks when funding loans, returning overpayments, or sending refunds.
Apple Pay & Google Pay
More payment choices lead to happier customers. That's why we're expanding our payment options to include Apple Pay and Google Pay, alongside our existing credit, debit, ACH, and cash options.
Experience the PayNearMe Difference
The new features we've shared here represent only the tip of the iceberg. We look forward to introducing new partners, features and functionality in the coming months to help you collect every payment, every time.
Interested in learning more? Request a product demo, or reach out to sales@paynearme.com to get a custom preview of our platform.
*Seriously, there's no asterisk.