Four Leading Lenders Share Why They Love PayNearMe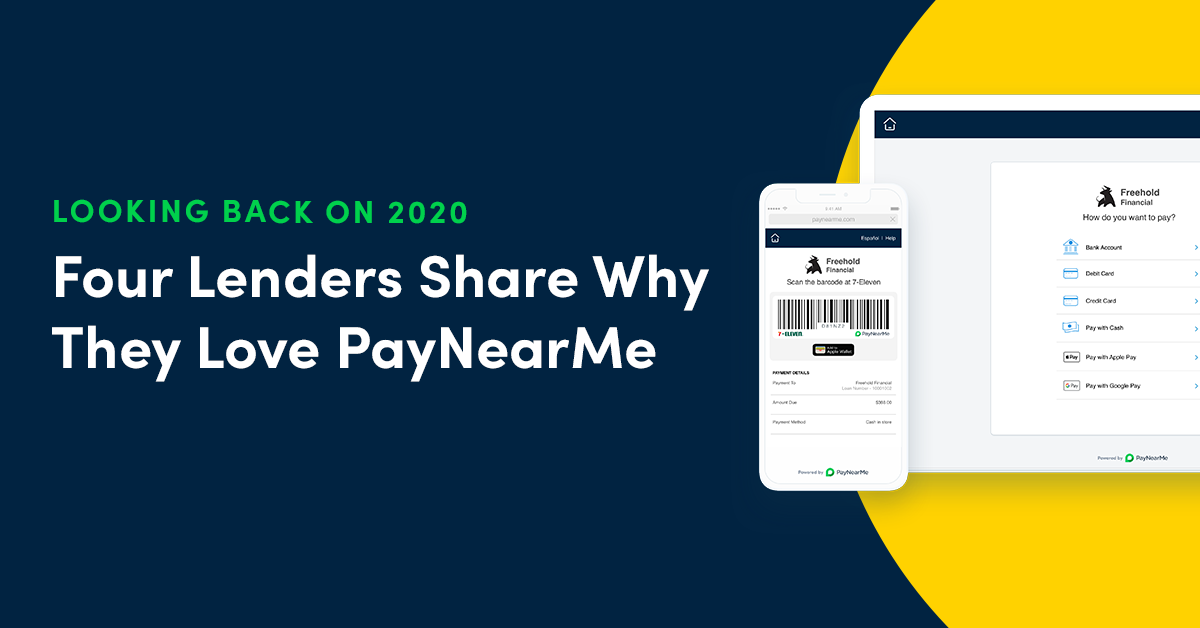 At PayNearme, we're dedicated to creating software that our clients and their customers love. And once in a while, we get to experience that feedback through thoughtful emails, glowing referrals and quoteworthy soundbites.
Clients in the lending industry have been especially vocal with their positive feedback, letting us know that we're moving closer to our goal of transforming the bill pay experience for everyone involved.
And while we have many happy customers, here are four of our favorite lending case studies from the past year.
OneMain Financial Digitizes Cash Payments
"PayNearMe solved our challenges posed by cash payments. As a result, our 'No Cash' initiative has been an overwhelming success with our customers and team members across the nation. This would have not been possible without our colleagues at PayNearMe."
A significant number of consumers still pay their bills with cash every month—especially those in un- or underbanked households. However, cash payments present a variety of risks for businesses. There are costs and security concerns associated in all parts of transaction, from properly staffing to accept cash payments, to storing and transporting the cash to a bank, to manually reconciling these payments and more.
To help mitigate those risks, OneMain Financial needed a more secure way to accept cash payments while still meeting the needs of all their customers. OneMain Financial determined that the best solution was to allow customers to pay with cash at thousands of retail locations through PayNearMe, effectively outsourcing the handling of cash while digitizing the transactions. As a result, OneMain Financial was able to undergo a complete "no cash" initiative that removed cash transactions from their branches.
As a result, OneMain Financial was able to save money, lower risk and improve security at thousands of branch locations.
Bonus: How PayNearMe Cash Payments Work
Northwoods Automotive Slashes Inbound Call Volume
"We feel good about the system. My front office loves it, and it has definitely taken a payload off of all of our finance staff. And it's also allowed us to take some of those resources and put them into our service center and where we needed help."
Northwoods Automotive was looking for a way to service customer payments without bogging down the phone lines with inbound payment calls, in addition to simplifying their reconciliation process. Additionally, the lender was searching for a way to decrease in-person payments due to COVID-19 restrictions.
With PayNearMe's innovative self-service payment solutions (including pay by text, mobile web payments, and retail cash network), Northwood's customers could make payments on any device at any time without the aid of a call center rep. And by making online self-service payments free for all customers, Northwoods Automotive was able to drive self-service adoption quickly and substantially.
In fact, inbound payment calls plummeted by over 70% in the first few months, allowing Northwoods Automotive staff members to focus their time on bringing in new business for the lender.
Bonus: How Pay by Text Works
Auto Lender Minimizes Reconciliation Time
"When I did manual pivot table work before, it would take me at least a day [to reconcile], and then depending how many payments were off, I might have to also research every single payment. There were always things that didn't match up. With PayNearMe, everything matches. There's very little I have to adjust."
As illustrated in the previous two examples, reconciliation continues to be a challenge for lenders, with many organizations spending hundreds of finance and accounting hours each month on this activity.
PayNearMe was introduced to an automotive lender who was spending eight hours a day reconciling transactions from their previous payment processing vendor. Each payment type (cash, ACH, debit, etc.) required a separate downloaded report, and different reports needed to be downloaded for deposits, chargebacks, ACH returns and other non-standard transactions.
This meant complicated pivot tables, manual copy/paste work and constant double counting was required to finish the job each day.
By switching to PayNearMe, the lender was able to export a single, clean report each day that made reconciliation simple and consistent. They were able to reduce the reconciliation process to less than an hour each day – freeing up the team's time to work on other critical finance initiatives and find ways to bring in new revenue.
By reducing 87% of the lender's time spent on reconciliation, they have been able to minimize all reporting discrepancies and save valuable time.
Bonus: Explore the PayNearMe Business Portal
Turner Acceptance Decreases Agent Calls
"The beauty is that all customers can make payments easily at their fingertips. Customers feel more comfortable knowing that they control when they can set up a recurring payment, stop payments, or set future payments [themselves]. The fact that one-click payment links are on their mobile device — and that it's secure — facilitates self-service and allows us to reduce unnecessary calls to our agents."
Over time, we've noticed a trend: when given the choice of mobile payments versus in-person or phone payments, bill payers prefer the convenience of self-service. Turner Acceptance, an innovative lender auto and installment lender, wanted to improve its electronic payments process to facilitate better self-service payment behaviors and enhance customer relationships.
With PayNearMe's Engagement Engine, Turner Acceptance was able to supercharge self-service payment adoption by sending one-click payment reminders by email and SMS. These messages could be personalized for different customer segments to improve conversion rates. For instance, if a payment was ten days late, the customer would receive a different message than someone who pays consistently on time. The personalized communications also help encourage customers to pay their bills electronically instead of needing to call an agent.
As a result, Turner Acceptance was able to decrease agent-assisted payments by over 20% in the first 60 days, allowing agents to focus more time on accounts that needed help. The lender received positive feedback from their customers and staff, who all benefited from the new technology.
Bonus: How PayNearMe Engagement Engine Works
Become Our Next Success Story
No matter what payment challenges you face, PayNearMe is here to help you solve them. Our platform is built to make the payment process easy, while being flexible enough to adapt to your unique business needs.
Request your demo today, or check out our brief 5-minute walkthrough to learn how we can help you collect every payment, every time.
Get a free demo of PayNearMe's reliable payment platform today.