What's New at PayNearMe: 2021 Year in Review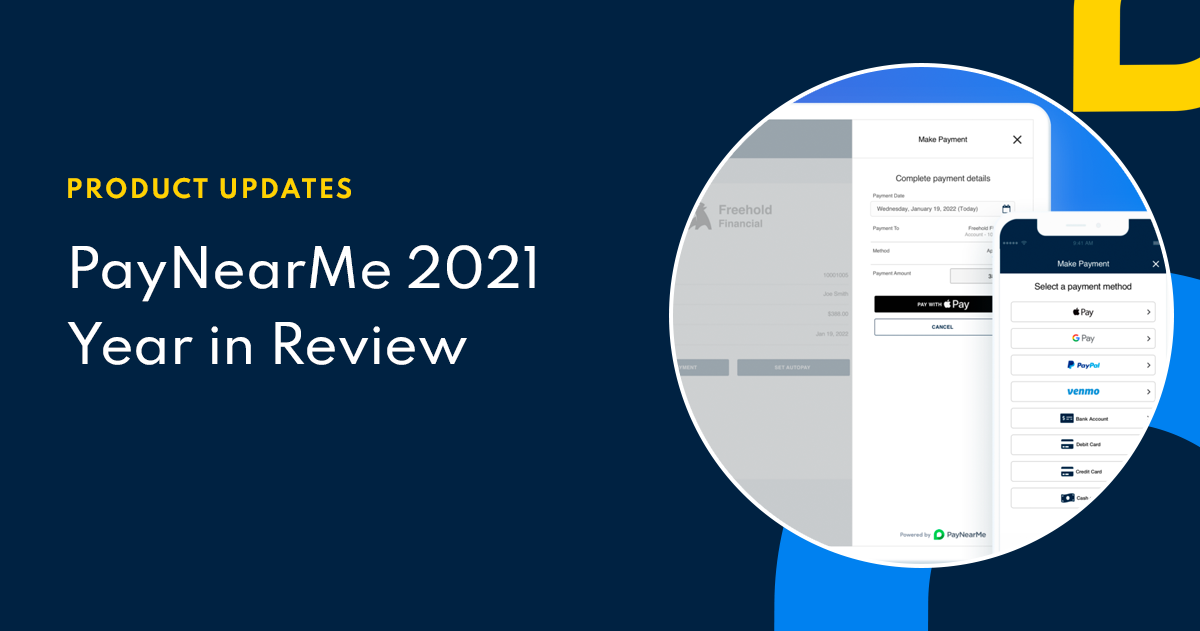 With over 60 product releases in the bag this year, our product and engineering teams have been busy adding new features, making updates and all around improving our bill pay and MoneyLine™ products. This blog covers a few of the important updates our team accomplished in 2021.
For a more detailed look at what happened with product updates in H1 and in Q3 of this year, please see our previous articles on the subject.
New Year, New Partnerships
This year brought a wealth of new partnerships and integrations. PaynearMe can now read and write data in real time to additional consumer finance software partners. In addition, we built a partnership with the print and mail specialists at FSSI to offer clients an integrated e-bill and e-doc presentment directly within our Consumer Portal and Agent Portal. Additionally, consumers can access e-bills within their Apple or Google wallets.
We grew our cash retail network, expanding our partnership with Green Dot to add thousands of Walmart stores to our growing list of in-person cash payment locations. The expansion brings PayNearMe's total number of U.S. retail partners to over 31,000 and growing.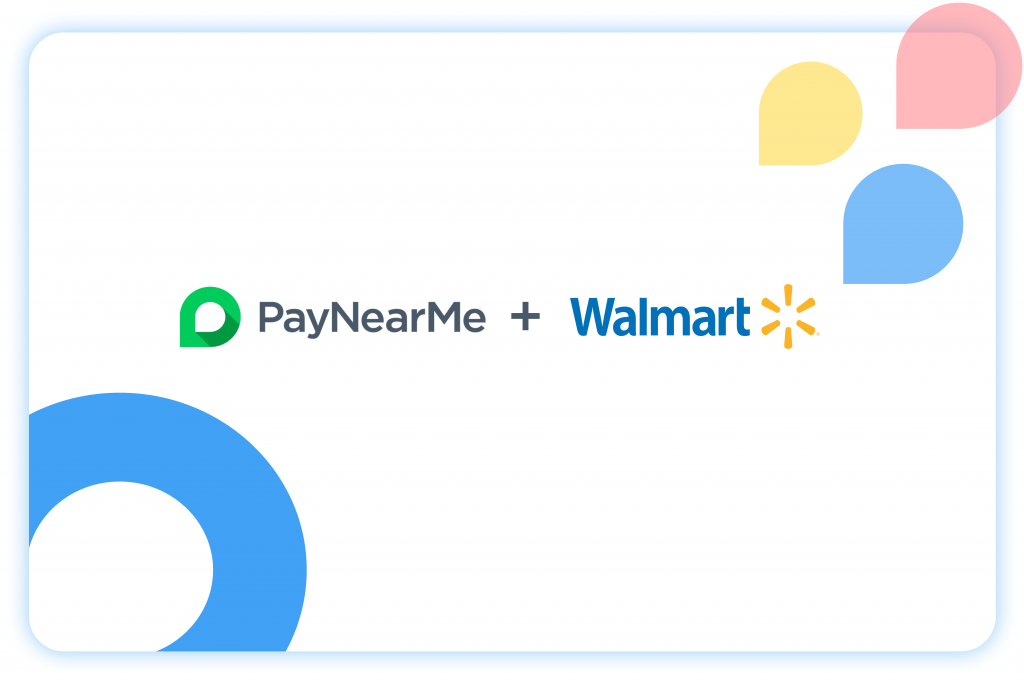 UI & UX Updates
Here at PayNearMe, we put a huge focus on user experience–for both our clients and their customers. In early 2021, we migrated the PayNearMe Consumer Portal to the Bulma framework for a more modern look and feel. We then followed this work by updating our PayNearMe Business Portal and Embedded Client to feature the same updated experience.
One significant update was expanding our Embedded Client offering, making it easily configurable to meet client needs. As part of our complete restructure of this feature, we added new views and user experience options, Spanish support and the ability to support all payment options, including Apple and Google Pay.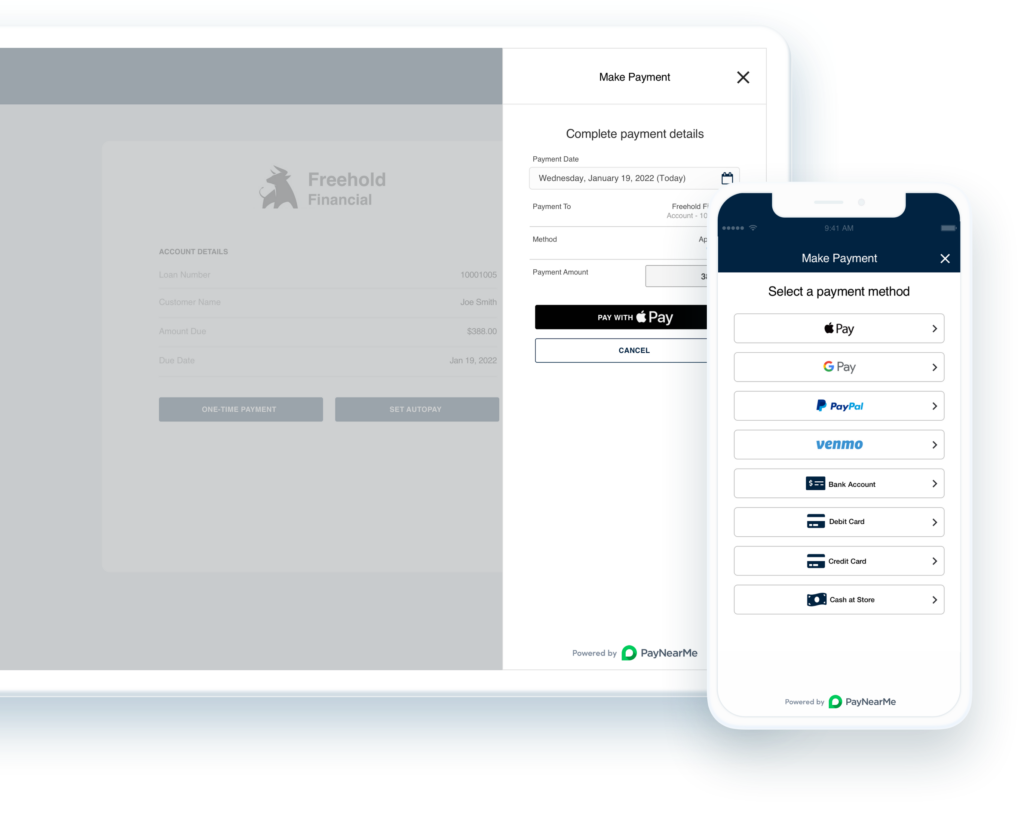 To make our platform easier to use, we made changes to limit characters and other similar restrictions on CVV, expiration date and other fields. This makes it easier and safer for consumers to enter the correct number of digits for their cards and bank accounts.
Additionally, we added the ability to pre-populate information on card and ACH forms if attached to an existing consumer profile. Consumers can still manually edit and input information, but this will save registered users time.
Finally, we have made significant improvements to configurability and user experience for our Digital Wallets offering.
Advanced Search, Reporting & Insights
Did you know that PayNearMe has built out its own data warehouse in 2021? A data warehouse is a type of data management system that is designed to enable and support business intelligence activities, especially around analytics.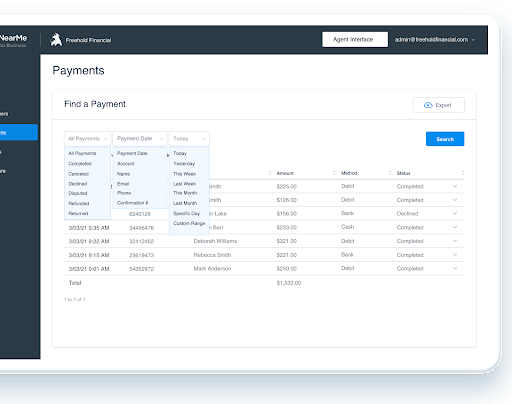 What does this new data warehouse mean to our clients? It means access to additional (and more in-depth) information around your payments, as well as the ability to see and interact with this data. It also means that our platform is now more scalable to support large-scale analytics projects. Finally, it gives us the ability to look at data across industries and discover trends that we can share with our clients.
With our data warehouse in place, this year we provided clients the ability to view and run reports directly in the Business Portal, along with the ability to run additional search capabilities and export new types of data.
We accomplished a lot in 2021, but there's much more to come around reporting and insights in 2022. For more information about these features or to test these beta features, please contact your account manager.
Schedule Your Demo
New to PayNearMe and want to see the latest platform features and improvements in action? Schedule your demo today.