PayNearMe Wins "Best Consumer Payments Platform" Award for the Second Straight Year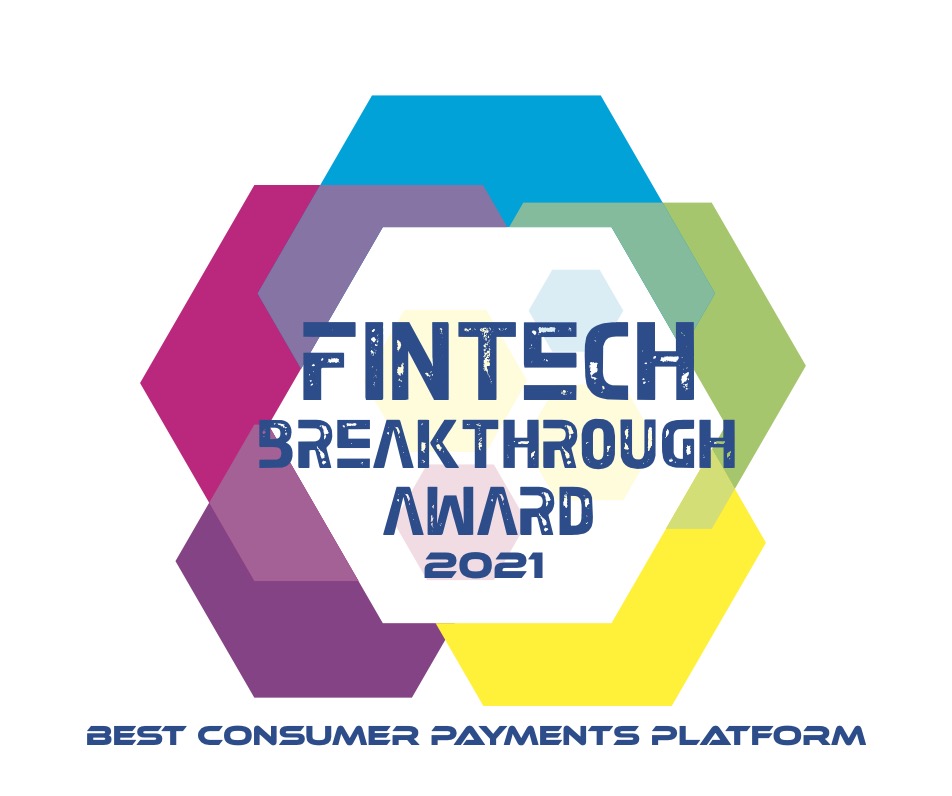 We're proud to announce that we've been named back-to-back winners at the 2021 Fintech Breakthrough Awards, earning recognition in the "Best Consumer Payments Platform" category.
PayNearMe wants to recognize our entire team for continuing to introduce innovative features that help redefine what's possible in the bill pay industry. The team worked tirelessly in 2020, launching more than 50 releases over the course of the year. This came on the heels of a prolific 2019, a year where we launched 52 releases and won our first Fintech Breakthrough award. 
We'd also like to thank our clients for being the driving force behind our ongoing development and success. Many of our new features come from client inputs during the sales cycle, onboarding process or ongoing relationship with our team. This feedback loop has helped drive the development of many of our most popular capabilities.
Finally, we'd like to thank Fintech Breakthrough for recognizing PayNearMe's ongoing pursuit of innovation in the payments space. The organization bills itself as an award-program that recognizes "FinTech innovators, leaders and visionaries from around the world in a range of categories, including Digital Banking, Personal Finance, Lending, Payments, Wealth Management, Investments, RegTech, InsurTech and many more."
This year's program attracted more than 3,850 nominations from innovative FinTechs across the globe.
Features Contributing to Our Win
While many factors were considered in our "Best Consumer Payments Platform" nomination, the following features led the charge in the submission process.
Dynamic Mobile Wallets
Why build your own app when you can take advantage of the robust payment features that are already built into consumer smartphones? We've made it easy for billers to create rich bill pay experiences directly in Apple and Google digital wallets, allowing consumers to save their account information, make one-click payments, see recent transactions, receive payment reminders, review bill statements and more.
Billers are able to dynamically update content in the wallet and simplify the payment process, without having to manage any app updates or dedicate developer resources.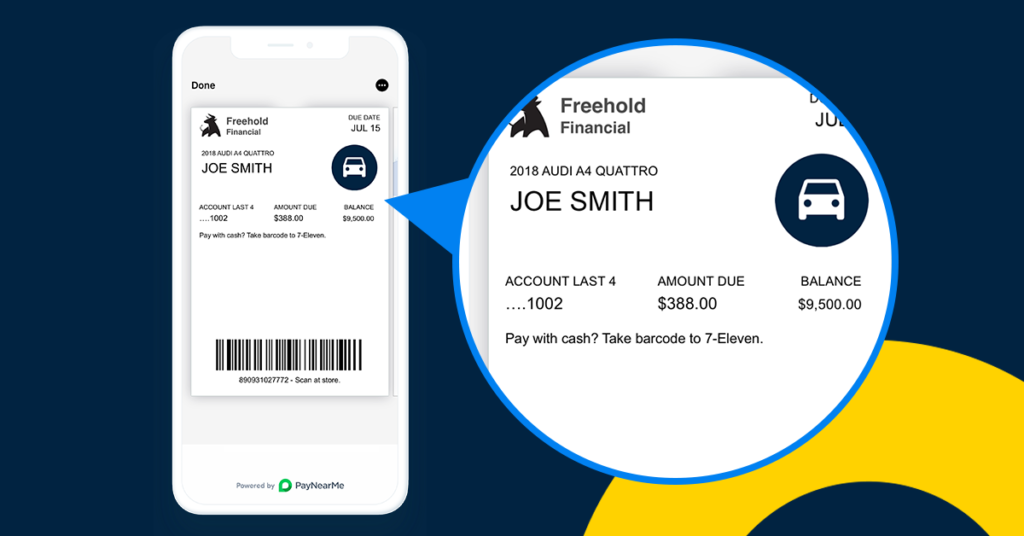 Apple Pay and Google Pay for Bill Payments
PayNearMe allows individuals to make bill payments with Apple Pay and Google Pay, offering an easy and secure way to interact with merchants. When selecting Apple Pay or Google Pay, users are able to pay with an existing payment type saved in their phone, instead of having to type in card data manually.
The checkout process is simplified further by allowing the use of biometrics (such as fingerprints) to complete the transaction—meaning less typing, fewer errors, enhanced security and faster payments.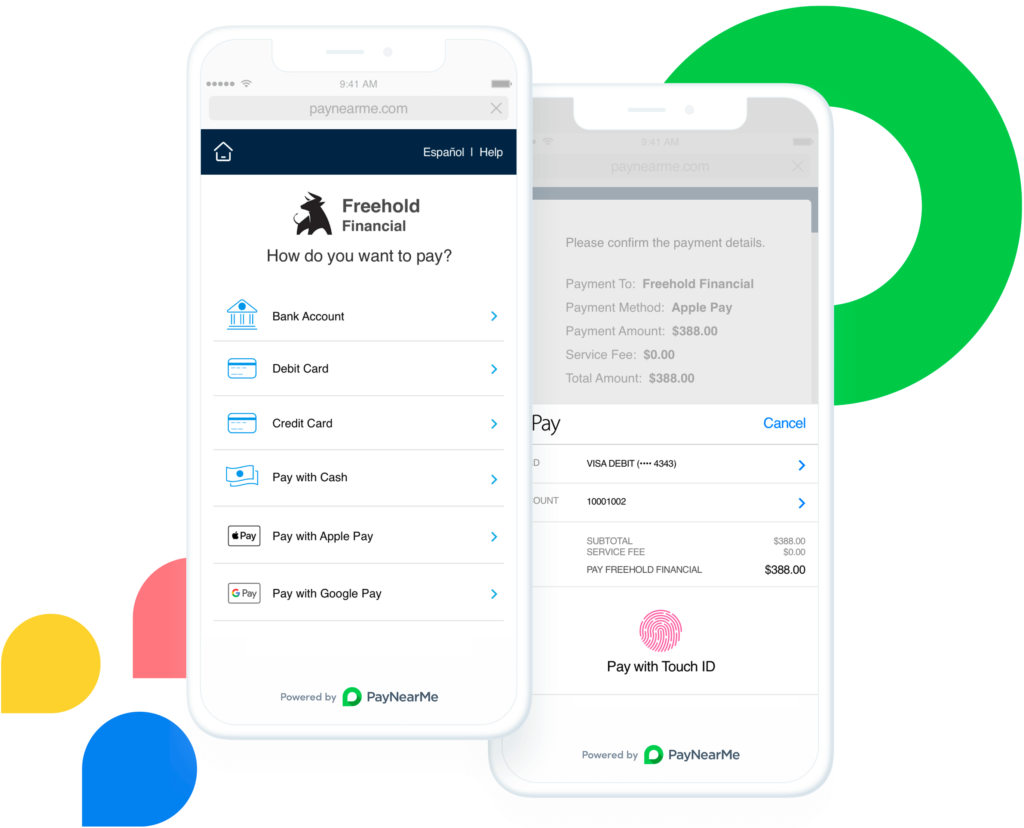 Digital Disbursements
While traditional disbursements can take days or weeks to get to consumers by mail, PayNearMe's digital disbursements allow near instantaneous funding via debit card or overnight via ACH. This saves billers time and money while getting critical funds into the hands of their customers. Use cases include loan funding, overpayment refunds, iGaming payouts and more.
An additional innovation is the introduction of "consumer authorized disbursements". In this model, the biller sends out a personalized that allows the customer to type in their own financial information to initiate the disbursement. This helps eliminate compliance issues for the business and reduces data entry errors that often happen over the phone.
Automated Payment Operations
PayNearMe is allowing merchants to automate key payment tasks with the introduction of our logic-based Business Rules, Custom Fields and Engagement Engine.
Custom Fields allow businesses to import and display any data they like, giving them more flexibility to configure the platform. PayNearMe Business Rules take these rules to the next level, allowing billers to build logic based rules—for example, preventing certain risky transactions, changing payment options for late payers, and preventing overage payments when a balance is close to payoff.
Engagement Engine provides a built-in messaging tool that allows merchants to send emails, texts and push notifications to different customer segments, while remembering consumer messaging and language preferences.
Together, these help automate the collections process and drive higher margins.
See It For Yourself
Contact our team to request a personalized walk-through of the award-winning PayNearMe platform, or click here to view an instant demo on demand.