Why Digital Exploration—Not Transformation—Is a Better Path to Improvement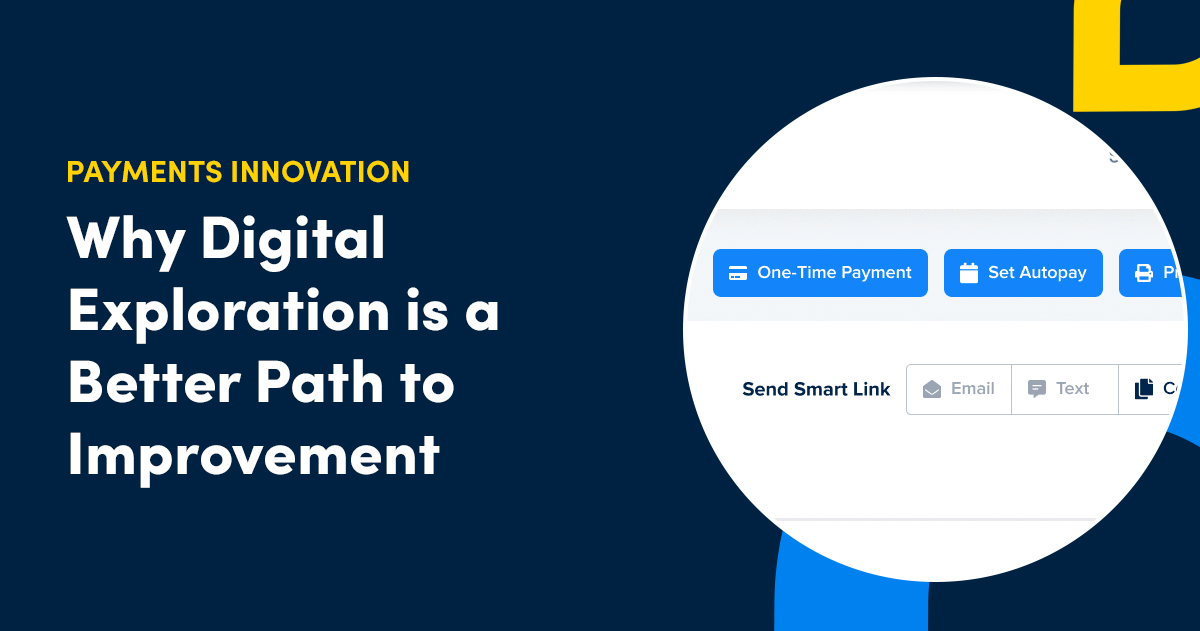 The buzzword "digital transformation" has skyrocketed over the past ten years. You can't read an analyst report, attend a tradeshow or even scroll through your LinkedIn feed without the topic latching onto your brain and injecting you with a sense of FOMO and dread as you try to figure out how to get started.
Despite this overwhelming trend, most billers don't need to undergo a full blown digital transformation. Going all in can be expensive, resource intensive and difficult to maintain, often negating the efficiency savings for small to mid-sized organizations. It's no surprise then that in traditional industries (including automotive), only 4-11% of digital transformations are deemed successful, according to McKinsey.
Instead, billers should strive to first engage in a digital exploration, a practice that prioritizes a small number of manual processes that can have broad benefits across your organization when digitized.
One area that can have a substantial impact on the rest of the organization is payments—especially in businesses where recurring monthly payments dominate the customer experience.
Prefer audio? Listen to Steve Kramer talk about Digital Transformations on the ConsumerFi Podcast.
Payments as a Driver for Digital Exploration
For organizations with recurring bills, the payments process is often the most common touchpoint with customers over time. This can create a compounding effect—a good or bad bill pay experience might not make an impression the first month, but after a year or two can have an impact that can be felt throughout the organization.
This makes the bill pay experience a prime target for digital exploration. Digitizing parts of the billing process, from monthly payments to collections to reporting and everything in between, creates efficiency improvements across departments, including finance, customer service, accounting and operations.
Here are some of the ways you can use smart technology like PayNearMe to begin the digital exploration process.
Capturing the Initial Payment
The first payment can set the stage for the future of your relationship with a customer. Getting a customer to sign up for recurring, automatic payments at the time of onboarding creates a greater likelihood of receiving on-time, in-full payments each billing cycle.
You can do this by ditching handwritten forms and voided checks, focusing instead on a digitized enrollment process for automatic payments. If you tend to onboard customers face-to-face (such as at a BHPH dealership or installment lending business), having your team walk through the online signup process is an excellent way to get more customers enrolled up front.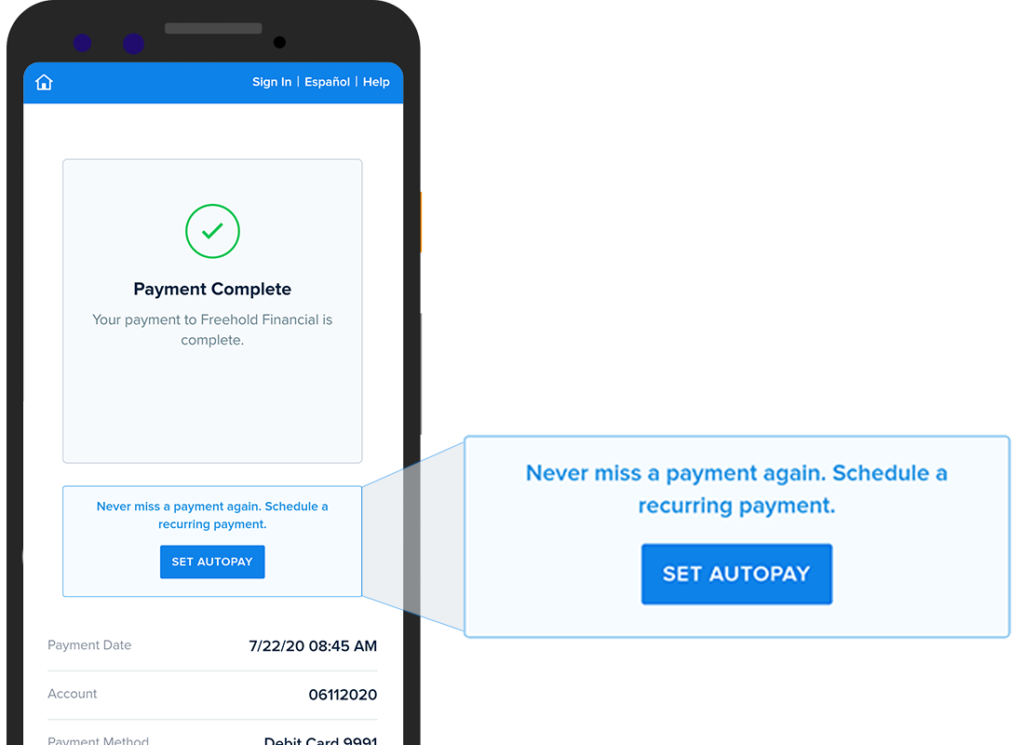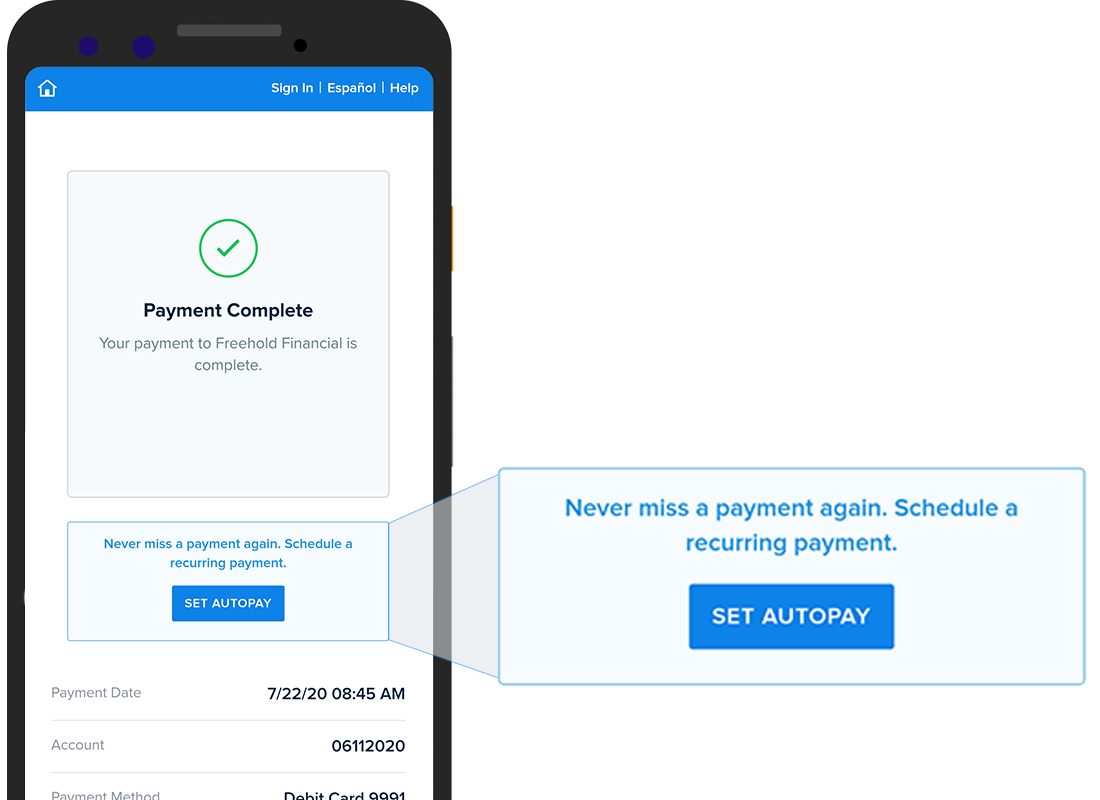 For those who tend to start the relationship remotely (i.e. a local utility or government), you can prompt customers to set up autopay by sending them a text or email at the time of account activation. PayNearMe makes this even easier with Smart Link technology, which allows customers to access their account without having to enter a username and password to make an initial payment.
Other ways to digitize the customer payment relationship with PayNearMe include:
Ask customers to opt-in to receive SMS and email payment reminders
Educate customers on how to add payment info to their digital wallets (i.e. Apple or Google)
Print personalized payment QR codes for each customer, allowing them to scan and pay each month without manually entering a URL
Simplifying Monthly Bill Payments
A significant number of consumers still pay bills over the phone, opting to pay through a live call center agent. Some even choose to pay in person, opting to use cash, money orders and checks that must be handled and processed by a live employee. These payments are expensive to accept and create bottlenecks during your busiest payment days (such as the last Friday of each month).
The goal of digital exploration here is to help convert more of these in-person experiences into self-service payments.
One way to achieve this is by giving your employees more tools to educate customers about their different payment options. For example, PayNearMe's Agent Interface empowers agents to click a button and send a secure payment link by text or email, all while staying on the line with the customer. This allows the agent to walk the customer through the payments process, showing them how to complete payments on their own and even set up automatic payments for the future.
Another effective technique for driving self-service is to give customers more ways to pay outside of your physical location. With PayNearMe, you can enable customers to pay with cash at thousands of local retailers, including 7-Eleven, CVS and Walmart—effectively digitizing the transaction while still appealing to those who prefer to (or must) pay with paper.
Additional ways to simplify the monthly bill pay process with PayNearMe include:
Reduce the number of steps required to complete a transaction by using Apple Pay, Google Pay and other mobile-first payment types
Send automated payment reminders each month to prompt customers to schedule or make a payment before its due
Offer quality of life features such as card auto updater, which will automatically reach out to card networks for new information when a payment card is nearing expiration
Streamlining Back Office Tasks
While the previous two sections focused on addressing consumer-facing challenges, it's important to acknowledge the effects that digitization can have on your administrative processes as well.
Technology that enables straight through processing can drive efficiency in many parts of the business. For example, digitizing cash simplifies the reconciliation process and reduces the cost of accepting, securing and transporting physical money. For smaller organizations, this can free up staff and resources to tackle much more complex projects; larger organizations can often see a bigger impact to the bottom line when going cashless at hundreds or even thousands of locations.
The same can be said for automating compliance and security tasks with automated rules. PayNearMe's logic-based Business Rules help organizations identify new ways to fight fraud, lower exception payments and reduce human error in the payments process. For example, some clients set up rules that can remove ACH as a payment method if the customer has had more than one NSF error in the past 12 months, helping to lower the instance of future exceptions.
More ways to streamline back office tasks with PayNearMe include:
Manage and simplify chargeback disputes with a dedicated portal
Keep your data up to date by connecting to your system of record via dedicated integrations, flexible APIs or with a simple file-based transfer
Create customized messaging flows for different customer groups, such as ">10 days delinquent" or "not enrolled in autopay"
A Crawl, Walk, Run Approach
The main benefit of a digital exploration is that you don't need an all-in approach. Nearly all the suggestions listed above can be implemented independently, or in groups, or all together. Choosing a flexible payments platform with exceptional configurability makes this approach a win for organizations of all sizes.
With the right technology partners and mindset, you can digitize small pieces of your business and expand as you see fit. For some, this may mean jumping into a full on transformation, while others will see value in tackling only a few processes at a time.
See how PayNearMe can help your organization digitize your payments capabilities and improve organizational efficiency by requesting a personalized demo today.