How to Free Up More Time for Your Call Center Agents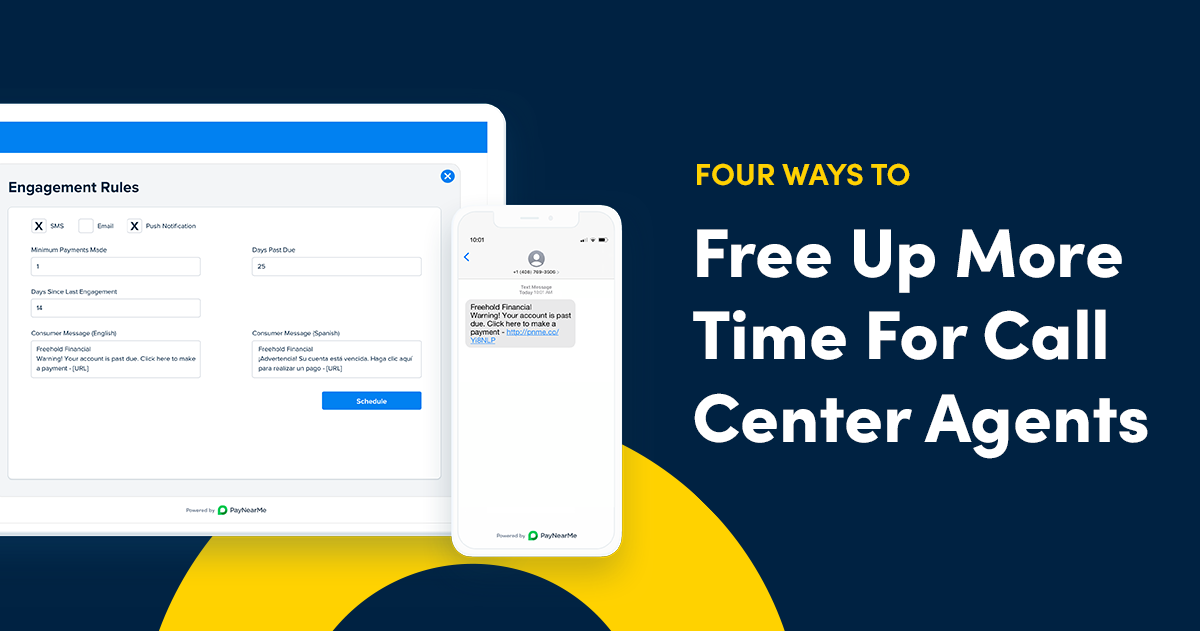 In a world where 77% of customers believe it takes too long to reach a live agent on the phone, your contact center responsiveness is critical to keeping borrowers happy, satisfied, and paying on-time.
This is echoed by a Microsoft survey, which showed that 61% of consumers will cease interacting with a company due to poor customer support, while 33% rate a company's efficiency based on its ability to resolve issues in a single interaction.
Given these facts, lenders who rely on contact center agents to manage customer service must find ways to free up time for agents and reduce time spent on transactional payment calls.
4 Ways to Free Up Time for Call Center Agents
While you may not want to stop inbound calls altogether—after all, this is how many lenders build long-term relationships and create new lending opportunities—it is often in your best interest to have call center agents focus on accounts that need the most attention. This may include collecting on delinquent accounts, helping borrowers with complex requests, or sending new lending requests to the sales and originations departments.
Here are four ways to reduce transactional calls to focus on higher priority support cases.
1. Introduce Self-Service Payment Options
Many customers call your contact center to complete simple transactions, such as monthly payments or account balance requests. These are the types of calls that can be handled easily through self-service options enabled by your bill pay provider.
The simplest way to promote self-service payments is by sending out automated reminders via email or text message to your borrowers whenever a new payment is due. These payment reminders should include a direct payment link that is unique to each customer, letting them click and pay without registering, or having to enter a username, password or account number. This provides a seamless payment experience that is even easier than calling into your contact center.
In addition to scheduling automatic payment reminders, allowing your borrowers to save their payment information to digital wallets (such as Apple Pay and Google Pay wallets) makes repeated self-service payments easy to access.
For example, in PayNearMe's bill pay flow your borrowers can click an "Add to Wallet" button that automatically connects their loan/account information to their smartphone. Information is updated dynamically, so that your borrowers can make a payment, view past transactions, view their balance and more, without any additional work required from your business.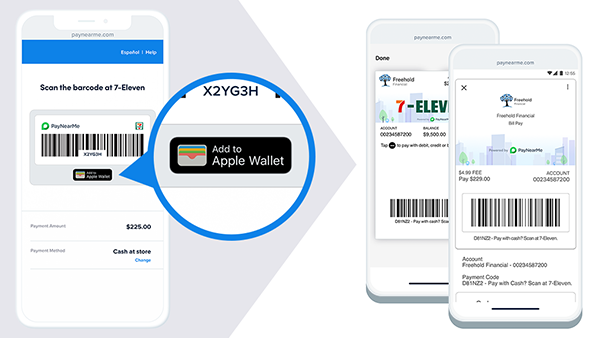 Finally, prompting customers to sign up for autopay immediately after they complete a payment is the ultimate form of self-service, completely automating the payment process each month. You should make it simple for your customers to setup autopay on their own, and give them recurring payment options that fit their needs such as flexible due dates, advanced scheduling options, ability to add additional principle payments and more.
Self-service options like these are a win-win for you and your customers. Those who wish to make payments on their own will have plenty of options to do so, without having to call in to your contact center every month. By implementing self-service options, PayNearMe clients have seen inbound payment calls drop by 70% and more in only a few months.
2. Automate Repetitive Tasks
Time spent on repetitive and manual tasks keeps your agents from being more productive on the phone. An excellent way to get such tasks out of the way is through automation. While there are many ways to automate, focusing on a few of the most repetitive tasks can go a long way for freeing up agent time
As mentioned in the previous section, sending payment reminders can often take a lot of time, especially when the customer is past due. With a solution like PayNearMe Engagement Engine, you can automate essential customer reminders and updates, creating automated messaging workflows to different customer segments. This can help you send the right messages to the right borrowers at the right time, removing much of this burden from your agents.
Logic-based business rules can also save time by automating highly repeatable tasks, such as flagging risky payment behaviors or avoiding overpayments at the end of a loan. Depending on your agents to memorize all these scenarios and adjust on the fly slows them down and opens up the possibility of errors.
By automating different phases of the bill pay process, you'll free up time for your call center collectors to work on more productive tasks.
3. Empower Agents with Better Collection Tools
Call center agents waste a lot of time when they have to navigate poorly designed systems and archaic user interfaces. In some instances, your agents may need to switch between multiple tools when performing different tasks, creating longer wait times and higher training costs. The probability of losing or omitting critical information is even higher if they have to dig through dozens of long menu sequences or fill out lengthy forms when on the phone with a customer.
You can address this by deploying more streamlined tools that can be configured to match your call center workflows. For instance, a collector portal like PayNearMe's Agent Interface gives you complete control over what information to show agents, and what to omit. All the information is included in a handful of easy-to-understand screens, meaning your agents won't have to fumble around looking for information.
Moreover, when customers call in to make a payment, your call center collector agents can press a single button to push a text message or email with a self-service payment link. This allows the agent to walk the customer through the payment process without having to take sensitive payment data over the phone. By staying on the line with the customer, they can reduce follow up calls by completing the payment in real time.
4. Deploy Interactive Voice Response
This is the most obvious and least "new" advice on this list, but IVR simply can't be ignored when trying to free up time for your agents. Specifically, make sure your IVR is set to reduce customer frustration and make the payment process as seamless as possible. Minimize menu items to help callers complete payments quickly, offer bilingual options for Spanish-speaking borrowers, and make it easy for callers to exit the IVR and enter into a live conversation.
In the event that your agents are all busy dealing with lengthy customer service requests or are short-staffed, IVR systems can fill in the gap. They are always on, which means your customers will always be able to make payments and get basic information on any day at any time.
Improve Call Center Operational Efficiency Today
Your call center is the first and often only point of contact your borrowers will have with your company once a loan is originated. You need to ensure every interaction with your company is a positive one, and you can do this by giving your agents the time and resources to properly service every caller.
PayNearMe gives you the tools to free up agent time while helping your business collect every payment, every time. Learn more by requesting a demo, or by viewing a short on-demand walkthrough now.