What are IVR Payments and Why Do You Need Them?
IVR payments have long been an essential channel for billers, allowing customers to pay bills via telephone without interacting with a live representative. IVR's fast, easy payment process doesn't require an internet connection and offers several attractive advantages. But given the state of payments technology today, is it still worth bringing in an IVR solution?
What are IVR Payments?
IVR stands for Interactive Voice Response, a technology that turns your customers phone into a tool to interact with your business. When integrated with your payments platform, IVR payments give customers the ability to pay their bills at any time without speaking with one of your agents.
Payments can be securely submitted over any touch tone phone, making it an ideal solution for any customer, regardless of their internet connectivity.
Here's how IVR works:
Customers dial into your IVR payments line, available 24 hours a day, seven days a week.

Customers are welcomed by a customized greeting (in English or Spanish) and then directed through a series of verbal prompts.

Customers enter their payment reference number, which might be an account number, invoice number, or policy number.

If needed, you can enable a system that interacts with your business's database to validate the information entered, including the balance remaining on the bill or invoice.

Customers can then pay by inputting their payment information (typically a debit card or bank account number). This connects to your

payment processor

and is authorized in real-time.

Customers receive a verbal confirmation of their payment. If they choose, they can also be sent a real-time

text message

or email with a payment confirmation.
In addition to making payments, customers can access basic information via IVR, including balance updates, due dates and more.
The Benefits of IVR Payments for Your Customers
Generally speaking, IVR gives your customers more choice and convenience, providing your organization with a competitive edge while reducing friction. For many organizations, an IVR system is a must-have feature in the payments toolbox and a critical component for your call center.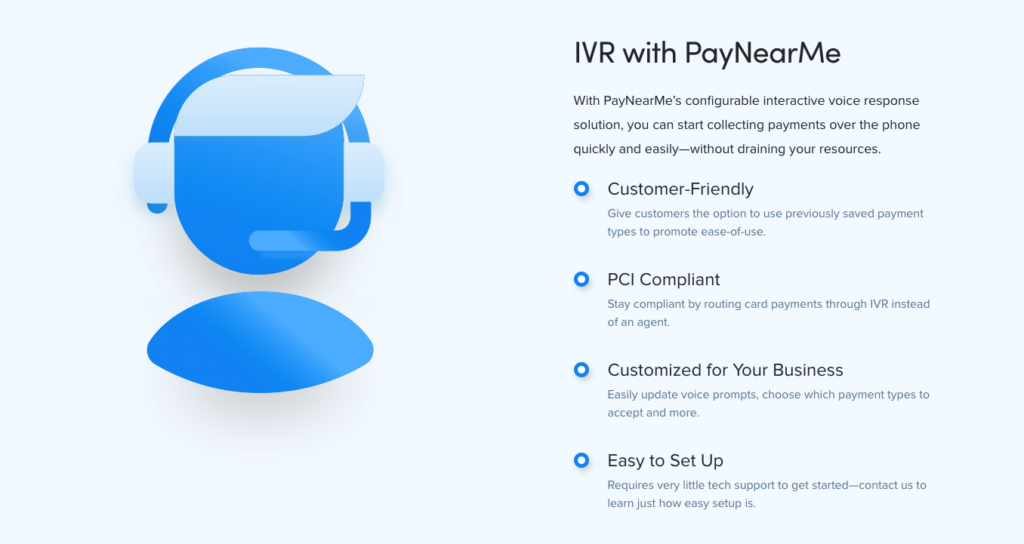 When evaluating whether or not IVR is worth your investment, keep the following benefits in mind.
1. IVR Delivers Fast Answers to Common Questions
How often are your customer service representatives tasked with answering basic questions from your customers? Questions about balance reminders and due dates eat up valuable – and expensive – representative time, taking away resources from more complex or urgent requests.
IVR allows customers to access answers to these questions on their own, with no input from your staff. The process is quick,straightforward and automated.
2. IVR Encourages Self-Service Payments
Billers are increasingly looking for ways to encourage their customers to use self-service offerings. Why? Because self-service is far less resource-intensive than conventional call center payment support.
IVR is an integral component of effective, easy-to-use self-service systems that you can promote to both spanish and english speaking customers with our bilingual solution as a reliable and secure alternative.
3. IVR Enables On-The-Go Payments
Paying with IVR doesn't require an internet connection, making it unique among remote payment methods. IVR allows customers to pay bills anywhere with basic telephone service, even if they don't have access to a secure wi-fi network or mobile data.
IVR is also an inclusive payment method that makes your offering more attractive to a wider variety of consumers. Individuals that do not have the internet at home, for example, can also make quick, easy, and convenient payments.
4. IVR Improves Operational Efficiency
IVR improves efficiency by freeing up agent time and funneling callers to departments that can best assist. Even when payments cannot be completed through the IVR, the system will still connect a caller to the most qualified agent for their request.
This increases productivity and ensures your customers get their issues resolved quickly.
Follow up: Learn more about when to use inbound vs outbound IVR for payments.
5. IVR has 24/7 Availability
IVR payments are available to customers at all times of day and night, allowing them to pay bills at a time and place that suits them—critical to a comprehensive omnichannel payments approach. They don't have to phone in during their lunch break or rush to your office on the way home to connect before your business closes.
6. IVR is PCI Compliant
The Payment Card Industry (PCI) Data Security Standard is a specialized standard designed for organizations that handle credit card information. The goal is to protect consumers against fraud, identity theft and other malicious behaviors.
Any business – whether a lender, collection agency, or utility – that accepts card payments must be PCI-DSS compliant. Because there is no human involved, IVR payments allow you to do exactly that without compromising your customer's data.
How IVR Payments Add Value to Your Business
IVR payments offer several unique benefits that can help you cut costs, streamline operations, and deliver a practical, fast, and secure experience for your customers.
When it comes to paying bills, we know that young payers want (and expect) information at their fingertips. Long telephone hold times and 24-hour turnaround of e-mail inquiries just won't cut it. While it's true that many avoid phone calls, making payments via an IVR system doesn't involve speaking to a "needy" human, potential verbal confrontation or wasted time.
IVR calls can be made anywhere, anytime, at the payer's convenience, reducing the anxiety 81% of young payers admit that they often experience anxiety when talking to someone on the phone. You can learn more about how IVR could help shift how Millennials and Gen Z adopt IVR phone payments in our recent post.
If you are ready to introduce IVR payments, it's worth keeping in mind that the best IVR systems are seamlessly integrated with your payment processor. This ensures funds are received instantly, you have a single reconciliation file, and your customer has a frictionless payment experience.The PayNearMe platform includes built-in IVR functionality. If you would like to find out more about our modern and reliable payments platform that lets your customers pay how they want, request a demo today.